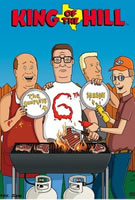 TV Info
---
Episode Premiere
September 22, 1998

Distributor
Fox TV

Genre
Animation, Comedy

Show Period
1997 - 2009

Production Company
Deedle-Dee, Judgmental, 3 Art, Film Roman, Fox TV


Cast and Crew
---
Director
Cyndi Tang-Loveland
Screenwriter
Greg Daniels, Norm Hiscock
Main Cast
Mike Judge
Kathy Najimy
Pamela Adlon as Bobby Hill (voice)
Brittany Murphy as Luanne Platter/Joseph Gribble (Age 12)
Johnny Hardwick
Stephen Root
Toby Huss
Additional Cast
Joanna Gleason
Chuck Mangione
Synopsis
---
Bobby falls head over heels for a classmate. Hank and his friends discover an abandoned couch in the alleyway where they normally stand and drink beer.
Hank and his friends are dumbstruck by the sudden appearance of an abandoned couch, sitting right in the very spot where they normally stand in the common alley. An outraged Hank telephones the City and demands that the furniture be removed. But when the City fails to respond after a reasonable length of time, Hank declares that the group should move it themselves. Before the men take action, however, Bill sits down on the soft couch. He's soon joined by the other men, who come to realize they can now drink beer, chat and be comfortable, all at the same time.
As Bobby makes his way through the hallways of Tom Landry Middle School, he encounters a fifteen-year-old student named Marie, who is acting as hall monitor. Knowing he is late for class, Bobby tells her his name is "Ramon Tavares" in hopes of evading detention. Marie laughs at Bobby's ploy and sends him on his way. As time passes, Marie grows more and more enamored of Bobby's clownish antics. As their friendship grows, Marie tells Bobby that she is a vegetarian. Bobby decides to follow suit. As Bobby and Marie walk down the common alley one evening, they discover the couch. The pair sit down, and soon after, Marie pulls Bobby close and kisses him. Bobby, somewhat nervous at first, kisses her back. But suddenly, Marie breaks the kiss and walks off. The next morning, Bobby tells his parents about his new girlfriend.
Bobby grows more and more infatuated with Marie. But the more he pursues his love, the more she pulls away. Meanwhile, Kahn finds Hank and his friends sitting on the couch in the common alley. He explains that it was he who abandoned the furniture, as it is rife with cat urine. But this does not faze the others, who have gone so far as to have installed beer can holders into the couch's arms. One evening, Marie stops by the Hill residence and picks up Bobby. They travel to a party, where Bobby grows sickened by the sight of Marie dancing with other boys. Marie tells Bobby that they are just friends...and are not a serious romantic couple. Bobby is devastated by the "break up" and bursts into tears. At first, Bobby tries to change Marie's mind by behaving in a clownlike manner. But when Marie continues to rebuff his advances, Bobby sinks into a deep depression. Later, Hank and Peggy take Bobby to a steak house where, as luck would have it, Marie and her parents are also dining. Bobby deliberately orders the largest steak on the menu, one that, if consumed in an hour, is free of charge. As the vegetarian Marie looks on in anger, Bobby downs every last morsel of the 72 ounce slab of beef. Marie storms off in disgust. Afterwards, as Connie looks on, Bobby doubles over and vomits.