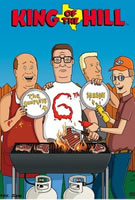 TV Info
---
Episode Premiere
May 10, 1998

Distributor
Fox TV

Genre
Animation, Comedy

Show Period
1997 - 2009

Production Company
Deedle-Dee, Judgmental, 3 Art, Film Roman, Fox TV


Cast and Crew
---
Director
Jeff Myers
Screenwriter
Greg Daniels, Brent Forrester
Main Cast
Mike Judge
Kathy Najimy
Pamela Adlon as Bobby Hill (voice)
Brittany Murphy as Luanne Platter/Joseph Gribble (Age 12)
Johnny Hardwick
Stephen Root
Toby Huss
Additional Cast
Beth Grant
Maurice LaMarche
Tammy Wynette
Synopsis
---
Peggy quits her job as substitute teacher and takes up guitar lessons; Bobby is diagnosed with attention deficit disorder.
One morning, as Bobby finishes eating a bowl of Oatmeal Cookie Crunch in the kitchen, a harried Peggy rushes in, glances at the clock, and realizes she is late for a school field trip. Peggy hastily pours him another bowl of cereal... onto which Bobby adds more sugar. A short time later, Bobby has another bowl, and at Hank's suggestion, adds even more sugar. At school, a teacher notices Bobby acting in a hyperactive manner (the result of consuming the sugar). Bobby is sent to the nurse's office, where he is diagnosed with attention deficit disorder. A nurse informs Hank that Bobby must begin taking medication. Later, Peggy suffers enormous guilt when she hears the news, and decides to quit her job as a substitute teacher so she can focus her energy on being a mother.
The medication prescribed Bobby leaves the boy in a stupor. Meanwhile, Peggy accompanies Hank to a guitar shop to pick up some new strings. There, she notices a flyer advertising guitar lessons. The next day, Peggy visits the bohemian apartment of Emily, a woman with dreadlocks, a tattoo and combat boots. When Emily later visits the Hill home to teach the guitar lessons, Bill notes she is dressed "kinda pro-choice." Hank looks on with concern. Later, Emily encourages Peggy to write a song of her own. Peggy responds by singing a few lines about a turtle and its shell, which is both the animal's home and its prison. Emily immediately responds to the song, reading something into it that Peggy did not quite intend. Though Hank labels Emily "weird," Peggy nonetheless invites her over for dinner. During the meal, Peggy reveals that one of Hank's most cherished possessions is a Guild Solid Top guitar, nicknamed Betsy. Emily encourages Peggy to finish writing her song and suggests she perform it at a Mother's Day recital, during which performers take a "pot shot" at the holiday. Hank disapproves of the idea, insisting plans for Mother's Day have already been made. But Peggy insists she can do as she pleases.
Luanne complains she is unable to concentrate on studying for her beauty exam. Concluding she may have contracted attention deficit disorder from Bobby, she snatches a pill from the boy's hand and pops it in her mouth. On Mother's Day, Hank watches as Peggy heads out the door with her cheap guitar slung over her shoulder. Later, Bobby and Hank show up at the venue where Peggy is scheduled to perform. Bobby hands his mother Betsy, Hank's prized guitar, explaining how she should have a special guitar with which to play her song.
Peggy takes the stage and performs. As she sings, the women in the audience misread the turtle song as a pro-feminist statement. Peggy stops singing, but Emily encourages her to continue. Singing from her heart, Peggy tells how "a turtle named Hank" saved the turtle's heart with the magic of love. Though the women in the audience are taken aback by the song's ending, Hank and Bobby give Peggy a standing ovation. Later, during the drive home, Peggy considers returning to her teaching job. When Hank notes a marked improvement in Bobby's behavior that day, Bobby explains it can only be attributed to the absence of the medication, as Luanne ingested his pill.