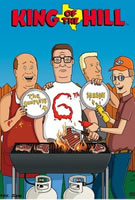 TV Info
---
Episode Premiere
March 15, 1998

Distributor
Fox TV

Genre
Animation, Comedy

Show Period
1997 - 2009

Production Company
Deedle-Dee, Judgmental, 3 Art, Film Roman, Fox TV


Cast and Crew
---
Director
Jack Dyer
Screenwriter
Alan R. Cohen, Greg Daniels
Main Cast
Mike Judge
Kathy Najimy
Pamela Adlon as Bobby Hill (voice)
Brittany Murphy as Luanne Platter/Joseph Gribble (Age 12)
Johnny Hardwick
Stephen Root
Toby Huss
Additional Cast
Synopsis
---
Cotton and Dale steal a famous prosthesis from a museum shortly before it is scheduled to be returned to the Mexican government.
At the elementary school, Peggy fills in for Mrs. Dorland after she takes ill. Her students reenact a battle from America's past, one in which the Illinois Volunteer Infantry captured the artificial leg of Mexican General Antonio Lopez de Santa Anna in 1847. When the reenactment ends, Peggy explains that the general's prosthesis, which has been on display in an Illinois museum for over a century, is about to be returned to Mexico by the United States government. The leg is currently on tour and the Arlen museum is its last stop in the U.S. Meanwhile, Cotton informs Hank that he and Didi have split up for good. Since Didi had acted as his chauffeur, Cotton must now pass an eye exam to renew his driver's license. Concerned that his father would present a danger to the public, Hank deliberately sabotages his father's efforts to recite a memorized eye chart during the test. Later, when Cotton learns from Dale that his own son conspired against him, he moves in with Dale and his family.
Dale is so flattered to have Cotton in his home that he creates a phony driver's license for the old man. But Cotton's efforts behind the wheel land him in trouble with the police. An officer gives Hank custody of Cotton, believing he suffers from senile dementia. But when Hank drives Cotton back to his house, he immediately hops out of the truck and goes to Dale's house. Hank attempts to forge a reconciliation with Didi, who recalls how Cotton, a lover of large rear ends, fell for her after catching a view of her posterior magnified through an overturned jar. According to Didi, Cotton broke up the relationship because her derriere is now too small. In an attempt to win back his father, Hank asks Cotton to chaperone Bobby on a museum trip. Flattered, Cotton takes up the offer. But Cotton grows angered during the museum tour, insisting the old leg should never be returned to Mexico. Later, he and Dale make off with the prosthesis.
Cotton believes the U.S. government will grant him his driver's license in exchange for the leg. But when police arrive at Dale's house, they drag Cotton away and place him in the psychiatric ward of a veteran's hospital. A doctor informs Hank that if his father doesn't remain at the facility, he will require round-the-clock supervision. Unwilling to allow his father to rot away, Hank comes up with a plan. He brings Didi to the V.A. hospital...and the couple fall in love all over again. Didi drives Cotton back home. Later, Cotton stops by the Department of Motor Vehicles office in Mexico...and trades the leg for a driver's license.