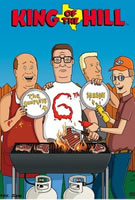 TV Info
---
Episode Premiere
February 22, 1998

Distributor
Fox TV

Genre
Animation, Comedy

Show Period
1997 - 2009

Production Company
Deedle-Dee, Judgmental, 3 Art, Film Roman, Fox TV


Cast and Crew
---
Director
Klay Hall
Screenwriter
Greg Daniels, Johnny Hardwic
Main Cast
Mike Judge
Kathy Najimy
Pamela Adlon as Bobby Hill (voice)
Brittany Murphy as Luanne Platter/Joseph Gribble (Age 12)
Johnny Hardwick
Stephen Root
Toby Huss
Additional Cast
John Amos
Amy Hill
Toby Huss
Orlando Jones
Synopsis
---
Bobby decides he wants to be a stand-up comic after he accompanies Hank to traffic school.
While backing out of the driveway, Hank collides with Kahn's car. An insurance adjuster suggests that Hank attend traffic school in order to avoid a rate increase. Hank picks the "Defensive Driving School," in the belief it will be devoid of frills and nonsense. But the class, it turns out, is headed by an energetic African-American stand-up comic, Booda Sack.
Everyone in the class finds Booda's humor hysterically funny--all save Hank, who is shocked and embarrassed by the content. When Hank returns home, he tells his family about the comic. Bobby, a huge fan of Booda's humor, is overjoyed. He tells his parents that Booda is one of the inspirations for his wanting to become a stand-up comic. Hank warns his son that "show business is inherently evil," and to prove his point, allows Bobby to accompany him to class. But the plan backfires when Booda brings Bobby onstage and focuses his humor on Hank.
Bobby is so inspired by his experience on stage that he begins rehearsing his own act, imitating Booda's African-American humor. The boy takes his routine to Booda, who immediately points out to Bobby that he is not black and should get in touch with his white roots. Inspired, Bobby turns to the Internet, and inadvertently ends up on a Web site run by the Ku Klux Klan. Meanwhile, Hank grows even more irritated at Booda's humor and files a complaint with his supervisor, Mr. Johnson. Booda defends the humor in his act, claiming it is freedom of speech. Hank's complaint costs Booda his job.
Bill and Dale drive Bobby to a downtown comedy club so he can try out his new material. As a multi-ethnic crowd listens, Bobby tries out his act, which draws its material from the White Nationalist Web site. The crowd quickly grows angered. Hank learns from Boomhauer of his son's whereabouts and drives to the comedy club. He rushes onstage to stop his son's act. Booda Sack comes to Bobby's rescue. He points out that although the boy's material is unfunny, it is protected by freedom of speech. When the crowd is not satisfied by the explanation, Booda launches into his own routine, causing the crowd to laugh once more. To show his gratitude, Hank gets Booda a job at Strickland Propane.