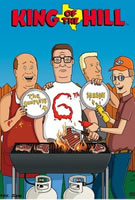 TV Info
---
Episode Premiere
February 15, 1998

Distributor
Fox TV

Genre
Animation, Comedy

Show Period
1997 - 2009

Production Company
Deedle-Dee, Judgmental, 3 Art, Film Roman, Fox TV


Cast and Crew
---
Director
Lauren MacMullan
Screenwriter
John Altschuler, Greg Daniels
Main Cast
Mike Judge
Kathy Najimy
Pamela Adlon as Bobby Hill (voice)
Brittany Murphy as Luanne Platter/Joseph Gribble (Age 12)
Johnny Hardwick
Stephen Root
Toby Huss
Additional Cast
Synopsis
---
The Hills go south of the border.
Hank, Kahn and Dale find themselves trapped South of the Border. Minh boasts of her family's upcoming luxury trip to Mexico, where they will stay in a beautiful "mitad" duplex condo with Kahn's brother and family. Neither Minh nor Peggy knows the meaning of the word "mitad," and it is soon forgotten. A short time later, Kahn learns that his brother has backed out of the vacation, leaving him to pay the entire rent for the condo. He offers the Hills the opportunity to join his family on the trip. Peggy talks Hank into going along, as she is especially anxious to replace a papiermache pear she purchased as an exchange student. Kahn arrives at the condo first. The manager of the resort, Jacinto, shows Kahn around the unit. Jacinto explains that "mitad" means half--meaning Kahn must share the downstairs portion with Hank. Thinking quickly, Kahn tells Hank that the luxurious upstairs condo is for the Hill family. The next morning, Peggy, Luanne and Minh tour a Mexican marketplace in search of papier-mache pears and illegal beauty secret supplies. Meanwhile, Connie and Bobby notice a curio shop that sells fireworks. They purchase a giant, comedy-sized firecracker labeled "La Bomba." Believing it to be real, the children slip the firecracker inside the signage of an Italian fast-food restaurant. Expecting a huge explosion, the pair take cover behind a metal dumpster.
Meanwhile, Peggy and Minh find a vendor who sells a papier-mache pear. The vendor hands Peggy a nicely wrapped box and asks her to deliver it to a friend just across the border. Peggy takes the package, but moments later, Minh fears she has been tricked into transporting drugs.
Dale shows up at the condo unannounced, luggage in hand. Jacinto walks by and notices the Hills living inside the upstairs unit. A few moments later, the police arrive. Peggy, Bobby and Luanne panic, believing they are about to be arrested. Hank tells police his family has nothing to hide... but their actions hint otherwise. Hank, Dale and Kahn are brought before a magistrate, who orders them to pay Jacinto 10,000 pesos. Their identification is confiscated and will only be returned when the money is paid. Believing the border guards will let them back into the U.S. because they are Caucasian, Hank and Dale decide to head towards the checkpoint with the Asian Kahn confined to the trunk. But the threesome panic at the border crossing and run off. They trade their belongings for mopeds and make their way to the Rio Grande. After crossing the river with a group of illegal aliens, the men are spotted by border police. Dale jumps the border fence and runs. Kahn also clears the fence, but Hank cannot do so unaided. Kahn extends his hand and yanks him up and over. Kahn later muses how he, an immigrant, helped smuggle an American into Texas.