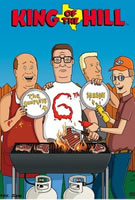 TV Info
---
Episode Premiere
February 08, 1998

Distributor
Fox TV

Genre
Animation, Comedy

Show Period
1997 - 2009

Production Company
Deedle-Dee, Judgmental, 3 Art, Film Roman, Fox TV


Cast and Crew
---
Director
Wesley Archer
Screenwriter
Greg Daniels, Mike Judge
Main Cast
Mike Judge
Kathy Najimy
Pamela Adlon as Bobby Hill (voice)
Brittany Murphy as Luanne Platter/Joseph Gribble (Age 12)
Johnny Hardwick
Stephen Root
Toby Huss
Additional Cast
Joanna Gleason
Kerri Strug
Lauren Tom
Synopsis
---
The Hills are all heart on a Valentine's episode.
As Valentine's Day approaches... Peggy uncovers a lie from Hank's past. As Luanne and Bobby listen, Peggy recounts how she and Hank first realized they were meant to be together. The year was 1973, and Hank and Peggy had already been dating for six months. Hank convinced Peggy to cook him dinner for Valentine's Day. Peggy agreedeven though she was a terrible cook. The meal, beef Wellington and cherry pie, turned out terribly, but as luck would have it, Hank phoned shortly before he was scheduled to arrive and bowed out, claiming he pulled some tendons in his back. Two weeks later, after Hank's back healed, Peggy and Hank were "engaged to be engaged." BACK in the present day, Peggy and another woman, Becky, update computer files at Arlen High School. As the pair comb through the records, they come across Hank's permanent file, which includes an entry about a twoweek absencestarting on Valentine's Daydue to mono. Peggy tells Becky she never had "the kissing disease"...creating a mystery. Meanwhile, Bobby receives Valentine's Day chocolates in the mail from a secret admirer. He suspects the sender might be Kerri Strug.
Peggy queries her husband about the incident. Hank claims he contracted mono from sharing a soda with someone on the football team. An obsessed Peggy learns that only one other studentAmy Edlinhad the disease during that time. Peggy tracks Amy down, confronting her as she doles out little sausages on toothpicks at a local super market. Amy recounts how she had broken up with her boyfriend several weeks before Valentine's Day. Feeling as though she had "something to prove," she grabbed hold of Hank and kissed him. Hank broke away... then rinsed his mouth out with Amy's soda. An angered Peggy responds by delivering a punch to a side of beef.
Peggy returns home, where she accuses Hank of lying to her. But she is even more upset that the romantic story of how they first got together is a falsehood. Later, Dale, Bill and Boomhauer convince Hank he must woo his wife until she loves him once more. Hank sees wisdom in their words, and begins doing romantic things. He does everything from cover a puddle with his coatto rent a pigall in an effort to make Peggy melt. But they all fail miserably. While attempting to recover the pig, Hank hurts his back and crashes to the ground. Peggy recounts Hank's antics to her girlfriends. The women sigh at the thought of romance. A thoughtful look comes over Peggy. She telephones Hank and promises to make him beef Wellington and cherry pie for Valentine's Day. Meanwhile, much to his embarrassment, Bobby realizes his secret admirer is Grandma Maddy Platter.