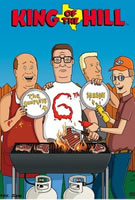 TV Info
---
Episode Premiere
November 16, 1997

Distributor
Fox TV

Genre
Animation, Comedy

Show Period
1997 - 2009

Production Company
Deedle-Dee, Judgmental, 3 Art, Film Roman, Fox TV


Cast and Crew
---
Director
Monte Young
Screenwriter
Greg Daniels, Johnny Hardwic
Main Cast
Mike Judge
Kathy Najimy
Pamela Adlon as Bobby Hill (voice)
Brittany Murphy as Luanne Platter/Joseph Gribble (Age 12)
Johnny Hardwick
Stephen Root
Toby Huss
Additional Cast
Tre Cool
Jim Cummings
Mike Dirnt
Synopsis
---
It's the battle of the ages when Hank and his friends face off against four teenagers for a game of paintball.
An old man notices Hank and his friends using a leaf blower to clear away some leaves. He belittles them for not using a rake. Amused by the old man's antiquated ways, Hank and the others chuckle. Later, Hank, acting as Block Captain, attempts to "straighten out" four teenagers--Cane, Zeus, Face and a shaved bald guy--when they play loud rock music out of their garage. The four punks make fun of Hank and continue playing. Shortly thereafter, Hank drives Peggy, Luanne, Bobby and his friend Joseph to the local FunCenter. There, Hank and his friends use the ballcollector guy for target practice on the driving range. Their fun is interrupted when Bobby and Joseph, covered in red paint, complain that some older boys ambushed them. Hank realizes the attackers are none other than the four punks. Cane and his cronies challenge Hank and his buddies to a game of paintball--a dare Hank can't refuse. But during the course of the game, the older men discover they are no match for their stealthier adversaries. Adding insult to injury, the four punks capture the men and, in a humiliating gesture, gun them down with paintballs as onlookers watch in disgust.
BACK At home, Hank exhibits signs of what Peggy labels "post-traumatic stress syndrome." Hank dismisses the idea as "ridiculous," but he later notices a change in his friends' behavior as well. After reliving the humiliating paintball massacre in flashback, Hank decides it is time to take action. Buoyed by Peggy's encouragement, Hank approaches his friends. He tells them that if they don't fight back, they are destined to become the "weird old guys of the block." Boomhauer, Dale and Bill all agree, and the four punks accept the challenge of a rematch. Unfortunately, Hank and his friends are again defeated.
Hank, Dale, Bill and Boomhauer all agree that they have grown old. In fact, they begin hanging out with the same old man they ridiculed earlier. When the punks begin taking pot shots at Bill, Hank is struck with an idea: If they can understand the mind of a teenager, it might give them the advantage they need to win on the playing field. The others agree. After observing teenagers in action, the men make three conclusions: that teenagers are cruel, clumsy around girls...and paranoid around head shops. The men then challenge the punks to a rematch, betting the leaf blower against their amplifier. The punks agree. During the game, the men utilize their observations and strike back. Eventually, only two players remain: Hank and Cane. In a stroke of genius, Hank disguises himself as the ballcollector guy and ambushes his opponent, winning the game.