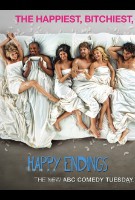 TV Info
---
Episode Premiere
March 21, 2012

Distributor
ABC

Genre
Comedy

Show Period
2011 - 2013

Production Company
Sony Pictures Television, FanFare Productions


Cast and Crew
---
Director
Jay Chandrasekhar
Screenwriter
Leila Strachan
Main Cast
Additional Cast
Stephen Guarino
Gunnar Petersen
E.J. Callahan
Bobby Moynihan
Synopsis
---
Jane is the two-term president of the Homeowners Association. Brad loves the power that comes with being her First Gentleman. One tenant even gives him a fresh ham every month to secure a plush parking spot. As for Jane, she rules the association with an iron fist. In other words, she shoots down any and all ideas from the other homeowners.
One of the other homeowners wants to be the new president. He's running against Jane, who is advised by Penny to sleep on things before making snap decisions. That's not easy to do when others are pushing novelty gazebos from their cousin's company. Nevertheless, Jane feels great after "sleeping on it." She becomes a totally chill person. She even eats nachos on the sofa!
The new Jane is certainly more relaxed, but so is everything else in the building. Packages are being left in the lobby, unauthorized flyers are being put on the bulletin board and Brad learns he can't dress himself without his wife. He wants the old Jane back.
Alex leads an intervention. She lists all the chaos that has arisen since Jane went on her snoozefest. The worst offense is that someone is tutoring math out of their condo. Jane screams, "We are not zoned for that!" Order is immediately restored to the Homeowners Association. Jane the dictator is back in charge which means Brad the First Gentleman can once again enjoy his monthly ham.
Dave is joining Max's gym. You heard us. Max belongs to a gym. He doesn't actually work out, but he does hang there in an outfit Penny recognizes as the same one Josh Brolin wore in The Goonies. Max also serves as a personal trainer to Derrick. Teacher and student watch in horror as Dave is verbally abused by a big bully named Corey.
Dave makes a complaint to the manager of the gym. Alex, who used to be a bully herself, believes that snitches get stitches. Or do they? Corey actually apologizes to Dave for the way he acted. Of course, he then threatens to kill Dave as soon as the manager is out of earshot. A short time later, Corey sucker punches Dave. Guess snitches really do get stitches.
When Corey pushes around other gym members, Dave has no choice but to challenge him to a fight. But first he has a few stirring words about how a real man takes action when needed. It's an inspiring speech that motivates Derrick to deck Corey smack-dab in the middle of Dave's ramblings. This has Max looking at Derrick differently. He likes bad boys. Like Will Smith in Bad Boys or Martin Lawrence in Big Momma's House.