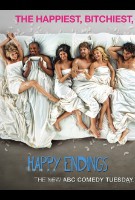 TV Info
---
Episode Premiere
October 19, 2011

Distributor
ABC

Genre
Comedy

Show Period
2011 - 2013

Production Company
Sony Pictures Television, FanFare Productions


Cast and Crew
---
Director
Anthony Russo
Screenwriter
Hilary Winston
Main Cast
Additional Cast
Larry Wilmore
Noureen DeWulf
Synopsis
---
After Penny doesn't get the big raise she was expecting, Jane convinces her to make a vision board. What's a vision board, you ask? Well, it's a compilation of images representing all the things you want out of life. Once your board is complete, the universe will start making things happen. Penny's on board with the board.
Penny's vision board expresses her desire for a relationship with a romantic, old-fashioned gentleman-the kind of guy who will buy you flowers and look at you during sex. She's hoping this vision of a man will be a hot bartender named Parker. Too bad Penny hasn't made much of an impression on the ace mixologist. She's losing faith in the vision board until...
Penny gets flowers from a secret admirer. Could it be Parker? No, it could not. The universe is moving slowly, so Jane starts manufacturing things to make the vision board a reality. Penny is thrilled when Parker asks her out until Alex clues her in to Jane's scheme. She starts asking for outrageous things on her Year of Penny II vision board. Jane does her best to fulfill these universal requests. Pretty soon the jig is up.
As it turns out, Jane had nothing to do with the Parker situation. The guy asked Penny out all on his own. The Year of Penny is back on track! Of course, she has no choice but to dump Parker when she learns that he has a vision board, too. She can't possibly date a guy like that.
Brad is having a tough time relating to his super stoic boss, Mr. Forristal. The guy's always walking around with food on his face! The only thing that impresses Forristal is Max's limo. Soon Brad is hanging with the big boss as his pal cruises them around town. Max is unhappy with this arrangement until he and Forristal become chummy. The boss was impressed after Max told him about all that food plastered across his face.
Max and Forristal pal around while Brad is shuffled away to do busy work. Needless to say, this causes a bit of a rift between the two friends. It doesn't last. Max won't be hanging around the office much anymore. Apparently, he misread a moment while alone with Forristal. But Max was able to tell the boss man what a great guy Brad is before he got fired from that job he never really had.
Dave has been reluctant to introduce his new girlfriend, Molly, to his friends because they can be a tad judgmental. The group promises to change their ways until they actually meet Molly. Nobody likes her. Only Alex seems be giving Molly a chance. That's because she knows Dave can't be serious about this hot nightmare of a girl. But Alex reserves the right to be super judgmental when Dave finally does find someone real. Yes, these two have a special kind of friendship.