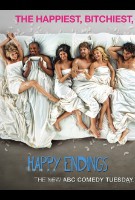 TV Info
---
Episode Premiere
October 12, 2011

Distributor
ABC

Genre
Comedy

Show Period
2011 - 2013

Production Company
Sony Pictures Television, FanFare Productions


Cast and Crew
---
Director
Joe Russo
Screenwriter
Leila Strachan
Main Cast
Additional Cast
Megan Mullally as Dana Hartz
Angela de Silva
Seth Morris
Mary Portser
Diane Sellers
Ron Lynch
Rusty Burns
Synopsis
---
Penny landed the Necksercisor account for her company. What's the Necksercisor, you ask? Well, it's a goofy multi-ringed brace that helps rid you of that set of abs living on your neck. It also happens to be the number one seller on SkyMall. The good news continues for Penny when her always-optimistic mom, Dana (guest star Megan Mullally) pops in for a visit. Whoo-hoo! But then Penny learns that Mom is divorcing her stepdad. Boo hoo.
Dana is a cabaret singer who is booked to be the opening act at a hot Chicago club. She wants her little girl to join her on stage. But Penny is still reeling from the split-up news. Alex and Dave believe that Dana may be masking her divorce pain with unnatural positivity. This leads to a heart-to-heart sing-off between the Hartz ladies. See, Dana believes shouting damages the vocal cords, so Penny must sing her concerns to her mom.
When the singing is done, Penny pleads with her mom to take a reality check. Her husband left her and her career isn't going anywhere. She's not singing at a swanky club. She's actually been booked to do a boat show. Remember how we said Dana was always optimistic? Well, now she's always depressed. Not even the Native American advice Dave's been doling out since he found out he's one-sixteenth Navajo seems to help. Dave also created a new sandwich based on his heritage that's actually translated as "sand witch." Dana offers him a belated apology from stealing land from his noble people.
Jane and Brad are taking couples improv class that's helping them give positive reinforcement in their relationship. As Dave points out, this isn't comedy improv.
Max takes advantage of tourists by cruising them around Chicago in his really old limo for the low, low price of 60 bucks a head (80 if the head is larger than normal). Too bad this particular tour guide doesn't know a lot about the Window City. That's not a typo. Max says Chicago's original nickname was the "Window City," but they changed it to avoid a conflict with Omaha. Brad and Jane (playing the part of Nebraska tourists) verify his claim. Those improv classes are really paying off!
Max gets a tad greedy once the cash starts rolling in. He figures he can do the limo thing without the help of his plants. But without Brad and Jane backing his story, Max's tours take a total wrong turn. He begs Brad and Jane to do their improv act once more.
Penny's friends convince her to spin a negative into a positive regarding the situation with her mom. After all, Dana's the one who taught her how to do just that. Penny makes her way down to the boat show to apologize for criticizing her positivity.
Now it's time to give all those boat people what they came for. Penny and her friends bring a bunch of people into the arena to see the hottest singing act in all of Chicago. The Hartz ladies do their version of Natalie Imbruglia's "Torn" to a very receptive crowd. When the show ends, Dana is whisked into the back of Max's limo. Yes, Penny's mom is positively a star.