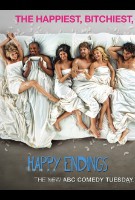 TV Info
---
Episode Premiere
May 11, 2011

Distributor
ABC

Genre
Comedy

Show Period
2011 - 2013

Production Company
Sony Pictures Television, FanFare Productions


Cast and Crew
---
Director
Matt Shakman
Screenwriter
Leila Stachan
Main Cast
Additional Cast
Rob Huebel
David Storrs
Donn Carl Harper
Seth Morris
Synopsis
---
There's a brand new coffee house opening up next to Alex's shop. Max is appalled that a chain store like Nick's Coffee & Tea has infested the neighborhood. He joins forces with Alex in a community effort to shut the place down. In other Max news, he starts dating a great guy named Ian, who just happens to be the owner of Nick's Coffee & Tea.
Jane and Brad have differing opinions as to what makes for a good job interview-preparation or charm. They decide to put this issue to the test by interviewing for a position at that new coffee shop. Ian talks to everyone applying for work in a group session. Jane and Brad are, by far, the worst interviewees. Ian shuffles them out the door where he sees Max amongst a band of protestors.
Dave runs into his favorite teacher from high school, Mr. Fitzgerald. The guy was always totally cool. He used to let his students call him Alan. Dave is thrilled when Alan offers to help him take his steak sandwiches to the next level by offering up his extra-special coleslaw as a side dish. With this secret slaw on his side, Dave is inspired to enter a local food truck competition called the Truckies.
Dave has a total man-crush on Alan, but Penny has an "actual" crush on the guy. They go out on a date where Alan's true colors shine through. The guy's a total loser, but Penny doesn't have the heart to tell Dave. He's always had a blind spot for his former teach.
Penny knows Alan is going to be a no-show at the Truckies, so she whips up some coleslaw of her own. She claims Alan made the dish, but Dave knows better. He tracked down his former mentor in a bar where he got a glimpse of the guy's true colors. Turns out Dave didn't need the secret coleslaw after all. His steak sandwich won a Truckie all on its own.
In lieu of a Truckie Awards after-party, Dave cruises all of his friends over to Nick's Coffee & Tea where Max makes an impassioned plea for forgiveness from Ian. It plays out like a version of that bookstore scene from Notting Hill. Max is just a guy standing in front of guy who would like a second chanceā€¦as long as they can keep things loose and casual. Okay, maybe it's not exactly like Notting Hill.