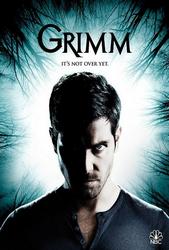 TV Info
---
Episode Premiere
November 09, 2012

Distributor
NBC

Genre
Drama, Fantasy

Show Period
2011 - Now

Production Company
Hazy Mills Productions, Universal Media Studios


Cast and Crew
---
Director
Omar Madha
Screenwriter
Dan E. Fesman
Main Cast
David Giuntoli as Nick Burkhardt
Russell Hornsby as Hank Green
Reggie Lee
Silas Weir Mitchell
Sasha Roiz
Bitsie Tulloch
Bree Turner
Claire Coffee
Kate Burton
Additional Cast
Synopsis
---
Nick decides to do a little research and digs through his Grimm files. Ferren's drawings match an ancient beast known as a Wendigo, better known as flesh-eaters. Ferren's drawings match those in the files and give clear evidence that there was more to the case than what Hank thought seven years prior. They decide it's important to speak with Ferren.
Responding to a neighborhood disturbance, a young and eager Hank arrives on the scene to find two gun shot victims, in what is clearly a flashback. One is already dead while the other is badly wounded. Hank hears something outside. He finds a man running for his life away from the scene. Perhaps the shooter? Hank chases after and apprehends him. While making the arrest, the suspect screams that the two wounded brothers were trying to eat him, leaving a lasting impression on Hank.
Fast forward seven years later, to the present. Hank and Nick are walking down the streets of Portland, and Hank is distracted by a newspaper headline. Speculating about second chances, Hank tells Nick about an arrest seven years ago involving a man named Craig Ferren. He shot two brothers and was sentenced to death. He claimed the brothers turned into monsters and tried to eat him. With Hank's new knowledge of the Grimm world, he feels that the testimony he gave that sentenced him to death might have been wrong, and he wants confirmation. Nick agrees to help, but with a little over 36 hours before his execution, the two detectives don't have much time.
Hank and Nick meet with the lead detective on Ferren's murder case and confirm that there was no motive for the shooting and eventual murder. With no other leads, Nick and Hank track down Ferren's defense attorney. There was no evidence to support Ferren's claim of two monsters attacking him on the night of the shootings. The only substantial lead the defense attorney received was from Ferren himself, multiple sketches of the creatures. The judge wouldn't consider it for the trial. The attorney notes one more thing: Ferren wasn't crazy. His psych evaluation said he knew the difference between right and wrong. Nick and Hank leave with Ferren's mysterious sketches.
Ferren is being held at Oregon State Penitentiary awaiting his execution. Nick and Hank arrive and are escorted through the prison hallways to meet with Ferren. Throughout the prison, Nick notices several varieties of imprisoned Wesens, including a Schakal, a Mauzhertz, a Spinnetod, a Coyotl, and an Eisbiber. Nick avoids eye contact and continues to Ferren's cell. Ferren doesn't want to talk and provides little help in their investigation. Hank suggests that he has nothing to lose and offers hope. Ferren finally gives in and recalls the ill-fated night seven years ago.
Convinced by Ferren's accurate account of the two brothers being cannibalistic beasts, Nick and Hank are determined to prove his innocence. As they head out of the prison doors, they recall from the Grimm files that Wendigo's bury the remains of their victims where they live. Connecting this with the fact that the defense never had a reason to dig up the brothers' backyard, they drive over to the scene of the crime only to find out that the house is now a produce store. They are going to need a warrant to dig.
Back at the station, Captain Renard is distracted by the significance of the kiss he shared with Juliette. He believes that the powerful attraction that the two share between each other is not genuine and is more of a symptom from when he freed her from her coma. He decides to call her and suggests that if she is willing there may be someone who can help end the love spell. The D.A. interrupts the call and is furious that Nick and Hank are reopening the Ferren murder case. Nick and Hank disrupt the conversation. The D.A. reminds them that with no substantial evidence for Ferren's outlandish claim, they are wasting their time and need to drop the investigation. Captain Renard agrees with the D.A., but gives his blessing to continue their investigation if they are certain there is something to it.
Hank is sorry he dragged Nick into the relentless case. Nick reminds Hank that it wasn't him, but was his family who dragged him into this supernatural world. Feeling better, Nick proposes that if they can't dig at the brothers' old address, they should find the surviving brother's current address. Hank immediately searches through old DMV files and tax records. There isn't much; however, he does uncover a current employment address of the surviving brother, John Kreski.
Nick and Hank arrive at Kreski's employment and confront him. Kreski shows his true self, a monstrous Wendigo, as Hank shows him Ferren's sketches. With no hard evidence to arrest him, Hank is forced to let him walk away. Feeling frustrated, Hank gets Kreski's current residence from his employer in the hopes they may find something to not only take Kreski in, but also stop Ferren's execution that is only hours away. At Kreski's home, Nick and Hank find a hidden door that leads to a crawl space below the house, filled with rotting body parts. Knowing this is enough to stop the execution, Hank climbs out, but is attacked by Kreski. Nick follows Hank, but is knocked down into the space by a falling refrigerator and can't get out. Hank fires at Kreski and wounds him, but unfortunately Kreski runs off.
Knowing that Ferren's life may be ending any minute, Nick calls the D.A. to put a stop to his execution now that they have proof. The D.A. is aggravated by the call, but listens to what Nick has to say. Unfortunately, the call is interrupted as Kreski attacks Nick. Realizing Nick is a Grimm, Kreski runs away, but not before Hank guns him down. With a needle in his arm and poison about to be injected through, the D.A. calls and puts a 12-hour stop on Ferren's execution. The D.A. gives the warrant to go ahead and unearth the bodies from below the produce store's foundation. The dig reveals the bones and skulls of seven bodies. In the aftermath, the D.A. gives a press release about Hank and Nick's tireless efforts and Ferren's absolution. Justice, it turns out, is upheld.
Hoping to put an end to the feelings they feel toward each other, Captain Renard and Juliette arrive at Monroe's storehouse. Juliette is unsure if she wants to go through with it, but she determines that they need too. Captain Renard comforts her with a deep and passionate kiss. Monroe walks in and recognizes Juliette and the situation, immediately. To be continued...