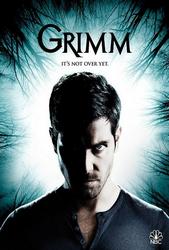 TV Info
---
Episode Premiere
January 20, 2012

Distributor
NBC

Genre
Drama, Fantasy

Show Period
2011 - Now

Production Company
Hazy Mills Productions, Universal Media Studios


Cast and Crew
---
Director
Omar Madha
Screenwriter
Alan DiFiore, Dan E. Fesman
Main Cast
David Giuntoli as Nick Burkhardt
Russell Hornsby as Hank Green
Reggie Lee
Silas Weir Mitchell
Sasha Roiz
Bitsie Tulloch
Bree Turner
Claire Coffee
Kate Burton
Synopsis
---
It's late and dark, as a shadowy figure makes its way into a parking garage. Leonard Krane follows close behind, wearing a heavy metal T-shirt, black leather pants and boots. He's an intimidating guy and carries a large screwdriver in his hand. He calls out to someone, "You can't hide maggot. You're gonna get what's coming to you." As the figure scurries behind a car, Leonard makes his attack. We hear a terrific struggle, and the thud of a body hitting the floor. The shadowy figure emerges, dragging the body of a 75-year-old man with a screwdriver sunk in his throat. The old man is inexplicably dressed in Leonard's clothing.
Nick and Hank arrive at the scene of the crime. They find the body of Leonard Krane (NOT the old man) in the back of a garbage trunk, screwdriver firmly lodged in his throat. Nick and Hank discover that Leonard's address is on the route of the garbage truck and decide to do some dumpster diving.
The killer certainly didn't do a good job cleaning up the crime scene, as they find blood surrounding the garbage dumpster in question, as well as trailing down into the parking garage. Nick and Hank get the manager to let them into the garage, explaining the situation. The manager explains that last night Lenny was having a fight with Mason Snyder, a lawyer who lives down the hall (indicating his shiny new corvette). Lenny's girlfriend Natalie was living with him as well, but her empty parking spot implies that she took off.
Nick and Hank track down Natalie to a dingy motel room. The poor girl is bruised and battered; it's clear she's been crying. Natalie is shocked to hear that Lenny is dead and explains the chain of events. Lenny had been drinking and the two got into an argument. The argument came to a halt when Marty, the tenant below, knocked on the door to make sure everything was okay. Lenny started yelling at Marty, until another tenant, Mason Snyder, showed up. Marty left in the midst of the commotion, while Mason and Lenny's argument got heated. Natalie got her things together and had Mason walk her to her car. She took off and checked into the motel.
Nick and Hank make their way to the junk shop that Marty owns. Marty is a meek man and is easily startled by Nick and Hank's arrival. Marty reiterates the same story that Natalie told, explaining that his father, whom he lives with, can verify that he returned to the apartment after the argument. During the questioning, Nick notes that Marty morphs into a Mauhertz, a mouse-like creature.
Next, Nick and Hank pay a visit to the law offices of Mason Snyder. He's confident and fit, the polar opposite of everything Marty is. Mason also verifies the story, but he morphs into a Lausenschlange, a snake-like creature, when he gets into a heated argument on the phone. This guy is ruthlessly cruel to his enemies in the legal circuit, and Nick notes it.
Nick goes to Monroe to see what he can learn about these snake and mouse creatures. Monroe explains that while Mauhertz are afraid of their own shadows, one rarely encounters a Lausenschlange and lives to tell the tale. Monroe gets a call for a gig repairing an old clock tower and leaves Nick to think on these new developments.
Later, an unknown man is at a repair shop. He's clearly upset with the outcome of his car repair job, as the shop owner Andy screams back, "Take me to court, jerk-off!" Andy's body morphs into that of the old man, the same old man we saw in the opening scene in the parking garage. We hear the old man get attacked, as he's dragged by his feet to a dumpster by the unknown figure.
Nick and Hank later discover the body. Again, it's the body of the original man they discover instead of the old man we see getting attacked. If it's the same killer, Nick and Hank muse that maybe this victim is connected to the first. Nick and Hank look into Andy's recent customers and are surprised to find that one of them is Marty, the timid man they met earlier.
Monroe arrives at his clock repair gig, but it seems that no one's home. He hears someone approach from behind and is punched in the face before he has a chance to react. As he goes down, four men descend on him, beating him to a pulp. As he glances up, he realizes he's being attacked by Grimm creatures.
As Natalie packs the rest of her belongings, she's met by timid Marty checking in on her status. Natalie tells Marty that she needs to skip town and just start over. Their conversation is interrupted by Mason, emerging from the bedroom with two boxes in hand. Mason assumes the "manly" role, helping Natalie with her move (though it's clear that it may be something more). A dejected and heartbroken Marty takes his cue to leave.
The manager lets Nick and Hank into Marty's apartment. The manager explains that his dad should be home; he's lived with Marty for years, ever since he broke his back on a construction job. Inside Marty's cluttered apartment they discover the dead body of his father; it's clear that he's been dead at least two days. Hank and Nick consider the possibility that maybe his father dying is what set him off... or rather, what set him free.
Marty finally faces his ultimate enemy... Mason. The shy man he once was is gone, as his timid nature is replaced with rage. Mason laughs at Marty's newfound courage, morphing into a Lausenschlange and lunging at Marty. Marty picks up a big brass bookend and meets Mason head on. From Marty's point of view, we no longer see Mason or the snake creature. Instead, we see Marty's father; the same old man that Marty keeps killing. Shortly after, Nick and Hank discover Mason's dead body; Marty is dangerous and at large.
Marty, a new man, arrives home with flowers for Natalie; he tells her he's made dinner reservations for them to celebrate her new life. Not only that, Marty's bought Mason's corvette, explaining that it was too much car for Mason to handle. Natalie's surprised and impressed by this new side of Marty and decides to go along with his invitation.
At dinner, Marty is engaging and dynamic and showers Natalie in genuine compliments. She's smart and pretty; the only thing holding her back from an amazing future is herself. A father berating his eight-year-old son distracts Marty from their conversation. His rage bubbles to the surface, and Marty boldly approaches the family, punching the father in the face. A concerned Natalie pulls Marty away, dragging him out of the restaurant. As they head for the exit, Marty looks at the faces as he passes, and every man he sees is his father staring back at him.As Marty speeds off in the corvette, Natalie's discomfort with the situation grows. She asks for Marty to slow down, but he doesn't. Marty tells Natalie that he's gone too slow his whole life, but he won't anymore. A police car chases after Marty, but he loses them, finally ending up at his junkyard shop. He drags a frightened Natalie into the store with him, his eyes wild.Nick and Hank find Marty holding Natalie hostage at his shop. After taking Natalie to safety, Nick tells Marty that he knows that his father is dead. Marty, delusional, tells Nick that his father is everywhere, no matter how many times he kills him. Nick places Marty under arrest, as he morphs back into a timid mouse.