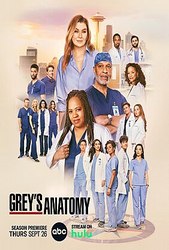 TV Info
---
Episode Premiere
February 12, 2009

Distributor
ABC

Genre
Drama, Comedy, Romance

Show Period
2005 - now

Production Company
Mark Gordon Co., Touchstone TV, ShondaLand


Cast and Crew
---
Director
Daniel Attias
Screenwriter
Tony Phelan, Joan Rater
Main Cast
Additional Cast
Kevin McKidd as Dr. Owen Hunt
Brandon Scott
Jennifer Westfeldt
Ben Shenkman
Steven W. Bailey
Sam Anderson
Laura Allen
Synopsis
---
Addison arrives at Seattle Grace with her brother Archer, who's collapsed due to a parasite in his brain. Archer suffered a seizure during sex with his girlfriend, Naomi, who also happens to be Addison's best friend.
Derek announces that surgery is not an option as Archer has eight cysts in his brain, any one of which could burst during surgery and kill him. Derek consults with the best doctors and they all agree the case is hopeless.
"I need to believe that you can do this, that you can save my brother. I need you to be a God, just today," Addison begs him.
Callie finds Addison in the chapel, trying to pray. "You're an amazing doctor, you save babies. God knows who you are," Callie assures Addison.
Sam, Naomi's ex and a fellow doctor at the Wellness Center in LA, urges Derek to consider treating the cysts one by one. Derek decides it's doable and talks a reluctant Archer into having the surgery.
A middle-aged man has been keeping the fact that he has colorectal cancer from his daughter. To complicate matters, the daughter, Beth, was formerly engaged to Owen and both Owen and Cristina are treating the patient. Owen tells Cristina it's okay to ask questions about his ex-fiancee, but she declines. Beth thought he was still in Iraq and is shocked to find out that even Owen's mother doesn't know he's back. She realizes her father is seriously ill when he starts spitting up blood. Owen rushes the father into surgery and afterward, tells the daughter that there was a lot of dead tissue he couldn't save. She demands to know why Owen broke up with her via a two-line email. Instead, he tells her the truth about her father's cancer. Owen confesses to Cristina that he's been keeping up the pretense that he's still in Iraq to spare his mother the pain of seeing the son she sent to war "gone." "I don't want her to look at me the way Beth does," he tells Cristina, saying, "You're the only one that sees me."
Izzie comes up with a project to reignite the interns' interest in medicine. Sadie is having a hard time with the "fun" challenges, while Lexie breezes through and wins the big prize: Scrubbing in on Derek's craniotomy. After witnessing Sadie's difficulty with the challenge, George offers to help. She tells him she doesn't need a tutor, but he points out that by now she should be able to diagnose whether a patient needs surgery. "They think you can," he tells her. "Sadie, you can hurt someone," he yells after her as she walks away.
George tells Sadie she needs to inform the Chief that she's in over her head, or else he will. She quits, telling Meredith, "I'd rather be a quitter than a cheater," revealing that she cheated on her entrance exam as she's "not book smart" and had expected to learn as she went. She wants Meredith to go back to Europe with her and relive their glory days, but Meredith refuses: "I don't want to sleep my way through Europe any more. I want to be here."
Meanwhile, seeing all of Derek's old friends and hearing about how he sang and played guitar at his wedding to Addison makes Meredith realize there's a side of Derek she doesn't know at all.
A pregnant patient with an aneurysm, whose surgery was delayed due to the Archer emergency, begs Derek to do her surgery tonight, rather than make her wait until the next morning. There's a complication during the craniotomy but Derek, with Lexie's help, solves the problem.
Mark congratulates Lexie on winning the contest. Addison sees them talking and, picking up on their flirtiness, introduces herself to Lexie. When Derek joins them, Addison is about to comment on the new couple until Mark abruptly changes the subject.
Addison and Mark hit Joe's and she says she's no longer sad about past relationships. "Seeing Archer in the OR just changed my perspective." She wants to know when Mark's going to tell Derek about Lexie and he says, "I'm working on it."
Derek walks in, to loud cheers. "You were a god, today. You slew dragons and you walked on water," Addison tells him. Surrounded by their old friends, they sing the song that Derek composed for Addison, which can't help but be bittersweet for the former couple.
Back at the hospital, the pregnant patient starts seizing and Alex shouts, "Page Shephard. Now!"