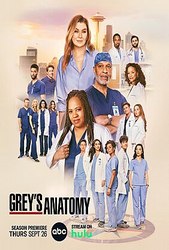 TV Info
---
Episode Premiere
December 06, 2007

Distributor
ABC

Genre
Drama, Comedy, Romance

Show Period
2005 - now

Production Company
Mark Gordon Co., Touchstone TV, ShondaLand


Cast and Crew
---
Director
Jessica Yu
Screenwriter
Shonda Rhimes, Krista Vernoff
Main Cast
Additional Cast
John Billingsley
Emma Prescott
Lauren Stamile
Seth Green as Nick Hanscom
Cress Williams
Gale Harold
Synopsis
---
Lexie has her hands full trying to deal with Nick's burst artery all alone. If either of them moves, he'll bleed out. He's just able to reach the phone and she calls the nurses' station to declare a code blue. Nurses swarm in and he's given several transfusions. Finally, the bleeding stops. Mark is going to operate on Nick to fix the artery but there's no OR available. They wheel Nick to a sterile exam room but he doesn't make it. At the end of the day, Cristina reassures Lexie that she was brave to stay with Nick and that she did a good job. Lexie is despondent that they were unable to save him because they weren't prepared.
Meredith does an ultrasound scan on Ray, the paramedic who's stuck upside down in the wrecked ambulance, and Richard determines that they need to drain some of the blood that is pooling in his heart. He asks her to wait, but Richard assures him it's okay to be scared. After Meredith does the procedure, Ray says he can breathe easier again. He asks Meredith to tell Stan's wife that he's sorry he couldn't save him and she says to tell her himself.
Erica is paged to attend to Ray, so she leaves Mark and Alex to finish the surgery on the man with the infected sternum. She brings Izzie with her and talks her out of updating the man's family, saying that she's thinking like a social worker and that she needs to think like a surgeon. The family can be updated when the surgery is over, she insists and Izzie, against her instincts, agrees. But when she walks through the waiting room the patient's wife asks her for an update. Izzie tells her she's on another case and doesn't know. The woman is furious that Izzie broke her promise to keep them informed.
Alex keeps glancing up at the gallery, where Ava is watching. Mark notices and recognizes Ava. "You are so busted," he tells Alex for sneaking a civilian in to watch him operate. Alex seems distracted and the patient starts bleeding profusely. Mark demands to know what Alex did wrong, but it's not Alex's fault, the man's heart graft gave way. Erica is rattled, but manages to save him, telling herself to remember that he has four children. Izzie checks in on the patient after the surgery and the wife asks her to leave.
The local tech for the brainscan computer is five hours away, so Derek asks if anyone has computer experience because he can't continue with the surgery or remove the probes without it. Rose took three semesters of computer science and says she'll try. Her hands are shaking too much to connect the necessary wires, so Derek hands off the brain probes to an intern and connects the wires himself. The computer doesn't start and Rose is sure she's failed, but Derek tells her to think of anything she might have forgotten. She realizes she merely forgot to push the restart button and the computer screen comes back to life. After the surgery, Derek tells Rose that he just fixed the woman's brain, but Rose saved her life and they share a kiss.
Miranda's husband, Tucker, is waiting for their lunch date, where they were going to discuss how she's never home, but she's still operating on the paramedic with the swastika tattoo. She orders George to ask Tucker to please wait. Tucker waits, but when George comes out again to say it'll be even longer, Tucker says he's done waiting and that he's tired of Miranda putting everything ahead of their marriage. Tucker leaves and since she's no longer in a rush, Miranda takes the time to "improve" the "ragged" incision on the patient's stomach, which means that his tattoo no longer resembles a swastika. When the patient wakes and sees his tattoo, he's furious. George tells him that a black woman saved his life, but that if he'd been alone in the OR, he might have just let him die.
Miranda decides to keep working until Tucker is asleep and as she's surveying the board, Cristina protests that it was wrong of Miranda to pull her off the cardio rotation to work on the white supremacist, simply because of the color of her skin. "You used me," she angrily tells Miranda.
The wife of the dead paramedic tells Meredith she can't stay at the hospital and Meredith convinces her to stay for Ray's sake, since neither of them have anyone right now. "It's better to have someone," she tells the woman, who stays and is at Ray's bedside when he wakes up. He's sustained serious damage to his lung and heart, but Richard thinks he'll pull through.
Alex loses his temper with Ava and wants to know what she's doing with him, since she still has a husband and baby. He coldly informs her that he's also sleeping with Lexie, whom she was sitting next to in the gallery, and that at least Lexie's not married.
Erica asks Callie and Mark out for a drink, expecting them to turn her down since they haven't exactly gotten along, and they agree, although Mark won't promise not to hit on her.
Meredith finally summons the courage to tell Derek she doesn't want him to date other people. He starts to answer her but she wants him to tell her his response tomorrow. She and Cristina decide to drown their sorrows with a tequila-fueled dance party at her house. Meredith is upset at first to see that Cristina's brought Lexie but soon they're all dancing away their terrible day.
Izzie is depressed that she'll never be as driven as Cristina or Erica, lamenting to George that she's not "kickass." He tells her that's a good thing. She wonders if they're going to make this work and he says that it's just been bad timing. They seem on the verge of going their separate ways when Meredith invites them to join the party. Izzie asks George to dance and he smiles and says yes.