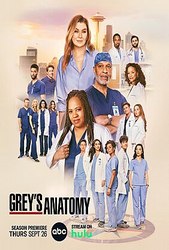 TV Info
---
Episode Premiere
February 01, 2007

Distributor
ABC

Genre
Drama, Comedy, Romance

Show Period
2005 - now

Production Company
Mark Gordon Co., Touchstone TV, ShondaLand


Cast and Crew
---
Director
Julie Anne Robinson
Screenwriter
Tony Phelan, Joan Rater
Main Cast
Additional Cast
Ronobir Lahiri
Jasmine Di Angelo
Synopsis
---
George and Callie show up to work with a surprise: They ran off to Vegas and got married! Izzie and everyone else is less than supportive.
Meredith's mother, Ellis, unexpectedly wakes up lucid one morning. She recognizes Meredith and remembers everything except for the last five years that she's been in a home with Alzheimer's. Meredith gently breaks the news to her and she collapses. Ellis ends up at Seattle Grace with heart arrthymia. Richard gives Meredith the day off to spend with her mother, but she'd rather be working.
Meredith tells her mother that she's happy and that she's dating another doctor. Ellis tells her how disappointed she is in her. She didn't raise her to be "happy," but to be accomplished. "What happened to you?" she yells, telling her she's become "ordinary" and "unfocused."
Ellis demands a neuro consult, which leads to a meeting with Derek. Once Derek reveals he's also Meredith's boyfriend, Ellis accuses him of taking advantage of her. Ellis needs surgery to prevent the attacks of tachycardia, but she doesn't want it. Cristina tells her she could die and she doesn't care. However, the decision is not up to her, but up to Meredith. Meredith tells Ellis she hates being the one in charge, but she has no choice since Ellis alienated everyone else in her life. "You're what's happened to me," she shouts.
Cristina still hasn't given Burke an answer to his proposal. She's "taking it under advisement." She asks Ellis for her advice. Can you be a surgeon and have a personal life too? Ellis tells her she wishes she had "tried harder" to make it work in her own life.
Richard goes to see Ellis while she's lucid and she says she regrets not fighting harder for him. Instead of telling her he and Adele are divorcing, he tells her what she wants to hear, about the wonderful life the two of them would have had together. "I would have been happy, like Meredith says she is," Ellis weeps.
Meredith comes back to say she wants the surgery for her mother because she's hoping that in a few years, there'll be a cure and they can start over with each other. But it's too late: Ellis isn't lucid anymore.
The Denny Duquette Memorial Clinic is ready and on its first day, Izzie and Miranda eagerly await their first patient. A little girl walks in with her father, who asks for help in showing her how to use tampons; he doesn't have a clue and his wife is dead. Izzie shows her and, discouraged by the lack of turnout, returns to Seattle Grace. Miranda stays and when the father leaves to sign paperwork, the girl blurts out that she had sex a few days before her period came, so she can't be pregnant, can she?
Miranda says she knows it's tough without a mother, but tells the girl she's too young to be having sex. When Izzie returns, Miranda tells her that one patient was worth the $8 million they spent to build the clinic.
Cancer patient Marina is brought into the hospital, unconscious, by her boyfriend, who is astonished to find out that she's been receiving chemo for cancer. As George takes blood from Marina, her boyfriend confesses he doesn't even know her middle name. George tells him it's "Rose."
George hands off the blood sample to Olivia and she observes that he doesn't look so good. She assumes he's regretting the quickie marriage. He starts to feel worse and thinks he's having a panic attack. He tells Callie that he can barely breathe and he doesn't even know her middle name. She's furious that the doubts of his friends seem to be getting to him.
George and Olivia both end up at the free clinic, shaky and nauseous. He suddenly realizes that it's because they both handled Marina's blood, and that it must be toxic. He calls the O.R. to warn them, but it's too late. Richard, Alex and the other surgeons are all unconscious on the floor!
They find an herbal supplement in her purse that they think, combined with the chemo, led to the toxicity. The surgeons are removed from the room and put on oxygen. Derek and Burke prepare to don special suits with oxygen masks and finish the abdominal surgery, but it's taking too long and the patient is waking up! Addison puts on a plain surgical mask and runs in to put her back under and then collapses into Mark's arms.
Derek and Burke finish the surgery, but they can't fit the swollen bowels back into the patient. Under Richard's supervision, they try to reduce the swelling, but they both run out of oxygen and collapse. Richard sends in Meredith, Izzie and Cristina for 20 seconds each to finish the surgery.
While recuperating, Addison can't stop staring at Alex, who catches her at it. She flees the scene ... and ends up in bed with Mark again. Callie confesses her middle name to George. It's Iphegenia. In the locker room, Izzie says something snotty about hoping that Callie isn't moving in with them, so George announces that if they drive Callie away, they're driving him away too.
Cristina finally tells Burke she'll marry him, but she won't wear the ring. He says okay, then spins her around, happily.