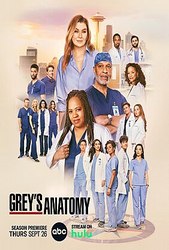 TV Info
---
Episode Premiere
November 09, 2006

Distributor
ABC

Genre
Drama, Comedy, Romance

Show Period
2005 - now

Production Company
Mark Gordon Co., Touchstone TV, ShondaLand


Cast and Crew
---
Director
Daniel Minahan
Screenwriter
Mark Wilding
Main Cast
Additional Cast
Alexandra Billings
Jim Parrack
Jack Yang
Joshua Cabrera
Synopsis
---
Derek decides to go camping, so he invites Burke and somehow all the men of Seattle Grace, except for Mark, tag along.
When Richard doesn't have a tent to camp in, he asks Joe and his friend Walter, if he can sleep in their tent but the realizes that Joe and Walter are a couple.
While fishing, Joe tells Richard they're thinking about having children and Richard says he and Adele never did because she didn't want raise them alone since he was always at the hospital Joe says Walter says the same thing, since he's always at the bar, but that he'll do whatever it takes to keep Walter.
George notices Burke's hand shaking, but Burke says it's nothing.Alex tells George that getting back together with Callie is a bad idea because she's sleeping with Mark.
Richard tells George and Alex that they if they're going to keep fighting, they need to do it openhanded so that they won't damage their hands or their careers. The men all gather around to watch the fight. Walter is just remarking that it's the last time he and Joe go camping with straight men when he's knocked to the ground and his head is dashed against the rocks.
Burke prepares to stitch up the gash to Walter's forehead and George hesitates about saying anything but finally tells Joe that Burke is the best. With everyone watching, Burke successfully stitches up the wound. Later he tells George that "his standards are too high" and that he and Cristina are a team.
Meredith assists Mark for the day, but lays down some rules: no flirting and no talking about Derek. But he asks about Derek anyway and she tells him Derek is taking some "space." He responds that Derek's "damaged," and that she should forget about him.
Mark's scheduled a gender reassignment surgery for Daniel (who now calls himself Donna). Donna's wife Vicky tells Meredith she originally left when Daniel said he wanted to become a woman, but she came back. In doing the tests before the surgery, they discover that the hormones Donna has been taking have given her breast cancer. She decides she still wants to go through with the surgery, even if it means dying. Vicky leaves again, but then comes back. "She's my best friend," she tells Meredith.
Miranda tells Cristina she's off surgeries. When Cristina asks why, Miranda asks her why she erased her name from the board for Burke's Humpty Dumpty surgery. . Cristina feigns surprise. Her assignment for the day is a little boy who's swallowed several Monopoly game pieces. It's a thankless task, involving examining his feces to see if he's passed everything.
Izzie is assigned a peer counselor and it's the dreaded ever chirpy Sydney. She tries to dodge her by helping Cristina. Finally, she has no choice but to tell Sydney she doesn't want to talk about Denny to her and that she can't possibly know what she's going through. Sydney, sans smile for once, tells her that her first year, she lost a child and that it was her fault. She had a nervous breakdown, and that ever since then, she's pasted on a smile and pretended everything was okay. Izzie admits she misses Denny constantly and she doesn't even know if she still wants to be a surgeon.
Cristina asks Meredith why she kept her mother's Alzheimer's diagnosis a secret, and Meredith says because her mother asked her to. Before she can ask Cristina whose secret she's keeping, Cristina is paged away.
One of the Monopoly pieces has perforated the little boy's intestines and Cristina expects that she'll follow her patient into surgery, but Miranda says no. Not unless she tells her why she erased her name from the board. Cristina refuses, even knowing that Miranda now has it in for her.
Addison and Callie both assist a pregnant woman who fell in the shower and broke her arm. She's refusing all meds to spare the baby, but the ultrasound reveals that the baby died in the fall. Addison leaves the room abruptly and Callie follows her into the women's room, where she finds her crying. Addison says she doesn't know why it's affecting her so much, except that they're such a happy couple and the second she tells them about the baby, they won't be anymore.
Callie urges her not to tell the couple right away. When she finally does tell them, they fall apart. Addison and Callie, bonded by their sympathy for the couple's plight, end up revealing they both slept with Mark. Addison asks Callie if she wants to go have a drink, but then her pager beeps. "Another time," says Addison.
Back from the camping trip, George finds Callie at the hospital and tells her they need to talk. She agrees, but not about what he thinks: She pulls back a curtain to reveal his father lying in a hospital bed.
Mark and Meredith retire to Joe's after the day for a drink and tells her it could be more than a drink if she wants it to be.
His pager goes off and when he steps away, Derek shows up. Seeing Meredith alone at the bar, he walks up to her and says, "Hi, I'm Derek Shephard." He tells her he wants to start over, from the beginning. Since they didn't even know each other's names, he wants to do it right this time. She tells him it's too late, but seeing Mark standing behind him, she relents. "Hi, I'm Meredith Grey," she says.