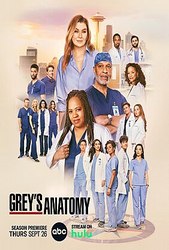 TV Info
---
Episode Premiere
October 12, 2006

Distributor
ABC

Genre
Drama, Comedy, Romance

Show Period
2005 - now

Production Company
Mark Gordon Co., Touchstone TV, ShondaLand


Cast and Crew
---
Director
Dan Lerner
Screenwriter
Allan Heinberg
Main Cast
Additional Cast
Synopsis
---
Addison and Derek are both horrified to see Mark shaking hands with the Chief, who's just hired him.
They're distracted by Meredith, who keeps throwing up after complaining of a stomachache. She collapses and Cristina asks her if she's pregnant, in earshot of everyone. Meredith says she can't be pregnant, but if she is, it could only be Derek's. She thinks she has an ulcer from trying to juggle Derek and Finn; it turns out she has appendicitis.
When Derek complains about his having hired Mark, Richard reminds him that Mark is one of the best plastic surgeons in the country and will bring in a lot of money for the hospital. And Richard points out that the two were best friends for years, maybe there's something there they can salvage. Mark tells Derek he's not the bad guy since they both cheated on Addison.
Miranda orders a man who's just had bypass surgery to eat better and quit smoking. He swears he won't smoke when he goes home so instead he lights up in his hospital room and lights his oxygen mask on fire, causing serious facial burns. Mark is called in to operate. Alex is eager to brush up to the arrogant Mark, who immediately sends him out for coffee.
One of Addison's patients is due to give birth any minute, but refuses to consider a C section. Alex is less than sympathetic to the patient's wishes, but Addison just tells him to monitor her and to keep their options open as long as they can. A C section ends up being inevitable and Alex misses his opportunity to scrub in with Mark, but he's still leaving the ob gyn department.
Cristina declares Burke as good as new after he's successfully stitched up several raw chickens. He doesn't tell her how much his hand shakes after each "surgery." Derek, who's distracted by the whole Mark situtation, gives him a cursory examination and pronounces him ready to work, and Burke doesn't reveal he's still having problems. Burke practices operating on a cadaver and finally shows Cristina how his hand trembles. She figures out that if she helps him, they can hide his weakness.
A still high on morphine Meredith decides she finally needs to choose between Derek and Finn. Addison, who's walking by, is relieved to find that Meredith is not pregnant. When Meredith asks how she knew Derek was the one, Addison says she knew he wouldn't hurt her. Meredith says Derek hurt her when he chose Addison over her. Addison is surprised to find that she doesn't hate Meredith anymore. When she bumps into Derek, she tells him, "Don't hurt her again." Addison also tells Mark there's no hope of getting back together.
Derek finds Finn waiting for Meredith to come out of surgery. Finn seems to know all about him, but Derek doesn't even know that Finn's wife died. When he's alone with Meredith, Derek tells her he's walking away and she should be with someone who won't hurt her. But when she sees Finn, Meredith tells him she can't help it, Derek's the one. Finn responds, "He's going to hurt you again and when he does I won't be there."
Izzie shows up at Joe's bar to meet Denny's father. At first, he's hostile, saying how suspicious it is that she got engaged to Denny right before he died. He says she must have enormous med school loans and that she was just after Denny's money. She chews him out for not being there for his son. He explains that Denny didn't want his parents to watch him die, so he left and they had no idea where he was.
Izzie tells him the whole story and that she's debt free and he softens. He hands her an envelope. Inside is a check for $8.7 million. And he lets her hear the message Denny left for them the day he died, about Izzie and how she's the love of his life and he can't wait for them to meet her.
Callie asks George to dinner. But he says he has to go home to be there for Izzie. She complains that Meredith and Izzie always come first and asks what she is to him. When he doesn't answer she tells him he won't have to worry about deciding anymore.
At Joe's, Mark and Callie are still smarting from their break ups, so Callie invites him back to her hotel.