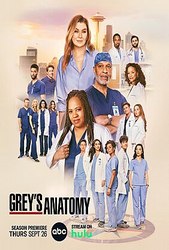 TV Info
---
Episode Premiere
October 05, 2006

Distributor
ABC

Genre
Drama, Comedy, Romance

Show Period
2005 - now

Production Company
Mark Gordon Co., Touchstone TV, ShondaLand


Cast and Crew
---
Director
Adam Arkin
Screenwriter
Debora Cahn
Main Cast
Additional Cast
Jack Conley
Stephanie Erb
Gabriel Casseus
Lanai Chapman
Synopsis
---
Meredith likes this dating thing: She's juggling Finn and Derek and dreaming about them both. In the same dream.
Finn shows up at the hospital to have lunch with her and Derek pulls her away for an operation. So Finn just happens to show up at Meredith's house when Derek and Meredith come back from their dinner date. Meredith chews them out for not giving her a real date and goes inside the house without either of them.
George avoids the subject of getting Callie a key to the house, because he's more than a little freaked about her having moved in.
Callie requests George assist her with a 55 year old triathlon junkie who's having his fourth bone replacement surgery in a year. George is appalled that Callie is aiding in the man's self destructive behavior and talks him out of it. Callie is furious when she finds out. As they argue, George blurts out that he's not ready to live together. Callie responds that she was planning on moving out within a week, but upgrades that to within the hour.
Megan, a little girl with a leg gash, is brought in. It's her fourth accident in a month and her foster parents say they know it looks bad but she just "plays rough." While the parents are meeting with social services to see if they've been abusing her, Megan tells Alex that she has super powers. He tests her reflexes by having her put her hand in a bucket of ice and take it out when it starts to hurt. He puts his hand in too and has to take it out before she does; she says she felt nothing.
They determine that she has a genetic condition that won't let her feel pain. It's usually diagnosed in infancy but since she was in foster care, it went unnoticed. And now she's bleeding internally because she asked another kid to hit her in the stomach with a baseball bat and that they need to operate right away. But she hides because she's worried that her foster parents will think she's "defective" and send her back. Comic book geek George has been educating Alex on various superheroes, so Alex persuades her she's still special even without superpowers, just like the Green Lantern is still a hero without his ring.
Mark purposely misses his flight back to New York so he can spend more time with Addison. He asks her to come back to New York with him. When she refuses, he goes to the Chief and tells him he "has a thing for ferries," and that, presumably, he's staying in Seattle.
Burke is avoiding doing his exercises and stops by the hospital to work out the details of his leave of absence, which is news to Cristina.
Derek operates on a patient whose epilepsy means he can't be trusted to hold his own baby. After the operation, he has trouble remembering the name of things, including the baby's name, which he'd picked out. As Derek tells his wife she needs to be patient and help him, Cristina takes the message to heart.
She comes home with two raw chickens and chops them in half and tells Burke he's going to get his strength and dexterity back. Starting with sewing the chickens back together.
Miranda demands that Richard give Izzie a second chance, asking him to think of all the medical interns who've ever made a mistake, including him.
Izzie decides to go back to the hospital, but she can't make it inside the building. She tells George that she needs to make sure when she talks to the Chief, she's not thinking about her wedding dress. She ends up standing outside all day. "Maybe tomorrow," says Meredith.