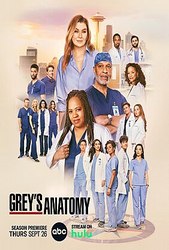 TV Info
---
Episode Premiere
September 21, 2006

Distributor
ABC

Genre
Drama, Comedy, Romance

Show Period
2005 - now

Production Company
Mark Gordon Co., Touchstone TV, ShondaLand


Cast and Crew
---
Director
Daniel Minahan
Screenwriter
Shonda Rhimes
Main Cast
Additional Cast
Jeremy Rabb
Haley Ramm
Kelli King
Frank Merino
Alexandra Brandi
Nicolette Collier
Jessica Tuck
Synopsis
---
It's the day after the prom and everyone is worried about Izzie, who is still mourning Denny. She just lies on the bathroom floor of the house and refuses to eat or change out of her prom dress.
Cristina tells Meredith she's the best candidate to go comfort Izzie, because she's "dark and twisty."
Miranda stays with Denny's body until the funeral home picks him up. There won't be a funeral, at his family's request. Before he's wheeled off, she tells him, "I'm sorry. I'm so sorry."
Meredith confesses to Cristina that she snuck off from the prom and slept with Derek, but that she has no idea where things stand between them.
Adele makes an appointment with Richard, saying it's the only way to see him. She offers an ultimatum: Retire or she's leaving him.
Omar and his wife, Giselle, come into the E.R. She was driving them both to the hospital for severe flu when she passed out at the wheel. Omar is running a high fever and it turns out he was exposed to someone with bubonic plague. Quarantine is immediately declared.
Derek and George are on their way to Meredith's house when they are stopped by health officials: they just operated on Giselle and now both of them have to stay in quarantine, alone, in the locker room. They end up discussing the women in their lives. George says he's going to tell Callie he loves her "soonish," and Derek says he shouldn't wait. George asks if he ever told Meredith he loved her, and Derek says no. George reveals he said, "I love you," to Meredith and that went so badly that that's why he can't bring himself to say it to Callie.
Alex takes charge of a newborn baby that was abandoned in a trash can. It has a serious blood condition that requires a transfusion from the mother, if they can find her. The only likely suspects are a troop of 14 year old Girl Scouts, who all deny it's theirs. As Addison tries to narrow down who the mother is, she recalls the night that Derek found her with Mark and how she begged him not to leave. "The truth always comes out," she tells the last two girls who might be the mother, and one finally confesses.
In other flashbacks, we see how the interns first met at a mixer: Alex tells Izzie she won't make it through the first year; Cristina gushes to Burke how much she admires him; George tries to chat up a disinterested Meredith. Derek recalls meeting Meredith at Joe's bar over tequila and Scotch.
Omar is in quarantine when Miranda stops to check on him. Because the health officials won't let her break the seal, she has to tell Omar through the door that his wife has died. He starts to hyperventilate and she talks him through it, telling him she believes in an afterlife, and that it's beautiful.
Callie shows up at the house with food and starts cooking. She reassures Meredith she won't tell anyone about walking in on her and Derek. Finn shows up to talk to Meredith, which is the moment she decides she needs to talk to Izzie. Finn tells Meredith that he doesn't want to know what happened with Derek, but that he's going to give her time to decide, but that Derek isn't good for her.
Derek and George are finally released from quarantine. As Derek watches, Callie tells George she was so worried and that she really, really loves him. George says nothing.
Derek finds Meredith and finally says that he's in love with her, and that she has a choice to make. And that when he had the same choice, he made the wrong one.
Cristina tries to help Izzie by telling her about shiva, the Jewish grieving ritual for the dead, and Izzie asks her how she'd feel if she ever lost Burke. Later, Cristina goes to Burke's hospital room and unexpectedly starts sobbing. "Don't ever die," she tells him.
Finally, with Meredith beside her, Izzie stands up and decides she's ready to take off her prom dress.