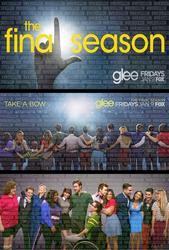 TV Info
---
Episode Premiere
May 09, 2013

Distributor
FOX

Genre
Comedy, Musical

Show Period
2009 - 2015

Production Company
Ryan Murphy Productions


Cast and Crew
---
Director
Bradley Buecker
Screenwriter
Ian Brennan
Main Cast
Additional Cast
Patty Duke
Meredith Baxter
Jessica Sanchez as Frida Romero
Frida Romero
NeNe Leakes
Jacob Artis
Synopsis
---
Brittany's interview at MIT results in two contrasting revelations: while the staff determines that from her test scores Brittany appears to have little to no academic ability, the numbers she's doodled on the back of her notepad to get them out of her head appear to be of great scientific significance when viewed in various sequences. Believing that she might be a singular, Einstein-level intellect in some respect, the MIT plans a unique proposition for her.
Will reveals that the Regionals competition will now be held in the McKinley High auditorium and reminds New Directions that they need to bring everything they've got to the stage: "All or Nothing." Ryder is preoccupied wondering about the still-mysterious identity of his "catfish," Katie_xoxo. Meanwhile, performing Celine Dion's "To Love You More," Rachel auditions for the role of Fanny Brice in "Funny Girl." She pours everything into her performance, ending with tears running down her cheeks, but the reaction of the casting team is utterly unreadable.
Sam urges Blaine to reconsider his plan to ask Kurt to marry him, but Blaine is determined: not only is he going to go through with it, he wants Sam to be his best man. As Joe and Sugar return to the glee club, Will runs down the set list, but Brittany insists on changing everything to showcase her, unleashing a ridiculous set of demands based on her new confidence in her "megawatt star power." When her friends are stunned by her behavior - including Sam, whom she dumps - she says she's just embracing Will's "All or Nothing" mentality.
Brittany dramatically quits the Cheerios, burning her uniform in front of Coach Roz and posting a manifesto filled with reasons why she can't be on the squad anymore. Ryder demands that Katie_xoxo reveal herself or he won't participate in Regionals. Finally, Marley admits that it was her, despite her previous insistence that she wasn't responsible, and Ryder's shock is compounded when Jake defends her.
Tina helps Blaine shop for a wedding ring, and he's aided by Jan (Patty Duke), a compassionate jewelry store employee who's proud that the LGBT community is on the brink of marriage equality. Sam shows up to support Blaine, and Jan offers to help Blaine navigate his plan so he can "see what's possible when two people really love each other."
When Sue and Will confront Brittany about her demanding behavior, she insists she'll only discuss things on her own terms - on her Internet chat show "Fondue for Two." Among Brittany's revelations: she's determined that singer Michael Bolton is the father of Sue's daughter Robin. Meanwhile, a concerned Sam asks for help from Santana, the only person he thinks can get through to Brittany and learn what's really happening.
Blaine and Kurt have dinner at Breadsticks with Jan and her partner Liz (Meredith Baxter), who recount how different it was for them growing up as lesbians during their formative years - but somehow they made it work. Blaine's taken aback when Kurt casually points out that he and Blaine aren't a couple, but the evening takes a happier turn when Jan asks Liz to marry her.
Marley tries to apologize to Ryder and bring him back to the glee club. He demands an explanation as to why she's strung him along all this time, but the answer is even more shocking: Wade/Unique reveals himself as the real Katie_xoxo. After he was drawn in too deep in his anonymous online flirtation with Ryder, Wade revealed his secret to Marley - he'd never felt so close to someone without his exterior getting in the way. He apologizes, hoping he won't lose what they have, but Ryder tells him they don't have anything and that he'll never speak to Wade again. Meanwhile, back on "Fondue for Two," Santana confronts Brittany, and Brittany's ready to reveal an apparently explosive secret.
As Regionals kick off, Ryder returns to New Directions; since he's only upset with Wade, he doesn't want to punish the group, but he tells Will that after Regionals he's leaving the glee club. The Hoosierdaddies and their lead singer Frida Romero (Jessica Sanchez) power through their dynamic set of Zedd's "Clarity" and Little Mix's "Wings," but Sam is pleasantly distracted by the surprise arrival of Brittany, who tells her friends that she was granted early, immediate admission to MIT - the shock and urgency prompted her meltdown. Having been told she was stupid all her life, she feels that when glee club helped her believe she might be smart, the whole world started to believe it too. She pays a tearful tribute to her friends, especially Sam and Santana, as she heads into her final performance.
New Directions launch their performance with "Hall of Fame" by The Script and will.i.am, followed by Icona Pop's "I Love It" and culminating with Marley's original song "All or Nothing." The judges' scores come in, and once again New Directions takes first place at Regionals. As they celebrate, Emma makes an unexpected appearance backstage with a priest in tow - she and Will are throwing a surprise wedding. The students hum the wedding march as Emma walks down the aisle and ties the knot with Will amid cheers - even as Blaine clutches his own ring box and plans to pop the question to Kurt.