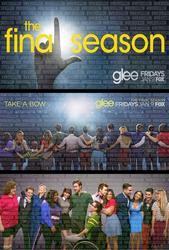 TV Info
---
Episode Premiere
May 02, 2013

Distributor
FOX

Genre
Drama, Comedy, Musical

Show Period
2009 - 2015

Production Company
Ryan Murphy Productions


Cast and Crew
---
Director
Wendey Stanzler
Screenwriter
Brad Falchuk
Main Cast
Additional Cast
Synopsis
---
Good news is in abundance for the glee club: Rachel calls Will to tell him she's one of the finalists for the role of Fanny Brice in "Funny Girl" and credits him for helping her to get there; Will has re-proposed to Emma, and she's re-accepted; Brittany's touring MIT on early acceptance; and Tina's been wait-listed at a veterinary school. The rash of "wonderful" news prompts Will to build his latest lesson around the positivity of the music of Stevie Wonder.
Kitty confronts Artie about his apparent depression, believing that he's hopelessly longing for her, but he reveals that he was accepted into film school in New York but won't be going - and he swears her to secrecy. Meanwhile, Kurt sweats out the results of his dad's latest medical tests, returning to Lima in hopes that Burt's finally cancer-free. His arrival coincides with Will's recruitment of Mercedes and Mike to help New Directions step their game up for Regionals. Kitty's exuberant performance of "Signed, Sealed, Delivered (I'm Yours)" is capped by her revelation of Artie's secret to the glee club, which upsets him: apparently his mom is freaking out at the prospect of him being on his own in the big city, but Kitty surprises him with sweet words of encouragement.
At the coffee shop, Mercedes is excited about her upcoming album, while Blaine notices that Kurt's acting a little OCD with his sweetener packets. Kurt loses his cool when questioned about his and Blaine's relationship, but his friends realize he's upset about his dad and offer their support - especially Blaine. Rachel learns that she needs her NYADA teacher to sign off on skipping her dance midterm so she can go to her Broadway callback: Cassandra July could have the power to shatter her dreams.
Recognizing that the glee club's fears held them back at Sectionals, Mercedes prompts them to push their limits during a rendition of "Superstition" - especially Marley. Noticing Jake's standout dancing, Mercedes and Mike want him to appear in her debut music video.
At the doctor's office, Kurt, Burt and Carole await Burt's results, and Kurt's stress-induced superstitions test his father's patience. Fortunately, the news is joyous: Burt's in remission. Burt comes as Kurt's special guest during glee club, where he dedicates a song to him - a special song Burt used to share with him as a child: "You Are the Sunshine of My Life."
Catching Rachel rehearsing her lines for her callback, Cassandra tortures her by explaining that to ensure she'll be able to be on hand to watch Rachel choke at her first big Broadway audition, she's rescheduling Rachel's dance midterm to first thing in morning. She assigns her one of the most challenging ballet routines imaginable.
Jake shows off his dance moves alongside Mike to "I Wish." Unfortunately, Mercedes gets an aggravating call from her producer - she tells Mike and Kurt that her CD has been taken off the release schedule until she consents to a second album cover photo shoot showing more skin than before. Distraught, she admits she's considering it to make sure that her music gets the push it needs.
Artie arrives home to discover that Kitty has discussed his film school secret with his mom, Nancy (Katey Sagal), who was shocked to learn Artie had been keeping it from her. Artie admits it's been him who was reluctant to accept, because he feels guilty about leaving his mom behind after all the sacrifices she's made for him. She insists that he follow his dream - and vows to tip him over if he ever tells someone she's an old hag again.
Cassandra's continued insults prompt Rachel to prepare to prove her teacher wrong, but she's shocked to discover Cassandra's turned the midterm into a training camp for Rachel's audition: "At NYADA, we're family," says Cassandra, warming the boot camp with "Uptight." Meanwhile, Mercedes informs the glee club that she couldn't sell herself out simply to make her dream come true faster - she's lost her record deal, but she's kept her integrity, and she celebrates her choice with "Higher Ground."
Burt meets with Blaine, who gives him a rainbow pin so Burt can show his support for gay marriage. Burt wears it proudly, happy not to be "on the wrong side of history," and Blaine surprises him by asking Burt's permission to ask Kurt to marry him. Burt appreciates the gesture, but he refuses to agree, saying the boys are too young, and more importantly, it appears Blaine has an unrealistic view of what it would mean to be married. Burt tells him that if he truly believes he and Kurt are meant to be together, he needs to relax and not force it: if it's true, everything will work out eventually.
Artie tells the glee club the lesson he's learned is that passion is the vital ingredient that will make a difference, and he invites the glee club to a performance in the auditorium to illustrate his point. Rachel presents Cassandra with a gift: Debbie Allen's original cane from her role as the dance teacher in the film "Fame." Cassandra downplays the celebratory moment she staged for Rachel as an NYADA tradition, but Rachel wants to thank her for pushing her so hard all year. Cassandra admits that she saw something special in Rachel on day one and wanted her to be able to endure the struggles on her way to success.
Blaine pops a different question to Kurt, asking him to stick around for Regionals. Kurt happily agrees, and the two take in Artie's promised performance, a rousing rendition of "For Once in My Life."