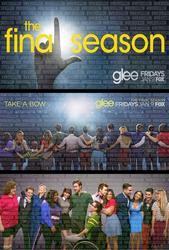 TV Info
---
Episode Premiere
April 18, 2013

Distributor
FOX

Genre
Drama, Comedy, Musical

Show Period
2009 - 2015

Production Company
Ryan Murphy Productions


Cast and Crew
---
Director
Elodie Keene
Screenwriter
Ross Maxwell
Main Cast
Additional Cast
Synopsis
---
Although he originally feared going to college, believing it to be solely for "smart people," Finn's discovered that it's an ideal environment for a kid like himself to experiment with being an adult. Amid frequent outbreaks of the Harlem Shake, he also discovers he has a new roommate: Puck, who's joining him at college despite not being enrolled.
Preparing to audition for her dream role as Fanny Brice in a Broadway revival of "Funny Girl," Rachel takes stock of her lifelong desire to star in the musical and her hero worship of its iconic original lead, Barbra Streisand - Streisand was once an unknown Jewish girl who sang in her high school choir and made it big, so why can't Rachel follow in her footsteps?
As Roz Washington returns to McKinley to take over coaching the Cheerios after Sue's firing, Shannon urges Will to finally offer forgiveness to Finn. In the wake of the shooting scare at the school, Marley's worked up the courage to unveil her secret collection of original songs but worries that her friends' odd behavior may stem from post-traumatic stress disorder: due to her high SAT scores, Brittany's being recruited by MIT, Tina's adopted a steampunk style, Sam appears to have taken on the character of his "smarter twin brother" Evan, and Unique has started taking birth control pills.
Will reveals the theme of Regionals: "dreams." He plans to tackle the theme literally with a set list of songs including "dream" in the title, trumping Marley's hopes that the glee club could perform one of her songs - Will doesn't want to leave any room for error. In a private meeting, Blaine insists that the "dream" medley will be a flop and plots an alternative, but still Marley can't push her own dream through.
Will catches Finn and Puck partying at their dorm, offers an apology and asks Finn to come back to coach the glee club, but a still-hurting Finn turns him down because he's "too busy with college." When the students try to defy Will's song list, he comes down hard on them but quickly realizes he's overreacting.
Rachel gets a surprise visit from her birth mother, Shelby, who insists she has no regrets about her life choice and now wants to help Rachel achieve her dreams - and not by auditioning in full Barbra mode. Shelby points out that Rachel needs to be an original who can put her own stamp on the role and not be a carbon copy of Streisand. They duet on Emeli Sandé's "Next To Me."
Finn and Puck keep partying hard at a fraternity bash, saving the night after the stereo breaks by performing a rendition of the Beastie Boys' "(You Gotta) Fight For Your Right (To Party)," and they are initiated on the spot with no pledging or hazing. Meanwhile, Marley offers a freshly written song, "You Have More Friends Than You Know," to Blaine, Sam and Unique to ease the pain of their chiding by Will. They love them and want to bring her songs to Will, but she's convinced he won't be any more receptive than before.
Rachel calls Finn for the first time since he decked Brody, admitting he may have done her a favor and asking his advice on auditioning without a Streisand song. He advises her to sing something personal from the heart - that's when she always shines. Rachel auditions with Journey's "Don't Stop Believin'," imagining her friends from New Directions backing her up. One of the producers recognizes something happening with Rachel during the audition and asks her about it, and she explains that she was thinking of the friends who helped her to get where she is today.
Finn's surprised when Puck suddenly lectures him about not losing sight of his dreams and focusing on becoming the best teacher he can - even Puck wants to show everyone that he can be more than people expected of him.
Coach Roz confronts Cheerios co-captains Becky and Blaine, suspicious that the inexperienced Blaine somehow infiltrated the squad and engineered Sue's mistake in bringing a gun to school. The accusation prompts Becky to defend him, nearly leading her to reveal her own guilt in the gun incident. After Roz insists that they take a blood oath never to use their voodoo on her, Blaine questions Becky, but she denies any knowledge and storms off through the hallways.
Finn tells Will he can come back to glee club for college credit, but it has to be as an equal. Will has his own condition: they have to move past their dust-up once and for all. Unveiling Finn's return to teaching to the students, Will reverses his plan and invites Marley to try out her songs for Regionals.
Although she's begun to believe that she didn't land the audition, Rachel tells Kurt she doesn't regret singing something other than Streisand, as something special happened to her during her performance. But suddenly her phone goes off and she gets a callback. Back at McKinley, the New Directions members give the first performance of Marley's original composition "Outcast," uniting in their outsider-ness.