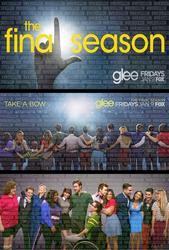 TV Info
---
Episode Premiere
April 11, 2013

Distributor
FOX

Genre
Comedy, Musical

Show Period
2009 - now

Production Company
Ryan Murphy Productions


Cast and Crew
---
Director
Bradley Buecker
Main Cast
Additional Cast
Synopsis
---
As Will reviews the competitors for Regionals, Brittany interrupts with an urgent announcement warning that a giant asteroid - or meteor, or comet - is headed directly for Lima. She advises the glee club to make amends with their loved ones, as she plans to with her cat, Lord Tubbington. Will uses her doomsday scenario to prompt the students to bring a sense of urgency to their performances.
Ryder tells Jake that he believes his mysterious online connection Katie_xoxo is actually a student at McKinley. He introduces himself to the girl he believes he's been communicating with, and she appears thrilled that he's broken the ice. Ryder pulls her into the music room to serenade her with Elton John's "Your Song" - but though she's impressed, Ryder's crushed to discover he's been "Catfished." The real Katie_xoxo has only been using a photo of this girl, whose name is Marissa. Humiliated, Ryder tries to place the blame on Jake and Marley, pulling away when they insist they're innocent.
Brittany stages an elaborate candlelight performance of Extreme's "More Than Words" to express her feelings to Lord Tubbington. Meanwhile, Shannon arranges a "Lady And The Tramp"-style dinner for Will in the locker room. Inspired by Brittany's asteroid prediction, she puts her heart on the line: now that she and Will are both single, she wants him to be the man in her life. He reveals that he and Emma have been reunited for about a week but offers to discuss Shannon's feelings. She only grows upset and flees.
Ryder gets a text from Katie_xoxo, who promises to explain everything if Ryder will meet her the next day in front of the choir room. Brittany reveals that what she thought was an asteroid was just a dead ladybug on the lens of her telescope, which is actually a Pringles can: false alarm. Becky confesses her true feelings to Brittany: she looks up to her and doesn't want her to graduate, and she's fearful about the two of them entering the real world. Brittany explains she has no choice but to move on, as Becky will one day - and if she really prepares herself, the world won't seem so scary.
Shannon's called into the choir room, where Will coaxes her into getting over her embarrassment - but the moment is interrupted by a series of noises sounding like gunshots outside. Terrified, the group seeks cover, barricading themselves in the room. Will advises the kids to send text messages to alert the outside world but not reveal their location. Sam is desperate to search for Brittany, who was in the bathroom, but Will won't let him. Blaine realizes Tina's missing too.
Marley frantically texts her mom, who can't get to her phone - fearing for her mom's safety, she's comforted by Kitty, who admits to altering Marley's costumes during "Grease." It turns out that Tina's safe outside, begging Principal Figgins to do something about the students trapped in the choir room.
Artie records messages from his friends, in case they don't survive. Ryder tries to call Katie_xoxo because she still means something to him, and when he does, a phone rings inside the choir room - she's one of the glee students, though the phone lies on the floor unanswered. Will finds Brittany and two other students hiding in the restroom and leads them back to the choir room as the SWAT team searches the hallways. Receiving the all-clear signal, Will and the students cling to each other, glad to be alive.
In the aftermath, the school is searched, and students and faculty have to pass through metal detectors. Sue brings donuts to the teachers' lounge - she thinks everyone's overreacting, since no weapon was found, but Shannon knows what a gunshot sounds like and insists the threat was real. Will says the police will ultimately determine the location of the gun, and the student who brought it will be expelled. Given pause, Sue tells them that it was her gun that went off.
Sue explains to Figgins her reasons for being armed at school and says that she accidentally fired the gun while cleaning it - crafting an elaborate story around the lack of evidence. Figgins recognizes that she's covering something up, but she insists she panicked and is ready to take her punishment. Figgins warns her that there are policies he cannot avoid. Realizing she's fired, Sue notes than no matter the greatness of her past accomplishments, this is the one thing she'll be remembered for.
Ryder suspects Kitty of being Katie_xoxo, but she mocks the notion of them getting together. Will creates an online dating profile for her, using his own feelings to describe her - it's time she put herself back out there. Making peace with the fact that Lord Tubbington's been jealous of his relationship with Brittany, Sam offers her a chubby rescue cat named Lady Tubbington.
Will confronts Sue, refusing to believe her admission of guilt. Sue flashes on the real reason: Scared of what the world might do to her, it was Becky who brought her father's gun to school, accidentally firing it after revealing it to Sue. As Sue packs up her office, she asks Will to keep an eye on Becky. "She gets scared sometimes."
Meanwhile, Ryder's in the hall, ditching a mandatory school assembly to meet Katie_xoxo, but she fails to show, so he joins the New Directions in a private gathering as they sing John Mayer's "Say (What You Need to Say)" and think back on the messages they recorded for their friends and family.