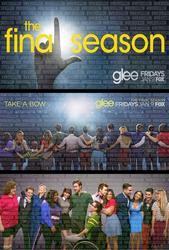 TV Info
---
Episode Premiere
May 22, 2012

Distributor
FOX

Genre
Comedy, Musical

Show Period
2009 - 2015

Production Company
Ryan Murphy Productions


Cast and Crew
---
Director
Brad Falchuk
Screenwriter
Brad Falchuk
Main Cast
Additional Cast
Synopsis
---
As the glee club students clown around in the music room with an improv version of "Sit Down, You're Rockin' the Boat" from "Guys and Dolls," Will prepares them for their last musical lesson of the school year: saying goodbye via song when the seniors graduate. To set the mood, Will delivers his own farewell, strumming an acoustic rendition Rod Stewart's "Forever Young."
Kurt reflects upon his experiences at McKinley, hoping that he perhaps inspired some "tadpole" gay students by his example and remembering how far he has come. He then finds his dad, Burt, waiting for him in the theater, ready to give him his graduation gift.
Burt confesses that he "lost" Kurt around seven years old, when he was not quite able to figure him out, but both are proud of the progress they've made together. As a gift, Burt offers a tribute to the moment when he realized for certain who Kurt was by pantomime-performing the same song he discovered Kurt singing three years ago: Beyonce's "Single Ladies," complete with backup dancers Tina and Brittany.
Thrilled with his dad's gift, Kurt is brought back to a harsher reality when Blaine gently insists that they address how they're going to handle their long-distance relationship when Kurt moves to New York. Kurt shares his vision of the faraway future, where his high school sweetheart is still at his side. He reassures Blaine that they'll make things work despite the challenges.
Kurt then offers his goodbye song to the glee club: Madonna's "I'll Remember." After his song, Rachel tells Kurt and Finn that she called NYADA and discovered that the acceptance and rejection letters have been sent out. The three of them pinky-swear to open Rachel and Kurt's letters together, because their shared futures are riding on them.
Thanks to the YouTube video posted by Sam, Mercedes has been offered a recording contract as a backup singer in Los Angeles, and she'll be taking courses at UCLA. We also learn that Mike got a dance scholarship in Chicago. Meanwhile, Santana is concerned that as a future "star," she's only headed to Louisville, Kentucky, for college.
Santana turns to her mother, Maribel, for comfort and support, but Maribel doesn't back Santana's plan to drop out of the cheerleading program in Louisville and go to New York. She prefers that her daughter get the education that she herself never received.
Brittany drops a bombshell, revealing that she won't be graduating - though she's excited to get a chance to improve herself with a second senior year. With Brittany staying in Lima, Santana suggests that maybe she should stay too, but Maribel's look tells her that's not an acceptable option either.
Finn delivers the seniors' goodbye song, "You Get What You Give" by the New Radicals, with Puck picking up some verses before the whole group of seniors joins in to bid the underclassmen farewell.
Finn and Rachel squabble over wedding details, and he worries that she's secretly dissatisfied with him as her future husband. She assures him that they're just letting the stress of graduation and the wedding get to them.
Later, Finn reflects on his high school career, deeming it a success: his grades may have been a little shaky, but he had an excellent record on the football field, he won a show choir national championship, and he never accidentally got anyone pregnant. He realizes that he was afraid of the future but feels much more confident now - he believes he's nailed his personal audition with James Lipton from "Inside the Actor's Studio" - and he says that "fear" is no longer in his vocabulary. He is, however, a little let down by Will's lackluster inscription in his yearbook.
Will admits that he kept falling apart when he tried to write something more meaningful. He tells Finn that it was actually him who planted the pot in Finn's locker that led to his blackmail-motivated addition to the glee club. After a long, stunned silence Finn responds, "You are so much cooler than I ever thought you were!"
Finn studies a photo of his dad, admitting to his mom, Carol, that he feels like he hasn't done enough in his bid to get his father an honorable discharge status from the military. He says that he still considers his dad to be a hero despite his troubles, and he worries that becoming an actor may not honor his father enough.
Later, the underclassmen pay tribute to Finn in particular for having their backs, even before he joined glee club, as they sing the Beatles' "In My Life" for him. Something about the song leaves Puck feeling isolated and melancholy.
Reflecting on her own high school experiences, Quinn tells Rachel that a freshman hugged her in the hallway and told her never to change. Quinn says that the poor thing doesn't realize that change can be good. She then gives Rachel train passes so they can make sure they will stay in contact, and she wishes her and Finn a happy future together.
Rachel reveals that she always thought of Quinn and Puck as a similar couple with staying power, prompting Quinn to tell a very downtrodden and regret-filled Puck that she loves him and always will - he's only down on himself because his confidence has been shaken. She offers him a kiss, and it reenergizes him. Suddenly Puck is walking the halls with swagger again, and he sits down to retake his all-important geography exam, expecting to "make Puckerman your daddy."
As Sue triumphantly polishes the national championship trophies earned by both the glee club and the Cheerios, she's visited by Roz Washington. The two trade their usual barbs, but somewhere in the midst of them, Roz slips in the notion that while the two of them might never like each other, they both agree that McKinley has a fool for a principal in Figgins - and perhaps they might work together to end his tenure. Sue neither accepts nor denies the offer, yet she's clearly giving it thought as Roz leaves.
Quinn tries to return her Cheerios uniform to Sue in case she wants to pass it down to the new captain, but Sue tells her that she's retiring Quinn's uniform. She says that while she once thought Quinn was a young Sue, she now realizes that Quinn is better - just as smart but less evil, and she admires her for it. Quinn gets emotional and embraces Sue, telling her that she'll miss her.
Puck anxiously awaits the results of his test. So he's thrilled to learn that he earned a C- ("That's a Puckerman A+!") and will be graduating after all.
The seniors don their commencement garb and attend their graduation ceremony, to the tune of Finn singing Bruce Springsteen"s "Glory Days." After the ceremony, Rachel, Finn, and Kurt gather in the music room to open their letters, even as Finn tries to delay the moment that will determine their futures. Ultimately, he volunteers to go first: he didn't get into the Actor's Studio. Kurt goes next: he didn't get into NYADA. Finally, Rachel opens hers: against the odds, she was accepted.
Deciding that going to New York will be too hard for Finn and Kurt after their rejections, Rachel defers her acceptance to NYADA for a year. She plans to help the boys perfect their auditions so they can gain admittance later.
As Santana cleans out her locker, her mother delivers her graduation gift: an envelope full of money she's saved all of Santana's life. Given that she earned a scholarship, Santana suggests that her mother keep the money, but Maribel tells her to use it to go to New York City. She says she trusts Santana's judgment enough to encourage her to follow her dreams.
Rachel gets into Finn's car to drive to their wedding, but instead he drives her to the train station. He wants her to get on the train to meet her dads and find a dorm room. He tells her to go to school, and he asks her to admit that she's not 100 percent sure she wants to marry him.
Finn tells Rachael that he loves her too much to hold her back. While she'll be heading to New York, he's going to serve in the Army. He asks her to join him in surrendering to fate, and let the universe show them if they will ultimately end up together. Rachel's heart is breaking, but she agrees to Finn's logic.
As Rachel imagines herself singing Room for Two's "Roots Before Branches," Will and the glee club have arrived at the station to support Finn's decision, and together they all see Rachel off.
She arrives in New York City and faces her future, gradually walking into it with confidence and excitement.