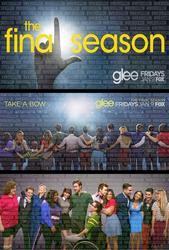 TV Info
---
Episode Premiere
December 13, 2011

Distributor
FOX

Genre
Comedy, Musical

Show Period
2009 - 2015

Production Company
Ryan Murphy Productions


Cast and Crew
---
Director
Matthew Morrison
Screenwriter
Marti Noxon
Main Cast
Additional Cast
Synopsis
---
Mercedes trims the choir room Christmas tree, singing Mariah Carey's "All I Want for Christmas Is You," and the rest of New Directions joins in the decorating. Rachel and Finn kiss under the newly hung mistletoe, with Rachel proclaiming, "Best. Christmas. Ever."
Rachel gives her holiday wish list to Finn, who'd been struggling to come up with the perfect gift (after the glee club boys' locker room suggestions proved to be painfully bad, Kurt let Rachel know that Finn needed guidance). Rachel suggests that Finn provide her with five items from the list - which includes spray tanning and teeth whitening - but Finn's not thrilled with the high maintenance materialism on display: "Holy crap! I'm dating Kim Kardashian."
Sue calls Artie, Kurt, and Blaine (or as she calls them, "Wheels," "Porcelain," and "Other Gay") into her office, letting them know that in the Yuletide spirit of forgiveness she's letting them off the hook for "having no talent and ruining the American Songbook, one mash-up at a time," as well as for forcing her to make her ill-fated Congressional run. She asks the boys to recruit the glee club to join her in volunteering at the local homeless shelter, which is putting on a program to entertain the charity's children. Although Sue has previously scoffed at both homelessness and charity, this is her first Christmas without her beloved sister, Jean, and she's hoping to keep herself occupied through the holiday. The boys agree to help.
Spending his first Christmas away from his family in Ireland, Rory sings a song to the glee club to cheer himself up: "Blue Christmas" with a little Elvis Presley flavor. Santana finds the song depressing, but the students remember that things were pretty awful the previous Christmas, and they want to keep this year's happier spirit going. To that end, Will announces that, due to being priced out of broadcasting the annual video of a Yule log burning in a fireplace, the local PBS affiliate has offered New Directions their own holiday special. On the strength of his work on "West Side Story," Artie's got a shot at directing the special, but he says that he has to consider the notion, having vowed never to sell out by doing television.
With Brittany's family off on a holiday road trip, Rory's left with nothing to do until Sam offers to bring him along to his own family gathering, as well as be Rory's Christmas sponsor for the rest of the week. Meanwhile, Mr. Borowski, the station manager, is excited to have Artie helming the special but makes a faux pas when he compares him to Tiny Tim. Artie forgives him but pitches a unique spin on the holiday special: Chewbacca from the "Star Wars" films, came to him in a dream to remind him that "it's not Christmas without Chewbacca!"
Artie wants to create a tribute to his favorite Christmas show of all time, the legendarily weird "Star Wars Holiday Special" from 1978, which aired once and has remained locked in the Lucasfilm vaults. Artie also wants to shoot the special in black-and-white as a tribute to the second-greatest holiday show of all time, Judy Garland's Christmas special.
Rachel auditions for the holiday special with a haunting rendition of Joni Mitchell's "River," but Artie finds it so depressing "it makes me want to kill myself." He outlines his vision: In a chic chalet in the Swiss Alps, Kurt and Blaine play the perfect hosts for friends who drop by to sing cheerful holiday songs. Artie wants to conclude the special with Rory dressed as an elf, reciting "Frosty the Snowman" - a "rebooted" Frosty that reworks the song's sad ending. Sam thinks that there's nothing wrong with a melancholy element to the holiday proceedings, but Artie won't be budged: "The phrase is 'Merry Christmas,' not 'Morose Christmas.'" Sam decides not to take part, and he leaves to go volunteer, ringing a bell as a street-corner fundraiser. Rory chooses to stay behind, disappointing Sam.
Rachel is determined to get a song in the special, and she broadly hints to Finn that she hopes to make her TV debut with a generous gift of jewelry from him adorning her ears, pushing him to deliver a present early. He complies, but she's confused when he hands her an envelope with a photograph of a warthog inside - and no bling. He admits that jewelry was out of his price range; his gift is a $2-a-month program that feeds an African sow for a year to fatten it up to feed an impoverished family. Rachel tells him that she specifically gave him her list so he wouldn't embarrass himself like this, and she less-than-gently insists that he stick to it. "All I want is my fair share," she says, echoing Charlie Brown's sister, Sally, from the famed "Peanuts" Christmas special: "All I want is what's coming to me."
Blaine and Rachel perform the original song "Extraordinary Merry Christmas" with some backup from the glee club, which Artie declares, "Gold!" Then Sue drops by the choir room to confirm that the students will be at the homeless shelter on Friday - a plan that conflicts with the special's taping schedule. Artie says that they'll have to do it another night, but Sue says they'll be disappointing the children. Artie reminds her that she's certainly spoiled their holiday in the past. Rachel says that the special will be enough to entertain the kids. Sue, however, points out that the homeless don't have TVs, and she angrily walks away.
The holiday special begins with a "Star Wars"-style opening credit sequence, then in black-and-white, Blaine and Kurt lead off the show by jazzily duetting on "Let It Snow, Let It Snow, Let It Snow!" They invite the viewing audience into their "bachelor chalet" with campy '60s variety show snappy patter to canned applause and a laugh track. Next up, an Internet outage thwarts Kurt's online bidding on Elizabeth Taylor's jewelry. Rachel and Mercedes join the party and surprise him with a gift of one of La Liz's extravagant baubles (a knockoff, the girls tell the audience). The four of them sing "My Favorite Things" from "The Sound of Music."
Finn and Puck join the show, arriving at the chalet dressed as Luke Skywalker and Han Solo - but not really, to avoid copyright infringement. They sing a rocking Bruce Springsteen-style version of "Santa Claus Is Comin' to Town." They're followed by the arrival of the Cheerios in micro-mini Santa suits, singing and dancing to the Waitresses' "Christmas Wrapping," aided by a bag-toting Mike Chang. Rory arrives as Itchy the Holiday Elf, and instead of reciting "Frosty the Snowman," he's searched his heart and arrived at another selection that he believes will remind people of the true spirit of Christmas. He reads the Biblical passage Luke 2:8, just as Linus did in "A Charlie Brown Christmas," as the special comes to a close.
Meanwhile, Sam and Quinn serve food at the homeless shelter, with Quinn explaining that she eventually overcame her rough year by dropping her focus on the things she didn't have and focusing instead on the future. As Sue worries that they may run out of food to serve, she's surprised by the unexpected arrival of Will, Emma, and the remainder of the glee club, bringing more food and decorations, and offering to sing. Artie tells Sue that they'll be singing their planned finale for the Christmas special, which was thwarted when the station reached a last-minute agreement with the Yule log video people with ten minutes left in the show. New Directions sings Band Aid's "Do They Know It's Christmas?"
Rachel tells Finn that she's embraced his original gift and named her African pig "Barbra." Then Finn surprises her with a second gift: he's had a star officially named, but not for her: he tells her there's a star on earth named Rachel that burns brightly, so when she needs support she can look to the sky and know that "Finn Hudson's" looking down on her. Even though he's touched her heart, he goes a step further and offers her a pair of earrings, which he bought after hocking his letterman jacket. Rachel realizes that she already had so much in Finn alone, and now she wants to focus on giving back.
She and Finn join Sam and Rory at the street-corner charity pot, where Rachel puts the money she and Finn got by returning some of their gifts into the bucket. The four of them join in ringing the bell and encouraging passersby to share the Christmas spirit.