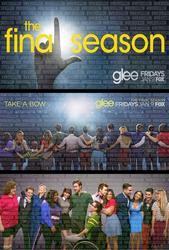 TV Info
---
Episode Premiere
November 08, 2011

Distributor
FOX

Genre
Comedy, Musical

Show Period
2009 - now

Production Company
Ryan Murphy Productions


Cast and Crew
---
Director
Bradley Buecker
Screenwriter
Roberto Aguirre-Sacasa
Main Cast
Additional Cast
Synopsis
---
Artie is feeling enlightened, confident, and powerful in his role as director of the school musical "West Side Story," even if some of his creative decisions ruffle feathers. While co-directors Emma and Coach Beiste are moved by Rachel and Blaine's duet rehearsal, he feels their performance of "Tonight" lacks passion. He suggests that the song - and the entire musical - has a theme of sexual awakening, and he wonders aloud if Rachel and Blaine are experienced enough themselves to bring true emotions to their performances. They admit that they aren't experienced in that way, and Artie suggests that they may not be able to effectively communicate to the audience as a result.
Other than this new doubt about her performance, Rachel is feeling confident in most areas of her life, and she doesn't object to Finn trying out for a college football scholarship. She thinks that their dreams are coming true and they're growing up - a notion that takes on another level of importance when she accepts Finn invitation to his house while Burt and Carol will be away.
Meanwhile, Blaine and Kurt open their own discussions on their sexual game plan. While they've agreed to "no hands south of the equator," Kurt worries that Blaine agreed because he doesn't find him sexually exciting and doesn't want to rip off his clothes, but Blaine just wants to wait until Kurt's comfortable to move forward.
Artie asks Coach Beiste why she grew uncomfortable and left when rehearsal talk turned to the topic of sex, and the coach reveals that she has not yet gone all the way. She admits she has her eye on a man: Cooter Menkins, an Ohio State football recruiter who makes her feel girlish. But she thinks he isn't interested in her.
Blaine returns to Dalton Academy for a visit with the Warblers, who are rehearsing a rendition of Billy Joel's "Uptown Girl." Blaine invites them to take in the McKinley musical's opening night.
While there, Blaine meets the flirty new Warbler Sebastian Smyth (Grant Gustin), who's heard that the legendary Blaine is "sex on a stick and sings like a dream" and wonders if Blaine broke too many hearts to stay at Dalton. As the two verbally dance around each other, Rachel and Santana rehearse their number, "A Boy Like That." Sebastian asks to meet Blaine again, to pick his brain about ascending as a Warbler, and Blaine finds himself agreeing.
In the locker room, Finn turns to the more sexually experienced Puck for a condom brand recommendation, and Puck (who admits he's never used a condom and "it's worked out for me about of the time") immediately assumes Finn's going to cheat on Rachel, though Finn sets him straight. Their conversation is interrupted when Coach Beiste introduces the football team to Cooter Menkins, who tells the players he'll be in the stands during the Friday night game and he's "not looking for boys - I'm looking for men."
Blaine suggests to Kurt that they might be too sheltered as artists and that they might consider being more adventurous. Kurt shares portions of his "bucket list" with Blaine, including a pre-relationship sexual fantasy involving Taylor Lautner and a flower bed that Blaine admits he finds hot.
Artie arranges a meeting with Cooter to determine if he's interested in Coach Beiste and learns that Cooter has dropped several hints that he wants to go out with her that he thinks she's declined. Artie realizes that the coach simply hasn't picked up on his signals, and he urges the reluctant Cooter to ask her out one more time, really obviously, and follow Artie's plan for the date.
At the Lima Bean coffee shop, Blaine tries to explain to Sebastian that he's truly committed to Kurt, who happens to overhear a portion of the conversation. He joins them as the mood grows awkward, but Sebastian offers to provide them with fake IDs, and he invites them both to join him at local gay bar Scandals. Blaine politely declines, but Kurt suggests that they do it as part of their new spirit of adventurousness.
Finn and Rachel celebrate four months of a drama-free relationship over a romantic vegetarian dinner, and Finn's nervous attention to detail seems to be paying off when Rachel suggests that they go snuggle by the fireplace. When he realizes that Rachel is as interested in having sex as he is, Finn is thrilled but questions why she feels the time is right after months of putting it off.
"When and who is going to feel more right than you and now?" she tells him. "And I love you." He's still nervous that the situation isn't special enough, explaining that he's been saving up for a hotel, but Rachel tells him that she only has two weeks to accomplish losing her virginity, shocking Finn as she explains that she can't play a sexual awakening without experiencing one herself. Finn is shocked and hurt by her ulterior motive, and he backs out.
Mr. Chang angrily confronts Mike at McKinley, having learned that his son will be appearing in the musical despite Mike's mom's attempts to cover for him. He demands that Mike quit, dismissing his dream to be a professional dancer as unrealistic. Mike vows to pay his own way as he follows his heart, but Mr. Chang tells him that as long as Mike pursues his dream he will no longer consider him his son. "Then I guess I don't have a dad anymore," Mike replies.
Catching Coach Beiste on the weight bench, Cooter makes a renewed play for her, and she fails to understand exactly why he'd offer her flowers since she's not sick. Frustrated, he takes a more direct approach and asks her out on a date. The coach can't process the idea that Cooter might actually want to date her, thinking someone put him up to it because she's not the kind of "pretty girl" he could have. But he tells her that he doesn't date girls: "I date women - beautiful women, like you." They make a date for Friday after the game.
Rachel calls a meeting of the current and former glee club girls to explain her dilemma. Quinn advises her to wait, because sex has complicated her life so much; Santana also advises her to wait, because she thinks Finn is terrible in bed; and Tina surprises everyone by revealing that losing her virginity was a wonderful experience because she was with someone that she loves. Tina's story plays out against the backdrop of Rachel and Santana singing "I Had a Love" from the musical: she and her first love waited for the right moment, and everything worked out perfectly - no regrets.
Kurt and Blaine meet Sebastian at Scandals on "Drag Night Wednesday," and when Blaine and Sebastian hit the dance floor Kurt is surprised when Dave Karofsky sits down next to him at the bar. Karofsky says that he's doing fine at his new school, where he just went for a "normal senior year without my teammates hearing rumors about me." He's found a comfortable place at the gay bar, and Kurt tells him that as long as he's no longer beating people up, he's pleased to see Karofsky finding a way to be himself at his own pace. They toast to baby steps.
Designated driver Kurt tries to get a drunk and giddy Blaine home safely, but Blaine comes on too strong when he pulls Kurt into the back seat and pushes for them to have sex. Upset, Kurt tells Blaine - who's intoxicated and spent half the night dancing with another guy - that he's never felt less like being intimate with him. When Kurt rejects him, Blaine angrily storms off.
In the dressing room before opening night, Rachel and Blaine reveal to each other that neither of them has achieved their own sexual awakening, and they fret about delivering inauthentic performances. Artie, too, has a confidence crisis, confessing to Emma that he thinks when the curtain goes up he'll be exposed as a fraud. Emma tries to reassure him, but he won't believe her, and when his cast wants to speak with him, Artie is sure that everything's about to collapse. But they surprise him by thanking him with flowers and applause. He admits that, after so many years of being coddled and catered to because of his disability, directing the play was the first time he's ever felt like a grownup.
Will is impressed with the musical as it unfolds, but Emma cautions him that the audience might not accept a risky artistic choice during the staging of "America." Meanwhile, as Mike takes the stage, he notices the seat saved for his father is empty - but his mother's proud applause soothes his pain. Just before they take the stage, Rachel and Blaine realize that they don't need the real-life experience to color their performances: Tony and Maria were soul mates who found their partners against all odds, and so have they - and that's what they need to play on stage.
After the performance, Kurt approaches Blaine as he tries to perfect a dance move he blew during the otherwise well-received musical. After Kurt praises Blaine's performance, Blaine clutches Kurt's hand to his heart and promises him that Sebastian means nothing to him, and agrees that their first time should not have been the way he'd suggested. As they make up, Blaine suggests that they go to Artie's musical after party at Breadstix, but Kurt thinks they should go back to his place.
Rachel shows up on Finn's doorstep, concerned that he left the after party early because he was still upset with her, but Finn's distraught because Cooter didn't show any interest in recruiting him after the game - Cooter told him that just because his football career ends in high school, it doesn't mean that his life does. Because he feels like he's not good enough to succeed at athletics or in the arts, Finn believes his dreams are over, but Rachel tells him that he's merely grown out of his dreams and needs to find new ones - they'll figure it out together. She's going to give him something that only he will have - not for her performance, but because she loves him.
Finn and Rachel spend their first intimate night together, as do Kurt and Blaine, culminating in Blaine and Rachel delivering a convincing, emotionally charged rendition of "One Hand, One Heart" in their next on stage performance.