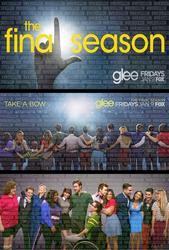 TV Info
---
Episode Premiere
February 08, 2011

Distributor
FOX

Genre
Drama, Comedy, Musical

Show Period
2009 - 2015

Production Company
Ryan Murphy Productions


Cast and Crew
---
Director
Tate Donovan
Screenwriter
Ryan Murphy
Main Cast
Additional Cast
Synopsis
---
Puck finds himself shocked and dismayed to be fantasizing about Lauren Zizes in geometry class: after promising her "seven minutes in heaven" to get her to join the glee club, she wasn't turned on by him at all in the storage closet, and her rejection has him obsessing over her. She catches him staring at her and promises to "break his nuts" if he does it again. She also returns his box of Valentine's Day candy because the candies sucked - she ate them all to make sure they sucked.
Finn is filled with newfound confidence after winning the district championship, as the female students are panting after him, and even Becky asks him to be her Valentine. After their post-victory kiss, he decides he wants to pursue Quinn again, if he can pry her away from Sam for another lip lock. Meanwhile, Blaine's talk about a certain guy he's crushing on and his attention to detail has Kurt thinking they're on the verge of coupling up.
When Will assigns the glee club to pick a partner and sing what they think is the world's greatest love song to them, some are thrilled while others cringe at the thought. Finn points out that an entire week has gone by without one of the glee-ers getting slushied, and to celebrate he wants to pay the good fortune forward by establishing a charity kissing booth to raise money to travel to nationals. Santana's snarky comments turn the glee club against her, and Puck's defense of Lauren causes her to ease up on him, just barely. He asks her to BreadstiX for Valentine's Day, but she informs him that she's not that easy: she'll need to be wooed.
Blaine pulls Kurt into an emergency meeting of the Warblers, where Blaine announces that he's in love and asks the Warblers to help him serenade the object of his affection - off campus, a major breech of Warbler tradition that most of the group opposes. Kurt deftly defends Blaine's request and persuades the Warblers to agree, but he's stunned to discover that Blaine wants them to sing at The Gap because the one he's pining for is a junior manager there.
Kurt slumber-parties with Rachel and Mercedes, realizing he's been fooling himself. After Rachel reveals her plan to go to Finn's kissing booth with a $100 bill and win him back with 100 kisses, they both takes Mercedes' advice to fly solo and harness their romantic pain to better their music.
Puck harmonizes with the glee boys on Queen's "Fat Bottomed Girls" to win over Lauren. Santana is jealous, while Lauren tells him it's the first time anyone ever sang her a love song and it made her feel like crap. Meanwhile, Finn's kissing booth is popular, but Quinn tells him she knows he's trying to get to her because she's the only girl in school who won't kiss him. Finn tries to tempt her, but she resists, as a shocked Sam quietly witnesses their exchange.
Sam confronts Quinn about being within "kissing distance" of Finn, but she tells him that she's trying to find a love song for him, the only boy she'll get within kissing distance of. Insisting he's not as dumb as everyone thinks, Sam tells her he thinks there's something to her resistance to Finn's booth. Fine, says Quinn, she'll go to the kissing booth.
Rachel gives Finn a dollar, explaining that she's fine without any man to stand in the way of achieving her stardom, so he kisses her - on the cheek. Annoyed, Rachel cracks and admits she still loves him and demands to know why Finn won't forgive her. Finn gives her the Christmas gift he bought for her before they split, a gold star necklace, telling her they really should be apart so she can make her dreams come true. "You're a real star, and you need to shine," he tells her. "Just because I can't be with you, it doesn't mean I don't believe in you."
Mike Chang and Artie discuss their good fortune in dating Tina and Brittany without any drama, and they sing and dance to Michael Jackson's "P.Y.T. (Pretty Young Thing)" in celebration. Santana presents Puck with the receipt for a necklace she bought herself and tells him she'll consider the matter settled for dinner at BreadstiX. She says she'll change and stop being a bitch, but when Lauren overhears Santana's dig at her, the two throw down in the hallway, with Santana taking most of the punishment before Coach Beiste breaks it up. Puck wants Lauren even more and begs her to go out with him. "You make a formal presentation," she replies, "and I'll consider it."
Quinn puts her dollar down at Finn's kissing booth, and Sam insists on witnessing the kiss. Both Finn and Quinn feel fireworks inside, but Sam is satisfied that nothing is going on between them. Quinn slips away and tells Finn to meet her tomorrow in the auditorium.
At The Gap, Kurt scopes out Blaine's love interest, Jeremiah, and supports Blaine's bid to win him over. Blaine and The Warblers sing Robin Thicke's "When I Get You Alone" in the store, but his plan backfires: Jeremiah gets fired because his manager didn't like the disruption - and neither did Jeremiah, who's not out at work. He tells Blaine that, despite their two coffee meetings, they aren't dating, and they can't date because Blaine is underage.
Santana, fuming because she's single on Valentine's Day, notices that something's going between Finn and Quinn and concocts a revenge plot: she dresses up as a sexy candy striper to volunteer at a hospital and then kisses a patient with mono. She then kisses Finn at his booth, spreading the germs. Lauren rebuffs Puck's feeble advances, but when he drops to his knees and offers her a Ring Pop, asking her to join him at BreadstiX, she finally accepts.
Quinn meets Finn in the auditorium, but points out that if they hook up she'll be cheating, the very thing that caused Finn to break up with both her and Rachel. Finn says he thinks that cheating shows that you're not in love with someone enough not to hurt them, and while Quinn says she loves Sam she decides to explore her feelings for Finn, too. She won't choose either one until she knows for sure. They kiss.
A hurt Blaine frets about making a fool of himself, and Kurt decides to be honest with him, telling Blaine that he thought he was the guy Blaine was crushing on. Blaine is surprised and admits his own cluelessness, saying he doesn't know what he's doing and has never been anyone's boyfriend. He cares about Kurt but believes he's not good at romance and doesn't want to screw up their relationship. "So it's just like 'When Harry Met Sally . . .'" says Kurt, "but I get to be Meg Ryan."
Puck eases the pain of being stood up by Lauren by making out with a BreadstiX waitress. Meanwhile, Finn reaches his goal of kissing every girl in school and raising $200 for glee club. Tina sings her love song for Mike, the Rogers and Hart classic "My Funny Valentine," and, overwhelmed with emotion, breaks down into sobs. Both Finn and Quinn feel sick, and Santana exposes the fact that they both have mono. In the hospital, Finn and Quinn decide to stop what they've started until each of them figures out their current romantic situation. Quinn points out that whenever she doesn't catch Finn staring at her, he's staring at Rachel.
Puck confronts Lauren about standing him up, and he admits he likes her because she's an even bigger badass than he is. She tells him she does like him (especially when she thought he was mixed race, "which always gets my engine going"), but she's not just looking to fool around. "If you're really into me, you've gotta take it slow," she says, agreeing to meet him for Valentine's Day - as friends.
Rachel tends to the ailing Finn, and they talk honestly: he admits that he saw fireworks when he kissed Quinn, but his silence when Rachel asks how he felt when he kissed her convinces her there's nothing left between them. He says he's still confused, but she says she's ready to pursue her dreams of stardom without anything holding her back, and that he's inspired her choice of love song for the assignment: Katy Perry's "Firework," an ode to her belief in herself. The glee students join Rachel at BreadstiX for Kurt's first Lonely Hearts Club Dinner, where he and The Warblers dedicate Paul McCartney's "Silly Love Songs" to all the singles.