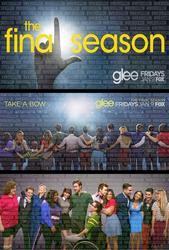 TV Info
---
Episode Premiere
November 30, 2010

Distributor
FOX

Genre
Comedy, Musical

Show Period
2009 - 2015

Production Company
Ryan Murphy Productions


Cast and Crew
---
Director
Paris Barclay
Screenwriter
Brad Falchuk
Main Cast
Additional Cast
Synopsis
---
Will presents Emma with early tickets to sectionals and asks her to be his plus one - as the glee club's good luck charm, of course - but is surprised when she guesses his set list plan: Rachel and Finn open with a duet, glee club delivers a classic rock song, and Mercedes belts out the finale notes. Emma suggests that his plan is somewhat predictable, and she argues that the once-underdog glee club has a deeper talent pool than he's been drawing from.
Will tells his students that Mike and Brittany will be opening their sectional performance with a dance number, Rachel won't be soloing, and, as the winners of the recent duet competition, Sam and Quinn will get their own showcase. While the students bicker over Rachel and Finn's objections, Santana reveals that she and Finn shared a passionate night in a motel room together.
Kurt makes his debut as one of the Warblers at his new school, Dalton Academy, and receives a real warbler as part of the club's long tradition for newbies: a canary named Pavarotti who's part of a proud genetic line of team mascots. Kurt is charged with the care of Pavarotti, and he offers some set list ideas with more "show biz panache" (such as Duran Duran's "Rio"), but he's quickly shut down by the club's senior council members, who make all the song selections.
Finn admits the truth about Santana to a distraught Rachel in a session of student "couples counseling" moderated by Emma. When he blurts out that, yes, Santana's super-hot, Rachel storms out (at Emma's suggestion). Meanwhile, Artie finds Brittany literally paralyzed with fear: having the pressure of sectionals on her shoulders is too much for her. He offers her his "magic comb," which assures victory to anyone who combs their hair with it, and she immediately discovers new confidence.
With New Directions down a member following Kurt's transfer, Will enlists Puck, as the most well-known glee club member at McKinley, to recruit a new performer so they can meet sectional eligibility rules. Puck agrees to be the club's "Am-badass-ador." In the locker room, Puck delivers an inspiring speech about Bruce Springsteen avoiding a dead-end blue-collar fate through music in an attempt to persuade the football team to join New Directions. But Karofsky and Amizo decide to make an example of Puck . . . stuffing him in an upturned port-a-potty.
Blaine tells Kurt that he's got a slot to audition for a solo in the Warblers' sectional set. Meanwhile, Mercedes thinks that the club will lose sectionals without her, and Rachel protests her lack of a solo by duct-taping her mouth shut. Will explodes, insisting that Rachel drop her persistent star trip, lecturing the students about putting the team before themselves and insisting that they be good sports at sectionals no matter the outcome.
After being rescued by Lauren Zizes, Puck invites her to join New Directions, and she agrees on two conditions: that he produce a carton of out-of-season Cadbury Eggs and oblige her with her "seven minutes in Heaven." Puck apparently provided both (admitting that she "kind of rocked my world"), and Lauren joins the glee club. Pledging to be nicer to people after his port-a-potty ordeal (and then modifying his pledge to just fellow Jews), Puck attempts to help Rachel overcome her boyfriend troubles.
Dressed as a goth-y cheerleader, Tina tells Artie that Mike's fetish for the pom-pommers has driven him to an affair with Brittany. Artie doesn't believe her, but the seeds of doubt are planted as Tina insists that the two of them never had a chance with a football player and a cheerleader.
Kurt approaches Rachel in the music room, asking for help crafting his tryout, and Rachel confesses that she's been fantasizing about the death of the glee club for not acknowledging her superior talents - and she has the perfect song to express it: Andrew Lloyd Webber and Tim Rice's "Don't Cry for Me Argentina" from "Evita." Kurt auditions with the song but is bypassed for a solo; Blaine tells him that he shouldn't try so hard to be noticed and that he would fit in better by blending into the team.
Artie grows more suspicious when Brittany evades him to rehearse with Mike. Will admits to Emma that he's worried his new game plan has put the students more out of sync with one another than ever. She disappoints him further by explaining that she won't be joining him at sectionals due to a fight caused by her beau Carl's objections - a fight that resulted in Emma and Carl declaring their love for each other.
At sectionals, Rachel and Kurt bond over having their identities challenged by their new situations, realizing it's easier to be nice to each other now that they're not competing within New Directions. The Hipsters, an elderly glee club from an adult education school, performs Mike + the Mechanics' "The Living Years," followed by the Warblers, who rouse the crowd with a Blaine-led rendition of Train's "Hey, Soul Sister" - even getting a standing O from New Directions.
The glee club members are stressing out in major ways before their performance: Quinn's nervous because the last time she performed in front of a crowd, she went into labor; Artie hears that a regretful Brittany is guilty of "adultery"; and Rachel's upset because everyone already knew about Finn and Santana's fling but her. Finn stands up to Rachel, justifying his hook-up because she was dating someone else at the time, and Rachel, Artie, and Tina all threaten to walk out on the team. Will tells them he's ashamed of them all.
Artie learns that Brittany thought that "adultery" means being stupid, "like being adult," and she didn't actually cheat on him - though she admits she did something she thinks is worse: she lost his magic comb and had been avoiding him out of shame. Artie tells her that the comb, which he found and was about to throw into the trash before giving it to her, wasn't magic - she's the one who's magic, and he should've told her earlier. They reconcile, and she tells him that she'll be dancing for him.
Sam's belief in Quinn also bolsters her confidence as well, and their opening duet, Bill Medley and Jennifer Warnes' "(I've Had) The Time of My Life" from "Dirty Dancing," wins over the audience. Santana's smooth lead vocals on Amy Winehouse's "Valerie" kick off Brittany and Mike's energetic, athletic dance number, pumping up the crowd even further.
The sectional winners are announced, and it's a tie: New Directions and the Warblers will both be advancing to regionals! Back at school, Will shows off the trophy to Emma, who has another shocking revelation: she tells him that Carl took her to Vegas over the weekend, and then displays the new ring on her left hand. Will assumes that she's gotten engaged, but the news is even more dramatic: Emma and Carl got married.
Rachel tells Finn that the sectionals experience made her realize how special it is to be a part of a team, and when Finn asks if they are still a team, she says yes. Finn promises that there will be no more lying between them, prompting Rachel to make her own startling admission: angry with Finn, she started to hook up with Puck - however, Puck felt bad about betraying Finn for a second time and backed out. Nevertheless, the news of Rachel's plan to intentionally hurt him shatters Finn, and he breaks up with her.
Kurt frets that Pavarotti is dying, but Blaine assures him that the canary is just molting. However, Blaine's belief that the bird seems safe and happy in his cage seems to linger with Kurt, perhaps as an analogy for his own situation.
Tina reverts back to her own fashion style as things smooth over with Mike. Even as the glee club offers sympathy to Will over Emma's marriage, he's ready to focus on the road to regionals and nationals and offers Rachel a new solo. However, she decides to cede the spotlight to Mercedes and Tina, who duet on Florence and the Machine's "Dog Days Are Over."
Although harmony seems to have been restored among New Directions, Rachel faces the reality of her actions and removes the tokens of her relationship with Finn from her locker.