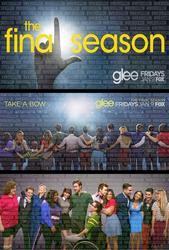 TV Info
---
Episode Premiere
November 11, 2009

Distributor
FOX

Genre
Comedy, Musical

Show Period
2009 - 2015

Production Company
Ryan Murphy Productions


Cast and Crew
---
Director
Paris Barclay
Screenwriter
Ryan Murphy
Main Cast
Synopsis
---
With Quinn's baby bills mounting, Finn promises to get a job to support her. Glee also needs money for a bus that can transport Artie's wheelchair to Sectionals. Will proposes they hold a bake sale, but no one wants to participate. Artie is dejected, so Will forces the rest of the squad to use a wheelchair for the week so that they will all know what it's like to live in Artie's shoes.
Will automatically assigns the lead for "Defying Gravity" to Rachel. Kurt requests to audition as well but Will turns him down. Kurt admits to his father Wade about his disappointment. Wade appeals to Principal Figgins, and Will agrees to let Kurt audition. The rest of the glee club will pick between Kurt and Rachel in a "Diva-Off."
Puck tries to give Quinn money for their baby, but she refuses. They share a moment, which is caught by Finn. Puck and Finn get into a fist fight when Puck accuses him of whining over his fatherly responsibilities. Quinn threatens to break up with Finn if he doesn't come up with money.
Figgins is inspired by Will's wheelchair experiment and forces Sue to hold open tryouts for Quinn's replacement in Cheerios. A Down Syndrome student named Becky attempts a feeble routine with a jump rope. Surprisingly, Sue accepts Becky for the team. Will is suspicious.
Wade gets an anonymous phone call disparaging his son. Wade is hurt, but doesn't want this to affect Kurt's dreams.
With the bake sale a bust, Puck buys marijuana from Sandy and bakes it into the cupcakes. They start to fly off the table in the bake sale.
Will spies Sue overly pushing Becky at jump rope practice. He condemns her for bullying the girl. Sue claims that she isn't treating Becky any differently from the rest of her Cheerios. Yet Will is convinced Sue is up to something.
At the "Diva-Off," Kurt does not hit the high F note and loses the lead to Rachel.
Puck steals the bake sake money and brings it to Quinn, with the hope to buy her a house for their impending family. Although she is touched, Quinn orders him to give it back. Finn gets a job pretending to be in a wheelchair, and Quinn gladly accepts his offer of money for their child.
With profits from the bake sale for the new bus, Artie votes to instead use the money for a ramp in the auditorium. Yet Figgins informs Will that Sue gave him a check for the ramp. The bake sale money can go toward the bus. Will does not know what Sue's underhanded motive is. Meanwhile, Sue goes to visit her mentally handicapped sister in a home. Sue is sweet and kind and caring as she reads her sister a story.
Tina kisses Artie on their first date, and then confesses that she's been faking her stutter. She pretended because she was shy and wanted people to leave her alone. Artie is sad because he thought they had something in common. She doesn't really have a handicap, but he's still stuck in his chair.
Kurt discloses to his father that he threw the audition on purpose in order to protect him. Kurt accepts his own oddness, but knows it will be hard for Wade to live with a son who is different.