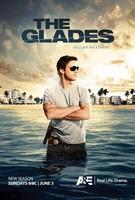 TV Info
---
Episode Premiere
June 10, 2013

Distributor
A&E

Genre
Drama, Crime

Show Period
2010 - 2013

Production Company
Fox TV Studios


Cast and Crew
---
Director
Paul Edwards
Screenwriter
Tom Garrigus
Main Cast
Additional Cast
Ed Asner
Genevieve Angelson
Malik Yoba
Synopsis
---
Callie tells Jim she is applying for a part-time job: a fellowship working with orthopedic surgeon Dr. Hardy. She needs the money to pay for a $2,000 wedding dress that she wants.Jim heads out to investigate his next murder: Jimmy Steele, a barbecue legend from Everglades City with his own TV show, line of sauces and spice rubs, and restaurants, is found dead in his smoke rig at his Swamp Smokeoff, his barbecue competition. He's found with an apple in his mouth like one of his smoked pigs. Carlos says he died of anaphylactic shock, which triggered a heart attack. He had an EpiPen stuck in his leg.
Jimmy's employee, Trina Burns, confirms Jimmy was allergic to shellfish, but always had an EpiPen. Trina says Jimmy would ride his bike into Everglades City if he needed something during the cook-off; it was easier than taking his RV. Jimmy went to the local Piggly Wiggly grocery store right before he was murdered. Carlos finds the victim's favorite bourbon in his RV, though he wasn't a big drinker. He threw himself into his work after his wife died six months ago.
Daniel and his brother, Drew, are in the BBQ competition under the name The Green Machine. Daniel says he'll run Jimmy's financials. He is excited that he and Drew have a shot at winning since Landon Givens, the Tiger Woods of Ribs, isn't competing this year.
Dr. Hardy gives Callie the job. He has her organize 10 years' worth of files for a statistical analysis. She asks how he wants them organized, but he tells her to figure it out. She starts immediately.
Jim discovers Jimmy bought garlic and apples at the store. Carlos says other than a small amount of alcohol, Jimmy's stomach was empty. He finished preparing his pig, had a celebratory shot, and died. Manus tracks down Jimmy's daughter, Anna, who runs a cat rescue in Woodstock, NY. She says Jimmy had a restraining order against Landon Givens, who also grew up in Everglades City.
Jim meets Landon at his restaurant. Landon was upset Jimmy didn't let him defend his title, but he didn't need Jimmy's stamp of approval - his place is packed with regulars. He's never touched Jimmy, who adopted Everglades City for his "down home act."
Jim rushes back to the cook-off after a frantic call from Daniel. Anna buried firecrackers under everyone's rigs while they were having their meat inspected.
Jim interrogates Anna. He knows she was getting $100,000 from Jimmy's family trust every year, until last year when he froze her account. She clarifies that Jimmy was her step-father. She says she didn't kill him; she's a vegan who believes in "peace through harmony." But according to Anna's rap sheet, she disrupted Jimmy's TV show and threw red paint on his restaurants. She says her mom had cancer and the minute she was buried, Jimmy started partying with random women. She called him out on it and he cut her off. And Anna was at a gas station on the Pennsylvania Turnpike at the time of the murder. She hitched a ride with PETA activists she met at a foie gras protest in Hudson, NY. The driver was named Moon and he had a white van. Jim is going to hold Anna for eco-terrorism.
Daniel argues with Drew about which kind of wood to use for their brisket. Daniel tells Jim that Anna wasn't listed as leaving on any flights or buses out of New York that week. He also discovered Jimmy traveled a lot, dropping $10,000 a weekend eating at 5-star restaurants around the world.
Grumpy Dr. Hardy yells at Callie for sorting files by procedure instead of age. He fires her and calls her the "worst nurse" he's ever worked with. But Callie tells him off, calls him abusive and criticizes his post-op work.
Jim accuses Trina of sleeping with Jimmy. He has proof that they traveled together, staying in the same hotel rooms. She admits they had a fling, but the fire burned out. But she's wasn't fired, or else she wouldn't still be running his company. She was in her hotel room in Everglades City when Jimmy was murdered.
Carlos reports that someone spiked Jimmy's bourbon with shrimp: there was a piece of shell in the bottle. He also found two sets of prints on the bottle, Jimmy's and someone else's.
Jim finds Landon illegally shrimping in the swamp. He arrests him for Jimmy's murder, since Landon's prints were found on the bottle of bourbon. Landon claims it was a peace offering. He wanted back in the competition; he could use the $1,000 prize. He denies killing Jimmy.
Callie tells Jim she got the job, but was fired. Jim wants to buy the dress for her. She accepts his offer.
Manus reveals that Anna can't make bail because her trust fund is frozen, but she is Jimmy's next of kin. Carlos says there was no epinephrine in Jimmy's blood or the EpiPen, so someone tampered with it. Jim tells Anna that he knows she's broke and that she has a bigger motive now that she's the sole heir to Jimmy's estate.
Jim meets Barbecue Barbie pitching a spice rub, which is really Trina dressed up in a short top and Daisy Dukes. He arrests her for lying to a cop, obstructing justice, and murder. Jim says he knows she shot a TV pilot for Jimmy. Fans loved it and Jimmy offered to give Trina her own spin off, but then he scrapped it. She broke things off with Jimmy when she realized he wasn't going to help her. But Jim found emails from Trina to Jimmy, where she threatened him with sexual harassment. By killing him she could steal her pilot back. Jim looked into Trina's alibi and found she was at the hotel and ordered shrimp cocktail. She explains that she likes seafood but could never eat it around Jimmy because of his allergies.
Manus reveals that Jimmy's place of birth was a prison; his mom was in jail for murder. He went to live with an aunt, who also went to jail. So he stayed with his aunt's neighbors, the Givens family. He and Landon were raised together. They were practically brothers.
Daniel and Drew get into a fight after they burn their brisket, which they can no longer enter in the competition. When they make up, they decide to enter the "sides" competition with some BBQ baked beans.
Dr. Hardy comes to Callie's house to ask her to come back. Callie was the only nurse he'd fired who didn't cry. She agrees to come back, but if he fires her again, that's it.
Jim and Carlos taste test two kinds of ribs. They prefer Landon's over Jimmy's, even though the two sauces are identical. There is only one thing that could be different. Manus reveals the reason why Anna can't make bail is because Jimmy has a lot of money tied up in escrow. He was buying a large foreclosed property. Disbursement of his funds is now months away.
Jim finds Landon cutting down trees in the woods: Blackjack Oak, the same kind of wood he uses in his rig and the same wood his father and grandfather used. Jim says he knows Landon's family took in Jimmy, who would later made $50 million off of them and then tried to take their land to get their wood. Landon denies killing Jimmy. Jim guesses that after Jimmy hijacked Landon's family's land, Landon must have brought him his favorite bourbon to ask if he could stay on the land, and Jimmy laughed at him. Then, knowing about his allergy from when they were kids, Landon planted the shrimp tail in the bottle. Landon says he was upset, but he considered Jimmy his kin. He would never kill him.
Jim has a hunch about the apple found in Jimmy's mouth. Carlos checks and it wasn't the same kind he got from the store. Jim confronts Anna about the apple, which grows in New York, not Florida. He also found a plane ticket was purchased using Anna's dead mother's frequent flyer miles. Anna had access to her account and got the ticket. And there's TSA footage of Anna arriving in Fort Lauderdale. Jim also proves Anna went to a Walmart in Everglades City, where she bought cardboard for her protest signs and a package of shrimp. She put the shrimp in Jimmy's bourbon and finished him off with the apple from New York. Anna finally admits killing Jimmy. She says when her mom got sick, he pulled away, claiming it was because he was abandoned as a child. He then cut Anna off. He had no respect for her, her mom, or the animals he slaughtered.
Daniel and Drew score second place in the cook-off with their beans.
At Callie's house, Jim, Callie, and Jeff gather for dinner. But Jeff leaves to eat in his room and Callie leaves to read one of Dr. Hardy's papers. Jim wants to set a wedding date, but he's left to eat alone.