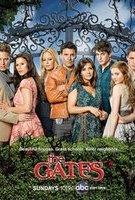 TV Info
---
Episode Premiere
August 01, 2010

Distributor
ABC

Genre
Drama, Crime

Show Period
2010 - 2010

Production Company
Fox TV Studios


Cast and Crew
---
Director
David Grossman
Screenwriter
Jared Romero
Main Cast
Additional Cast
Victoria Platt
Brett Cullen
Georgia Cole
Matthew Cornwell
Gloria Votsis
Andrea Powell
Paul Blackthorne
Barbara Alyn Woods
Melissa Ponzio
Kelly Collins Lintz
Rob Pralgo
Synopsis
---
Barbara Jansen, the gossip girl of The Gates, spotted Claire Radcliff with Christian, a man from her wilder vampire past. Claire's been nervous for awhile now that Barbara would blab. Well, her worries are over because Barbara Jansen has just turned up dead. Nick finds her body in her dress shop. There are signs of a struggle and bite wounds on Barbara's neck. Better round up the usual bloodsucking suspects.
Dylan won't give Nick the names of any other vampires, as he doubts Barbara was killed by someone who lives inside The Gates. As Dylan does some digging inside the vampire community, Nick questions those closest to Barbara. The victim's business partner, Gloria Bennett, has a few secrets she's been keeping. First of all, she and Barbara were once lovers. Secondly, she's vampire. That means she has both motive and fangs.
Gloria admits to being in the shop that night. She heard someone run out when she found an unconscious Barbara. She then tried to save her by turning her into a vampire. Gloria explains, "We bite someone. Feed off of them just enough to bring them to the edge of death. Then we give our own blood back to them to seal the bond." But it was too late. Nick wants to bring Gloria in, but she's abducted by other vampires who will kill her if they think she broke their rules.
Barbara's ex-hubby, Alex Dupree, says she frequented a bar outside The Gates. When Nick produces photos of patrons, Dylan keeps mum as he recognizes Christian, who told Claire he had nothing to do with the murder. However, Christian does confess his strong feelings for her. That's a deal-breaker. Claire doesn't want to see Christian again. Unfortunately, Dylan has tracked down his old buddy and invited him over for dinner. Surprise!
Andie is reluctant to take the succubus-curbing pills Dr. Peg whipped up. She's convinced that she can control herself. But a passionate kiss has an unfortunate effect on Charlie. During the lip-lock, blue veins crawl up Andie's neck and onto Charlie's face. They break their embrace only to have a dazed Charlie collapse. Andie realizes she can't control her succubus side solo and opts to pop the pills Peg provided.
Sarah meets with a few ladies to plan some fundraising events. There's some competition between those who are friends with Karen Crezski and those who are chummy with Claire Radcliff.
Devon offers up her spa to do a little fundraising through facials while Claire's crew holds an art auction just outside the spa.
Both fundraising events are successful thanks, in large part, to Devon, who has some venomous words for ex-hubby Frank Buckley. Regarding her outburst, Claire says it was "pathetic and yet predictable." But what no one could have predicted is Devon's ulterior motive for helping out with the event. We're not sure what she's planning, but it may have something to do with the facial masks she applied to her customers and is now carefully storing in her shop.
A black sedan followed Barbara Jansen the night she was killed. Ex-hubby Alex has a black sedan that just happens to be in the shop. That's because he clipped another car as he was speeding away from Barbara's dress boutique. Alex wanted to get back together, but Barbara wasn't interested. He grabbed her and she fell, accidentally smashing her head on a table. Nick calls Dylan to say he's arrested Barbara's killer, and it's not Gloria. The other vampires need to know this before it's too late.
A safe and grateful Gloria Bennett shows up at the station to thank Nick for his help. Dylan tells Nick he gained a lot of good will because of his actions. Later, Nick confronts Frank Buckley about the details he left out regarding the eclectic little community he built. The job posting for police chief really should have said something like "those who don't like vampires need not apply."
Nick has thoughts of ditching life in The Gates for a cop job in Miami. When Dylan shows up at Buckley's place, it becomes clear that neither man is going anywhere. Buckley shows them the video of Teresa's murder in the woods. Both Nick and Dylan realize that they are trapped as Buckley says, "You see, gentlemen, everyone has secrets that need protecting."