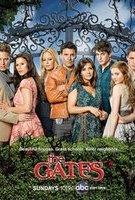 TV Info
---
Episode Premiere
July 25, 2010

Distributor
ABC

Genre
Drama, Crime

Show Period
2010 - 2010

Production Company
Fox TV Studios


Cast and Crew
---
Director
David Solomon
Screenwriter
Scott Nimerfro
Main Cast
Additional Cast
Victoria Platt
Brett Cullen
McKaley Miller
Georgia Cole
Kyle Secor
Devon Gummersall
Barbara Alyn Woods
Gloria Votsis
Shanna Forrestall
Synopsis
---
Nick is trying to come to grips with what happened in the woods. Sure, Teresa was the vengeful sister of the man he shot in Chicago. Sure, she came to The Gates planning to rub out Nick and his family. But it was still a shocker to see her sucked dry by the vampire guy he was bonding with at the Father-Daughter dance. Dylan has disposed of the body and Nick is trying to decide if this is a bad thing or if it's for the best.
Nick wants to know how many more of Dylan's kind may be out there. More importantly, he's worried about the safety of his family. Dylan shares a similar concern. He tells Claire, "If the others find out that I've revealed myself, they'll kill me and they'll banish you and Emily." He needs to convince Nick that they are on the same team. Claire isn't worried, as she knows just how persuasive her hubby can be.
Marcus fears something's happened to Teresa. Against Nick's orders, he questions Dylan about a late-night trip out of The Gates. Dylan has a solid alibi, but Marcus remains suspicious. When Nick visits the scene of the crime, an angry Dylan makes it clear that he needs to rein in his deputy. But even a reprimand from Nick isn't going to stop Marcus from digging for the truth behind his girlfriend's disappearance.
As Nick does an Internet search on how to kill a vampire, Marcus does a different kind of search through Teresa's belongings. He discovers a journal marking all of Nick's daily routines. Marcus works with Leigh to discover that the girl he fell for isn't who she claimed to be. It's enough to make him suspend his search and apologize to his boss for bringing Teresa/Amanda Wolcott into The Gates.
Andie is realizing that it sucks to be a succubus in love. Maybe love is too strong of a word. After all, Andie has been avoiding Charlie for days pretending to be sick. Peg has been working on a magic pill that may suppress her succubus ways, though it would probably never get FDA approval.
Andie wonders if she can control her demonic tendencies naturally. Her mom and dad made it work -- at least, that's what she's been told. Thomas confides to Peg that his wife didn't die in a car crash. No, things got a little out of control one night and Thomas had no choice but to kill her. That's not good news for Charlie, who keeps popping by to see Andie. To him, Andie is perfect.
There's a big shindig at Frank Buckley's place to welcome the new chief of police. Everyone who's anyone will be there. Even Buckley's ex, the always bewitching Devon, is invited to the party after making nice-nice with Frank's new true love, Vanessa. Devon accepts the invite though, judging by the look on her face, we get the sense she has something more than free hors d'oeuvres on her mind.
Life is good for Sarah Monohan. The principal at the academy offered her a job and she's fitting in nicely with the crowd at Buckley's bash. Nick, however, is busy fidgeting in a corner. He has a lot on his mind, as does Claire. When she sees gossip girl, Barbara, Claire places a call to Christian. She's worried that Babs will babble that she's been hanging with a bloodsucking stud who's not her husband. Claire then thinks twice about bringing Christian into the mix. Perhaps it's best that she deal with Barbara herself.
Devon sneaks upstairs to crack open the wall safe in her old bedroom. Inside, there's a stack of DVDs with the names of lots of Gates folks on the labels. Devon switches out the disc in her case and closes the safe just before her ex-hubby steps into the room. Devon tries to seductively convince Frank that she snuck into the boudoir to reminisce about the good old days. Frank isn't buying it. He says, "Your particular gifts don't have any effect on me anymore." That's fine. Devon assures him she has a whole new bag of tricks these days.
Nick's wife and kids are happy in their new home, so he opts to go along with Dylan's cover-up. No one will ever know what happened in the woods. But there are cameras everywhere in The Gates. That's why Devon swiped and destroyed that DVD, as it showed her seducing Chad Taylor, the deputy accused of killing the last police chief. Frank Buckley has no idea his ex-wife switched discs. He's too busy watching the footage from his latest DVD release. He labels the case "Dylan & Nick," as the video stars both men in the story of a not-so-secret murder in the woods.