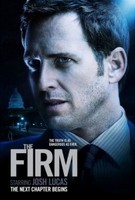 TV Info
---
Episode Premiere
January 08, 2012

Distributor
NBC

Genre
Drama, Action

Show Period
2012 - 2012

Production Company
Entertainment One TV, Paramount Pict, Sony Pict TV


Cast and Crew
---
Director
David Straiton
Screenwriter
Lukas Reiter
Main Cast
Additional Cast
Synopsis
---
After the meeting with Derek, Mitch, Ray, Tammy and Abby assemble in the McDeeres' kitchen. Abby's shocked to hear Richard Williams tried to hire a hit man, but Mitch insists Richard is a good - but desperate - man. If Mitch hadn't gotten Donnell released... Abby insists Mitch isn't to blame, and Ray wants to know how they can know for sure whether Richard's a serious threat. Mitch proposes keeping the meeting Richard set up with Derek for tomorrow and sending someone in Derek's place. Ray can pose as another gun for hire. Suddenly, Claire stumbles into the conversation. Seeing the four adults in her family whispering in the kitchen, she immediately surmises they're headed back to witness protection and runs off in tears. Mitch goes after her to promise that everything's fine - they're done running.
The next morning, Ray adjusts his wire in preparation to meet Richard in a diner, while Mitch listens in from the car. Ray claims to be Derek's friend, willing to do the job Richard's looking to get done. Claiming that Richard seems like a decent guy, Ray offers to let him walk away, but Richard refuses. To hell with the system that sent home the boy who killed his son! Richard's daughter has to go to the same school every day; she's devastated. If Ray won't help, Richard will find someone who can. Over the wire, Mitch reminds Ray not to let Richard go until he's explicit. Richard tells Ray that he wants the job done with a knife, and he'll hand over $10,000 tomorrow, same time, same place. But now that Mitch and Ray know Richard's for real, what are they supposed to do?
Later, Mitch plays Richard's tape for Abby, who insists they have to go to the police. Mitch wants to wait until tomorrow to figure it out; right now, it's time to check out Kinross & Clark. Andrew meets them in the lobby and starts a hard-sell tour. Kinross & Clark strives to bring tech inspiration to the legal world, with light precious woods, stunning open offices and a daycare center. Alex Clark runs the corporate litigation team. It's her father's firm, but Alex is taking it to the next level. Andrew leads them to a client reception with cocktails and live jazz. Alex is thrilled to meet the McDeeres, having already heard about Mitch's stellar performance at Donnell's hearing. Still, there's a wild side to Alex, who considers it a point of pride that she's never tried a case in front of a jury. In fact, her expensive corporate clients pay her to avoid the courtroom at all costs. It's not long before Mitch is offending handsome senior partner Bradley Halverson with his take on the morality of criminal law.
That night after the party, Mitch summons Ray and Tammy to the house to decide what to do about Richard. Abby claims the Kinross & Clark didn't seem too bad, but Mitch knows he'd rather make it on his own. Still, if he doesn't make some money soon... Meanwhile, in Chicago, Joey Morolto, Jr. is trying to romance a fellow East Chicago University student. A town car pulls to the curb, and Sal steps up; there's something Joey needs to see right away. The photos indicate the mob knows exactly how to find the McDeeres. The next morning, Abby finds Mitch deep in thought about Richard Williams. The tape will destroy him, and if he shows up to meet Ray today with money, he can be charged with conspiracy. Even though Richard is intending to have Donnell killed, Mitch thinks there has to be a better way to handle the situation.
Tammy summons Mitch to the office. John Bolson, a lawyer from DC-Tech (the maker of the Althea Sanderson's defective stent) is waiting for him. It must be a settlement offer! Mitch's elation turns to fury when Bolson says his piece. Althea's case is no longer being handled in-house by DC-Tech; Bolson works for Cromwell & Taft, the biggest firm in D.C., which was retained to handle the trial. DC-Tech will not settle, and Mitch should know that Cromwell & Taft bills them $800 an hour. DC-Tech wanted them to draft a letter stating this to Mitch, but Bolson's boss would prefer to send Mitch the $800 as a courtesy. Ray jumps up and orders Bolson to leave, while Mitch tells him it would be a mistake to underestimate his firm. Bolson explains the facts: Cromwell & Taft has 120 lawyers and billed $36 million last year. There's no way Mitch can compete, and Mitch knows Bolson's right.
Abby asks Mitch if he wants to give up the Sanderson case. He'd prefer to grind DC-Tech into ground glass, but he needs the kind of backing only a major firm can provide... like Kinross & Clark. Mitch tells Abby to give him a chance to make it work, then rushes off to meet with Alex and Andrew. Alex cuts straight to the heart of the matter: having Mitch maintain his own office and staff isn't an option - which is the only option Mitch will consider. He wants an "association," which means the firm gives him resources, and he gives them a percentage of his business. When Alex registers concern about the firm's image, Mitch concedes to meeting their clients in-house. He offers the Sanderson case as a carrot, claiming it will be the biggest tort case of the year, and Alex pounces. She'll take Mitch manages to negotiate but going forward, he will report to Alex on all his cases. She's the boss now.
By the time Mitch gets to the diner, the meeting with Richard is already underway. Richard pulls out an envelope full of money, Ray looks at it, pushes it back across the table, says no, and walks out. The next thing Richard knows, Mitch is standing over him, playing the tape. It's over. When Richard claims nothing happened, Mitch points out that the charge of conspiracy to commit murder carries a maximum sentence of 25 years. Richard should have thought about his family before he did this. Richard explains - his wife won't get out of bed; his daughter won't eat. He did this because his family is all he thinks about. Mitch takes a phone call. Judge Trott has reached a decision on Donnell and is calling everyone to court - right now.
Judge Trott explains his decision. Nathan's murder was a shocking crime of great violence. Donnell was carrying a knife because he thought he might need it, and he thought he might use it. But on some level, he was responding to a very real humiliation and lashed out as any child might. Judge Trott wants to believe there's something worth trying to save in Donnell. But how to value Donnell's life without de-valuing Nathan's death? Claiming it's a decision of hope and with apologies to the Williams, the judge rules that Donnell will be tried as a juvenile. Afterwards, Mitch approaches prosecutor Diane Ruckeyser and asks for her help. Later that day, a squad car pulls up to the Williams' house. Richard tells his wife he's going to the office, then allows the cops to escort him to the U.S. Attorney's office, where Mitch, Ruckeyser and defense attorney Clay are waiting for him.
Ruckeyser explains she's arranged for Clay to represent Richard at the meeting. Once it's established that Donnell is safe, Clay states that Richard deeply regrets his behavior and is willing to cooperate in any way he can. Ruckeyser pushes a document across the table - the official complaint, charging Richard with conspiracy to commit murder. He needs to sign it and write a full confession. Irate and confused, Clay stands up, prepared to walk out of the meeting with Richard. Mitch explains that he and Ruckeyser think they found the best solution - if Richard walks out of the meeting, he'll go to prison for sure. But if he sings the complaint and plea agreement, Ruckeyser will file it in her desk drawer, and Richard will come to her office once a week. If he so much as jaywalks, she'll file the complaint with the court. When Clay thanks her, she points to Mitch - he's the guy who convinced her that Richard deserves another chance.
Back at the office, Mitch tells Tammy and Ray the whole story. Diane Ruckeyser's deal with Richard is barely legal; if it went public, it could ruin her career. Tammy cuts in. As long as they're on the subject of secret deals, maybe Mitch can explain the file box that was delivered about an hour ago with a handwritten note from Alex Clark. Ray and Tammy are more than a little pissed off that Mitch joined a firm without discussing it with them. Mitch may be a partner now, but the two of them can't work for a firm. Mitch explains they'll keep their own office - it's just an association, and they need it to keep their own business going. When Abby tells them she's warming up to the idea, Ray and Tammy grudgingly agree to give it a go.
Mitch stops by the hospital to visits with Caroline, Althea Sanderson's daughter. Althea's still in a coma, but she's fighting to stay alive. Mitch is happy to say that he's still fighting, too. Next stop is the cemetery, to attend Nathan's funeral. Karen rushes up to tell Mitch and Abby they're not welcome to attend, but Richard pulls her aside - he asked the McDeeres to come. They're blissfully unaware that a man with a high-powered camera in a black car is taking their photograph.
It's late night at Kinross & Clark, and Andrew is processing a file, which he brings to a meeting with Alex and the senior partners. Alex announces that their acquisition of Mitch as a partner went almost as planned, and no, he doesn't know why they made the offer. Mitch thinks they took him on because of the Sanderson case, which is just gravy. What they're really interested in is Sarah Holt's case - controlling it. Now that Mitch is theirs, he should be under total surveillance, even though they already have a man in the field watching him. Alex makes herself perfectly clear: if Mitch ever learns the truth about the Holt case, everyone in the room is going to prison. Just then, there's a knock on the door - it's their client, Martin Moxon - the man who committed suicide in the opening scene! Alex assures him they were just discussing his case. The action jumps to six weeks later. Mitch peers over the balcony at Moxon's smashed body, as the security guards break down the door...