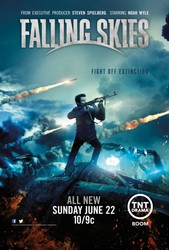 TV Info
---
Episode Premiere
August 07, 2011

Distributor
TNT

Genre
Drama

Show Period
2011 - now

Production Company
DreamWorks Television


Cast and Crew
---
Director
Holly Dale
Screenwriter
Joe Weisberg
Main Cast
Synopsis
---
While most of the members of the 2nd Mass spend a few minutes forgetting their trouble by watching an old movie, Anne and Tom discuss something much more serious. The doctor shows off her discovery -- the autopsied skitter complete with its own harness. The revelation could have far-reaching consequences, having to do with the harnessed kids, like Ben and Rick. Tom isn't sure what a harnessed skitter means for Ben, but he's scared he'll lose his son all over again.
However, there's no time to worry as Weaver requests Tom to discuss upcoming military plans for tomorrow's planned strike. Dai hasn't come back from Porter's headquarters yet, so the officers must prepare the squadron leaders for any possible changes. Tom asks Weaver how he's coping, based on his breakdown back in his old neighborhood. Weaver seems embarrassed or just unwilling to talk about it so he ends Tom's line of questioning with a prompt, "fine." He continues to discuss plans with another soldier, Lt. Danner, in the room, ignoring Tom's presence.
Later that night, an injured Dai returns to base camp. Anne senses the distance growing between Tom and Weaver, so Tom tells her about the captain's temporary nervous breakdown. He's not sure if he should have kept Weaver's secret, but with the attack a few hours away, it might be too late.
Tom walks into Weaver's tactical meeting, and hears that the team plans on meeting up with the 4th and 5th Mass. Tom interrupts the session to question that Porter has confirmation about the active status of the other resistance troops. Danner, as a professional soldier, doesn't appreciate Tom second guessing his commanding officer, but before he says anything more, Weaver excuses the group and speaks with his No. 2 alone.
It seems that no one has heard from the 4th and 5th. And since he wasn't around to hear Dai's report, Tom doesn't believe that Weaver is telling the truth about Porter's commands. Again, it comes down to what happened a few hours ago, when a suicidal Weaver lost his cool in the previous episode. He tells Tom that the men need to have 100 percent trust in their commanding officer, so questioning his abilities in a public forum only hurts the mission. They temporarily agree to put the mission first, above any personal issues.
Weaver assigns Danner the task of dispersing Pope's redesigned mech bullets to the soldiers, while Tom is told to perform sentry duty with Hal. The second-in-command isn't happy about the assignment, but he'll perform the job.
He leaves the office and returns to his sleeping sons. Anne interrupts the moment and pulls him aside to the medical ward. Lourdes tells him that Weaver asked her a few weeks ago to give him prescription medication -- sleeping pills and amphetamines. Depending on the amount he's taking, Weaver could be dealing with symptoms like mood swings, paranoia and even hallucinations. Nobody knows if his mental state has been compromised by the pills, combined with the stress of leading the 2nd Mass.
When Hal finds out, he's not too eager to follow Weaver's orders. However, Tom believes that he can't make an accusation about the captain's mental status until he gets more evidence and information. For now, the duo will do as they're told until they can accurately asses his competency. If not, the entire 2nd Mass will fall apart. Maggie will take Tom's spot on sentry duty tonight, with Hal, while he keeps a close eye on Weaver.
Back in the science lab, it turns out that Pope is actually contributing to the group. His discovery of melting down mech metal to create stronger, more destructive ammo is the cornerstone of the planned attack. Matt rebels against his dad's wishes by helping Pope with the bullets.
Tom asks to speak to Weaver in private, but the captain isn't happy to see that his second-in-command hasn't followed orders to go on patrol duty. Regardless, the two talk: Tom confronts Weaver about the pills and why he's being frozen out of the plans. Something in Weaver snaps and he seems to grow more and more paranoid, accusing Tom of trying to take over the 2nd Mass.
He orders Danner to secure Weaver's weapons as he is in direct insubordination, and put him in the boiler room until further orders come down. He doesn't want Tom to poison the ranks and asks Jimmy to keep the secret.
Meanwhile, Ben stops by Scott's lab and offers to help. He finds out that Scott is trying to put together a transmitter, in the hopes of contacting other people as well as jamming the skitters mode of communication (since they use radio frequencies to connect). Scott starts searching frequencies and suddenly, when he stops on one, the "noise" sets Ben on edge. Perhaps he shares more in common with the skitters than anyone cares to admit?
In the boiler room, an imprisoned Tom tries to reason with his guard, Danner. He says that Weaver has become a threat to the entire 2nd Mass, but Danner still trusts a fellow military man more than a professor.
Weaver stops by Pope's ammunition workshop and requests that the former criminal build four bombs. He says the team won't have much time to attack since the fuse will now be much shorter. But, Pope follows orders and says he can make them.
Ben returns to Scott's lab and heads toward the transmitter. Ricky is already in the room, the two boys heard some type of signal that no one else did. He asks Ben what Scott is planning on doing with the transmitter, and when he hears that the 2nd Mass might try to jam up the skitters' method of communication, he grows agitated. He's scared that the aliens won't be able to find him. He questions why Ben hasn't told anyone about what's he's been saying, about his allegiance to the skitters; but Ben responds that he keeps hoping Ricky will stop saying these things. He doesn't understand why he can hear the signal and asks Rick what the connection means.
Outside, Maggie and Hal return from the scouting trip. They report that a huge amount of skitters and mechs are headed in the direction of the 2nd Mass, but a stubborn Weaver says they'll just move the convoy behind bushes and will continue with the plan. Hal doesn't agree and wants to consult with his dad.
Jimmy tells Anne, Hal and Maggie that Weaver is keeping Tom captive in the basement. They create a distraction in order to break Tom out, though not without some necessary violence to get away from his guard. After Tom gets free, his next step is to stop Weaver from carrying through with his attack plan and endangering the troops.
Dai tells Tom that when he went to visit Porter, the place came under fire. He also says that Porter never heard from the other regiments, and that without confirmation from the 4th and 5th, the attack should be aborted. Dai had told all of this to Weaver, but it seems the captain didn't want to obey orders. He wants to complete the mission, regardless of the intel. In the meantime, Weaver finds Danner tied up and decides to go after Tom, once and for all.
Back in Scott's lab, Ben asks the older man to keep a secret. He asks Scott to turn on the transmitter and go through the frequencies as before. As Ben starts to react to the radio waves, like the skitters, he nervously admits that he's not sure what he is.
Tom finds Matt helping Pope and tells him to run away. He informs Pope that Porter is probably dead and that Weaver is going off of his own orders, which explains the captain's erratic behavior and demand to split the explosive into four bombs. Tom orders Pope, at gunpoint, to take the bomb apart.
Weaver confronts Anne in the medical ward, but is overtaken by Tom and his small squad. They want Weaver to stand down and think clearly. Before the captain has a chance to respond, Pope stealthily enters the room and aims a gun at the Mason men -- it turns out that Tom's speech didn't have the intended effect on Pope, and he couldn't bear to disarm the bombs and abandon the planned attack. Tom does have one card left up his sleeve, as he informs the group that he's taken the fuses so the bombs are still out of commission. He continues to try and reason with Weaver, telling the captain that they don't even have enough people left to complete a suicide mission. He recommends that Weaver be honest with the 2nd Mass and tell them exactly what's happened with Porter and the plan. Weaver finally concedes and agrees.
He tells all the resistance fighters what's really going on and how the plan could be in jeopardy. He asks for volunteers (about 50 fighters) to carry out the plan of attack, but understands that taking care of civilians will also be a concern. Tom will stay behind and look after the civilians.
Those volunteering to fight prepare for the battle. Pope is one of those volunteers, and Maggie confronts him because she doesn't trust that he'll keep his word and actually stand up for the cause. He tells her that humankind doesn't have a chance in this fight, and she warns him that if he does come back, she'll be keeping an eye on him.
Hal wants to join the volunteers, which is tough news for his father to handle. He wishes his son luck and says goodbye, possibly for the last time.
Ben and Scott interrupt the moment with some important news. They tell Tom about their plan to block the skitters' communication signal, and Ben admits he could hear the frequency. The news is troubling for Tom but he doesn't have much time to focus on it as the fighters move out for a battle of global proportions.