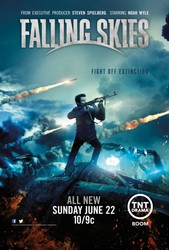 TV Info
---
Episode Premiere
June 19, 2011

Distributor
TNT

Genre
Drama

Show Period
2011 - now

Production Company
DreamWorks Television


Cast and Crew
---
Director
Carl Franklin
Screenwriter
Robert Rodat
Main Cast
Synopsis
---
Through the innocence and honesty of children, we learn the basics of what happened when the alien ships arrived to Earth. At first, mankind hoped these extraterrestrial beings came here in peace, but we soon learn that this was not the case. The children explain that a "bright light" caused all electronics -- satellites, televisions, radios, modern cars, computers -- to no longer work. They blew up military bases and strongholds, killing soldiers; they blew up all the capitols and major cities, killing civilians. Millions of these creatures, nicknamed "Skitters," descended and invaded our planet. While the adults perished, the children were taken, put in harnesses and are now under alien control.
Matt Mason draws a picture of his mom, who was killed while trying to get food, and his brother Ben, who's currently missing but believed to be harnessed. Anne Glass, a pediatrician, tells 8-year-old Matt that it's okay to be sad and let out his emotions. He's now alone with just his other brother, Hal, and his dad, Tom Mason, both of whom are fighters in the resistance. The resistance is a group of surviving humans who seek to survive the attack and conquer the invaders.
Meanwhile, Hal and Tom look like they're caught in a warzone, in their attempts to find food, gas and any other resources. Casualties begin to add up as the duo try to scavenge any food they around -- even just a can of tuna. This small group of fighters try to defend themselves against the combative skitters, spiderlike creatures with multiple legs and huge vacant eyes. For some, like the Mason men, they're able to safely retreat; for others, the battle ends here as they're either killed or harnessed.
And with one massive explosion, we learn that South Boston is now gone.
The men return to base camp with bad news: Jameson, the commander of the 2nd Mass regime, is dead. Tom meets up with Anne and lets her know that the food mission was a bust. Before she can discuss Matt's drawing with his father, Tom is called in to meet with Porter, commander of all the Massachusetts regimes.
Porter orders a full retreat, to leave the city and go underground until they can find a safer area. This concerns Tom since they'd be abandoning all the imprisoned and harnessed humans, which may include his missing son, Ben. Someone who agrees with Tom about staying and fighting is Weaver, a soldier to the core who has faced much personal loss since the invasion began.
Porter ignores their protests and goes into the details of his plan: The group will divide into smaller packs, 100 fighters and 200 civilians in each, headed on different routes to collect resources. Porter promotes Weaver as commander of the 2nd Mass, to replace Jameson, and assigns Tom as his second in command. They're told to head west. Weaver repeats that they should stay and fight, but Porter doesn't want to hear it. The problem is that nobody really knows how to fight the aliens. And more troubling, nobody knows how to remove the harnesses without hurting, or killing, the kids that are wearing them.
Tom second guesses Porter's decision to put Weaver in charge of the 2nd Mass, but the guy does have more than 10 years of combat experience. Tom's background as a professor of history (and knowledge of military) might help a little, but his most important job will be to defend the civilians and keep them safe.
The night before the regimes are set to move out, a few of the fighters share some urban legends they've heard about taking out Skitters. Anthony, a former Boston cop, and his best friend, Click, share a few stories, alongside fellow fighters Dai, Jimmy, Hal and Tom. They discuss the perfect way to attack (involving a lot of C4), but Tom says the best way would involve a surprise ambush. With his detailed plan of an underground attack, the group bestows a nickname for this father of three: Professor Kickass.
We learn that Hal isn't the only scout in the group; he rides alongside Karen, a no-nonsense young woman who knows how to handle a gun and a motorcycle. While the two talk "shop" about bikes, Lourdes, another young woman in the 2nd Mass, flirtaeously offers food to Hal -- the perfect opportunity for Karen to mock her riding partner's obvious effect on women.
The next morning it's time to move out. Lourdes assists Anne with triage duty, getting everyone as healthy as possible to make the trip. Tom tries to be optimistic about the upheaval, telling Anne the plan is "retreat, regroup, return, revenge." His role as second in command pretty much goes unnoticed by Weaver, who gives his orders without any need for input.
As the group prepares for departure, Anne's uncle, Scott, is able to fix an abandoned car -- a victory of itself since electronics no longer work and the group will now be able to carry much more supplies. It's not good news for everyone though -- Matt reminds his father that today was supposed to be his birthday party, but in the grand scheme of things, it doesn't rank too high on the priority list.
Tom grabs a book out of a discarded pile of reading material. Mankind doesn't have much time or need for leisurely reading, but perhaps this offers a sense of nostalgia.
The exodus begins as the group marches on. During the departure, we learn a little more about Anne pre-invasion -- she had a husband and child.
Food seems to be a scarcity along Porter's map, so Tom suggests that he and a smaller group of fighters go back and hit up some of the larger grocery stores and distribution centers. They'll then rejoin the rest of the group at the Littleton Bridge. Tom, with Hal, Karen, Dai, Anthony, Click and Jimmy plan their route and load the pickup with as much ammo as Weaver will let them take. Before they depart, Matt shares his birthday wish with his father -- for everything to go back the way it was before the invasion, including having his mother and Ben around.
Karen and Hal ride ahead to scout for any possible threats, while the other five fighters anxiously await their return at a local train station. As Tom waits, he notices something in the distance -- a dead boy with a harness partially removed from his back. It's a stark reminder that his missing son Ben could be in the same position somewhere out there.
While Hal scouts from the safety of a ditch, he suddenly comes across an army of harnessed kids escorted by multiple "mechs." This breed of alien navigates on two legs and resembles menacing robots. As the zombielike teens march by, there's only one thing holding Hal's attention: Ben.
Hal and Karen rush back to the group, sharing the good news that Ben is alive. The group responds with an offer to rescue the teen, but Tom becomes the voice of reason. Even though there's nothing he'd like more than to save his son, the group already has a mission: gather supplies and return them to the 2nd Mass. Only then can the Masons go after their missing family member.
Tom's recon plan has him and Dai going into the building first. If all looks OK, the rest of the group will enter and grab the food; if not, the remaining members are to leave immediately and meet up at the Littleton Bridge. The store could be a trap, but what other choice do they have? Fighting these aliens seems impossible, but Tom reminds them that if mankind puts up enough of a fight, these invading forces may realize that taking Earth isn't worth their the loss of life.
That night, the group hits the Shop Smart. Once the aisles look clear, they load the pickup with as much food and supplies as possible. However, things aren't what they seem.
The first to be attacked is Hal. Tom defends his son by using the machine gun on the skitter, which unfortunately attracts the attention of a mech. Luckily, Tom is able to hide and surprise the mech with a shopping cart full of explosives. Dai gets close enough to the skitter to shoot it, right before it tries to attack Tom. The group watch with mixed emotions as the skitter slowly dies.
After a few close calls, the small band of fighters bring the provisions to the bridge and rejoin the rest of the 2nd Mass. Tom informs Weaver that they saw Ben during the mission and, after they take the active armory, he will return to rescue his son.
And in a rare moment of normalcy, Matt gets to celebrate his birthday after all. Hal surprises his brother with a present, a RipStik. It's hard for Matt to contain his delight as he jumps on the skateboard and gets to be a kid again for a few short minutes. And as everyone else watches him, they too get to experience a simple moment of happiness.
The scene ends too quickly as Weaver barks his orders about moving out -- they'll head to a safe meadow and make camp there. Everybody snaps back to reality and prepares to migrate.