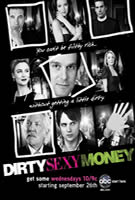 TV Info
---
Episode Premiere
October 22, 2008

Distributor
ABC

Genre
Drama

Show Period
2007 - 2009

Production Company
Berlanti Television


Cast and Crew
---
Director
Robert Berlinger
Screenwriter
Yahlin Chang
Main Cast
Additional Cast
Synopsis
---
Patrick Darling gives a campaign speech promising to create stricter fire codes in the wake of his wife's death... all of which is Tripp's idea. Patrick wants to come clean on Ellen's actual cause of death, but Nick advises him to stay the course.
Meanwhile, at Nola Lyons' apartment, Jeremy asks the District Attorney to see a concert with him, only to be shut down. Jeremy later shows up at her office with tickets to The Weepies and is again shut down.
Nola visits Nick George's office and shows him the witness list, which includes his long-lost mother. Apparently she had been getting paid off by the Darlings for more than 30 years and is the star witness in Letitia's case. He confronts Letitia about his mother, Claire, and learns that her leaving was not the Darling's idea.
Brian has a video chat with his son in Rio, only to learn that Brian Jr. is being left alone at nights. Brian then decides to fly down to Brazil and take his son back. He asks Nick for legal advice and decides to steal the kid anyway.
Patrick talks to Tripp about coming clean about Ellen and is told to stay mum. Later, at his debate, Patrick is about to come clean about his wife's death when Tripp enters the room with Carmelita. Patrick chickens out and gives some line about Ellen's smoking in relation to the fire at Valhalla. Tripp then tells Patrick Carmelita's whereabouts and they meet up later in the episode.
Karen whines to Simon Elder about how Nick got the company, and Simon tells her to stop talking about her ex. Karen goes to see Nick and has highly unpleasant conversation with Lisa about how they're both losing Nick to Tripp Darling.
Nick visits his mother in France and learns that Letitia was telling the truth... she was terribly unhappy in New York and wanted to leave. She also explains to Nick that on the night Dutch died, he planned to visit her in France. She needed to stop him so she called Letitia and Mrs. Darling said that she would take care of it. Nick tells her to bow out of testifying as Letitia is actually innocent.
In Brazil, Brian is about to take Brian Jr. back to New York when he learns that BJ's mom is actually working at night. Brian insists that Andrea takes his money and spend time with their kid. She reluctantly agrees. On the trip back to New York, we learn that Brian Jr. hid himself in the Darling's plane.
Karen shows up at Simon's place just as he is making some comment about having Ms. Darling chasing her own tail. She confesses that she's finally over Nick and into Simon Elder... who suggests they get married.
Nick apologizes to Letitia for yelling at her about his mother. Letitia, meanwhile, explains to Nick that she tried to be a mother to him -- even if he didn't want one.
Nola comes home to her apartment to find The Weepies, her favorite band, are set up in her apartment to play a private concert -- a gift from Jeremy.