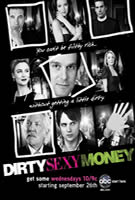 TV Info
---
Episode Premiere
October 08, 2008

Distributor
ABC

Genre
Drama

Show Period
2007 - 2009

Production Company
Berlanti Television


Cast and Crew
---
Director
Andrew Bernstein
Screenwriter
Craig Wright
Main Cast
Additional Cast
Synopsis
---
A tabloid TV show confirms that Ellen Darling was killed in the Valhalla fire... then quickly cuts to Letitia's arrest. Everyone's watching it around New York and chimes in on the state of the Darlings. Patrick's kids tell him that their friend's mother thinks that he is responsible for Ellen's death.
Meanwhile, Lisa George tells Nick that it's time to try for a new baby as Nick leaves to help plan Ellen's funeral. The family decides Kenny G. should perform because that was Ellen's favorite artist.
Tripp tells Brian that he thinks Nick should defend Letitia in courts... seconds after Lisa jokes to Nick that she's surprised the Darlings haven't asked him to do just that.
Jeremy continues to see his sexy mistress... at least until she kicks him out to go to work. Apparently she's a superhero.
Tripp later announces to the family that he needs to name a successor to Darling Enterprises as Letitia is in jail... naturally he puts the responsibility of this on Nick.
As each family member attempts to plead their case to Nick, Karen discusses strategy with Simon Elder. She's worried that Nick only sees her as a spoiled rich girl who doesn't know what she wants... albeit one with a M.B.A. from Columbia. Simon later tells Karen that he'll go to bat for her, but actually tells Nick to give the company to someone else.
Outside of court, Nick introduces Jeremy to Nola Lyons, District Attorney... the very same lady who kicked Jeremy out of bed hours before. FYI, lawyers are the new superheroes.
In court, the judge sets Letitia's bail at $20 million, which the family rolls out in briefcases, and puts the Darling matriarch on house arrest. After the arraignment, Letitia is confronted with a bevy of hungry reporters, begging for answers.
Patrick asks for Tripp's help on what to say during Ellen's memorial as he found her less than pleasant at the end of her life... and that he's worried his wife's death will be used to help win him a spot in the Senate. Tripp offers advice, and Nick more or less suggests that Patrick write about his feelings for Carmelita.
Meanwhile, Nick asks Nola to let Letitia attend Ellen's memorial service. Naturally, Nola says no.
At the service, Patrick's eulogy is a hit. Kenny G. shows up for a solo... and so do the NYPD. Nola is there to arrest Letitia for violating her house arrest. As she is dragged away, Letitia faints. This causes Brian to heckle the police and get himself arrested. Somehow Nick gets into the rumble and is also thrown in the clink.
Brian blames Nick for the ruckus, and Nick eventually tells Brian that he was the person suggested to lead Darling Enterprises. Brian tells Nick that he thinks Tripp was behind Dutch's murder. Nola shows up and gets the half-brothers out of jail.
Patrick is later confronted by a woman who compliments him on the heart-felt eulogy for Ellen. She's the same mother of his children's friend that thought Patrick had killed his wife a few days before.
Jeremy confronts Nola at her place to see why she's been interested in him and if it's related to his mother's case. He also professes his lust and the two continue to interact in ways that would make Juliette blush.
Nick decides, after all, to defend Letitia. Tripp is over the moon. Nick later tells this to Lisa, who is floored.
The next day, Tripp announces who will be the successor for Darling Enterprises. He chooses none other than Nick George... who is most surprised by the news. The Darling children are livid.
Later, at the celebration party, Nick confesses his shock at the announcement. Lisa suggests it's because he decided to defend Letitia. Just as they're about discuss having a baby -- Nick is now interested, Lisa is not -- he's pulled away by Tripp to "meet an old friend." Lisa looks on as the doors are closed, Corleone-style.