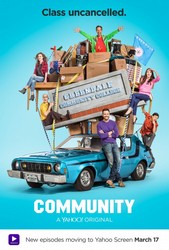 TV Info
---
Episode Premiere
October 22, 2009

Distributor
Yahoo, NBC

Genre
Comedy, Drama

Show Period
2009 - Now

Production Company
Krasnoff Foster, Sony Pictures Television


Cast and Crew
---
Director
Joe Russo
Screenwriter
Hilary Winston
Main Cast
Synopsis
---
Annie helps Troy study for astronomy before their study group starts. Once the study group starts, Deal Pelton pays them an unexpected, yet oddly planned, visit. Pelton approaches Troy about playing for the Greendale football team.
In addition to the football team, Dean Pelton needs help with the Greendale logo for their mascot, the Human Beings. After insulting the dean, Pierce offers his expertise in image consulting to help with the mascot. The dean obliges him.
Britta rebuffs Shirley's invite to join her for some girl bonding during a buddy trip to the bathroom, so Annie tags along. After study group, Jeff walks down the hallway to find a large Greendale diversity poster with his face on it, plastered to the wall.
Britta asks Shirley to go on bathroom trip to make up for her dismissal earlier. However, Britta doesn't seem to meet Shirley's bathroom buddy rules. She'll have to teach Britta a few things about girl talk before they embark on this adventure again.
Dean Pelton meets with Pierce to discuss the overall look and direction of the Human Being mascot for the school. Jeff interrupts their conversation to discuss the diversity poster with the dean. After throwing the poster in the garbage, the dean shows Jeff the mailers he's ordered -- with Jeff front and center. Jeff is concerned about his image.
Jeff grabs Troy from his study session with Annie to discuss the Greendale football team. He tries to convince Troy that playing for Greendale is the way to go. He takes Troy on a little trip to the football field to get him excited about the football team.
Britta confronts Shirley about booting her as a bathroom buddy. After Britta breaks down crying, Shirley gives her some advice on how to be a good bathroom buddy. When Troy returns to the student union after playing some football, Annie is upset. She doesn't want him to go back to being "that high school football jock."
Pierce and Dean Pelton are working on the Human Being mascot when Jeff delivers the news that he got Troy to play football for the school. After speaking to the dean, Annie approaches Jeff to confront him about getting Troy to play football only to benefit himself. Jeff tells Annie that she should just tell Troy she likes him.
Annie is upset after talking to Jeff and runs to the student union. She asks Shirley to meet her in the bathroom, but Shirley looks to Britta to take this one; she has faith in her. Annie, surprised to see Britta, still opens up.
Just as Troy is entering the school pep rally with the football team when Jeff tries to stop him. Troy stops him. He admits to joining the team for fun and that in high school he hurt himself on purpose to avoid the pressure of playing for a scout.
Pierce and Dean Pelton arrive at the pep rally with the brand-new Human Being mascot.