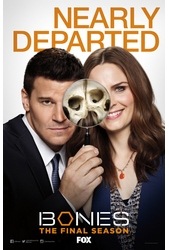 TV Info
---
Episode Premiere
January 14, 2013

Distributor
Fox TV

Genre
Drama, Crime

Show Period
2005 - now

Production Company
Far Field, Josephson Ent., Fox TV


Cast and Crew
---
Director
Alex Chapple
Screenwriter
Nkechi Okoro Carroll
Main Cast
Emily Deschanel as Dr. Temperance 'Bones' Brennan
David Boreanaz as Special Agent Seeley Booth
Michaela Conlin
T.J. Thyne
Tamara Taylor
John Francis Daley
Additional Cast
Michael Grant Terry
Sarah Scott
Marta DuBois
Dmitry Chaplin
Andres Perez-Molina
Mary Murphy
Tyce Diorio
Synopsis
---
ACT ONE
A skydiver who is stuck in a nearby tree finds a cocooned skeleton on a nearby branch next to him.
Brennan tries to play peek-a-boo with Christine in their family's kitchen. Christine isn't interested in playing. Sweets comes into the kitchen and tries to play too. Booth gets a call about the cocooned body in the woods. Booth and Brennan leave Sweets to take Christine to daycare.
In the woods, Cam examines the victim's jeep and finds blood on the passenger seat that's been wiped clean. Came cuts the seats open and finds more blood. Booth theorizes that someone pushed the car down into the woods. Brennan and Hodgins ride a cherry picker to examine the body. In the tree Hodgins theorizes that the victim could be Mothman. Brennan determines the victim is a Caucasian male, not Mothman. Brennan tries to cut into the cocoon, Hodgins objects but Brennan tells him she'll be gentile. She cuts a tiny slit into the cocoon and bugs fall onto Brennan's face.
ACT TWO
Back in the lab, Hodgins examines the cocoon. Cam tells him the jeep belonged to James Sutton. Hodgins recognizes his name as the archaeologist slash adventurer who wrote many novels. Cam tells Hodgins Sutton suffered from chronic sinusitis, Hodgins tells her that webworms spun webs over the branches to support them while they consumed foliage leaving Sutton's body encased. He tells Cam that it's probably been in the tree for five days.
Sweets tells Booth about Sutton's books. He wrote about being an adventurer. Booth asks Sweets about playing peek-a-boo. Sweets tells Booth should be more concerned about Brennan than Christine since Brennan is highly competitive. Booth tells Sweets he needs a list of the people who bought Sutton's bogus artifacts and books.
Hodgins rolls out a cage of crows on the platform. Cam is a little worried what Hodgins is up to. Hodgins tells her that crows feed on webworms. The crows attack the worms.
Booth and Sweets talk to Sutton's wife, Marina, and her brother, Artur. Marina has only been in the United States for a month. She met Sutton in Chechen Republic and they came back to live. Marina is pregnant. Artur has been in the states for five years. Marina tells them that her and James brought things back from Russia because he was anxious. Marina doesn't know what the things were but gives Booth a key labeled: DC WINE & ART STORAGE.
Booth and Brennan visit the storage facility. Inside the storage unit they find Sutton's workspace. There are bones there. Brennan puts it on her tongue and it sticks: it's human bones. Brennan examines documents posted on Sutton's wall. It shows the bones are from Paleolithic times...meaning the bones are thousands of years old.
ACT THREE
Clark tells Cam and Brennan that from Sutton's notes the remains came from Lake Kezanoi in Checnya. Brennan is upset that Clark has the remains. Cam tells Brennan that he is the resident anthropologist on ancient remains and Brennan should be more concerned on solving the murder. Brennan leaves the platform frustrated.
Hodgins swabs particulates off the body in the Ookey Room. Cam comes in to check in. He tells her he found particulates embedded in the scraping wound on the ribs and he's going to run it through the mass spec. Hodgins gets a text from Clark: he needs to see him. Hodgins is afraid to get in the middle of him and Brennan.
In the car Booth tries to have Brennan let go of her issues with Clark...and about Christine. He wants her to let people do things in their own way. Brennan changes the subject to tell him that there are a lot of inaccuracies in Sutton's book. Brennan doesn't understand how a publisher can let this happen.
Booth and Brennan talk to Sutton's publisher, Diana Malkin. She explains that Sutton called from Russia saying he had made an important find and was going to be able to publish something with real scientific merit. She explains that Sutton made most of his money from the artifacts he sold which usually were bought by a man in Texas.
In Clark's part of the lab, he has started to create a diorama. Angela is there to help to facial reconstructions. Hodgins comes in and still doesn't want to get in between Clark and Brennan.Booth and Sweets look into Wayne Wilson, the Texan who bought Sutton's artifacts. Wilson is a fundamentalist who supports the biggest Creationist museum. Sweets wonders why someone would buy artifacts when they don't believe in them. Sweets tells Booth that Wilson funded Sutton trip but Wilson got upset that he wouldn't turn over the bones.
Hodgins and Angela continue to help Clark. Brennan comes in annoyed by Hodgins isn't working on the case. Clark tells Brennan that the bones seem to be both Neanderthal and Homo Sapien. Brennan examines the bones: phalanges from a Homo Sapien woman, the ribs and femur or a Neanderthal male, and mandible and humorous of a three-year-old child. Brennan notices an injury to the parietal on the Homo Sapien meaning this was a murder. Brennan gets the bones!