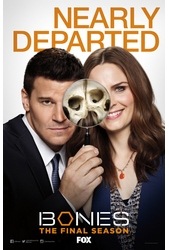 TV Info
---
Episode Premiere
April 16, 2012

Distributor
Fox TV

Genre
Drama, Crime

Show Period
2005 - now

Production Company
Far Field, Josephson Ent., Fox TV


Cast and Crew
---
Director
Jeannot Szwarc
Screenwriter
Janet Lin
Main Cast
Emily Deschanel as Dr. Temperance 'Bones' Brennan
David Boreanaz as Special Agent Seeley Booth
Michaela Conlin
T.J. Thyne
Tamara Taylor
John Francis Daley
Additional Cast
Pej Vahdat
Rafael J. Noble
Joyce Guy
Synopsis
---
ACT ONE
Reverend Bill Summers preaches to his congregants... at a landfill. This is the future site of their new church. Praise the Lord! Suddenly, a flock of bright blue seagulls start falling from the sky followed by a human skull fragment and an eyeball.
As Booth gets Christine ready for daycare, Brennan comes in with a stack of clothes. She doesn't know what to wear. Nothing feels right or looks good. Booth tries to tell Brennan that she looks amazing but Brennan isn't convinced.
Booth and Brennan meet Cam at the landfill. Cam explains that the birds picked apart the victim and died doing it. They join Hodgins at the remains. There are so many chemicals in the landfill that it'll take some time to figure out why the birds are blue. Brennan notes the victim is male, around 30, has been dead for two weeks... and is missing his hair and scalp.
ACT TWO
At the Lab, Brennan explains they must first identify all the damage caused by scavengers. Arastoo is overly excited and happily helps Cam cut out the victim's tongue so she can run a tox screen on an uncompromised piece of flesh.
Booth and Sweets discuss the case at the FBI. Sweets asks Booth if everything is okay. Booth gets annoyed with Sweets but is interrupted by a call from Angela. She has finished the facial reconstruction: the victim is Santiago Valmont, a high-end hairstylist. Booth pulls up his file on the computer-three female clients reported him missing.
Arastoo wheels a cart of dead animals through the Lab. He is going to match the dentition to all the scavenger marks on the bones. Hodgins has pureed the victim's flesh to determine what blue chemical he was doused in. He wonders why Arastoo has been so chipper. Arastoo reveals his article is going to be published in the Journal of Forensic Anthropology.
At the FBI, Booth and Sweets question Andi, Candace and Julie. They each reported Santiago missing and they each had a "special relationship" with him. Julie claims that his 6PM Saturday Appointment was starting to get jealous. They don't know her identity.
Booth and Brennan visit the Tabitha Miller Salon. Santiago was Tabitha's best stylist. She directs them to Theo, his shampoo boy. Theo would know the victim's schedule.
Theo is upset to hear about Santiago's death. He doesn't know who Santiago was "styling" at 6PM on Saturdays but he does know that Kevin Silver, another stylist, has been after Santiago's station for years. Kevin appears and decides to help. He breaks into Santiago's drawer and pulls out his appointment book. Inside, there's an envelope with a $1000 tip and a note: "You're mine, darlin'. Don't you forget it - xoxo Ruby."
ACT THREE
Booth questions Ruby Schnepp. She explains that she loved Santiago. She gave him that big tip to help him get out of debt. He wanted to get clean but first, he had to get his dealer off his back. Ruby would never hurt Santiago. She was only trying to help.
Arastoo wheels his cart of critters into the Ookey Room as Hodgins and Angela rule out Barbicide as the blue chemical on the remains. Angela congratulates Arastoo on being published but Arastoo wants to keep it secret. He needs to use the Angelatron to input all the dentition marks and strip them off the skeleton.
Booth and Sweets drive to Little India. Santiago's last credit card charge was for a parking meter in front of an import store busted for drugs last year. Cam confirmed there were drugs in Santiago's system. As usual, Sweets tries to get details about Booth and Brennan's personal life but Booth shuts him down.
In Angela's Office, Brennan confides in her friend. She doesn't fit into any of her clothes. Angela suggests that Brennan take some time for herself. Arastoo comes in and mistakenly tells Brennan about his article... so much for secrecy. Brennan examines the injuries on the Angelatron. There are linear cut marks on the side of the cranium. The victim was scalped.
Booth and Sweets enter Jaipur Import Export Bazaar. They show Poorab Sangani a picture of Santiago. Poorab goes to get his brother to look at the photo. Sweets turns to see a fountain spewing blue "water." Booth comes over to examine the fountain and sees Poorab making a break for it. Booth tackles him and Poorab drops the bag he's holding. It's filled with human hair.
ACT FOUR
Booth gets a call: Poorab won't talk until he has a Public Defender. Booth is frustrated and Sweets senses this isn't just about the case. Booth admits that Brennan has been feeling unattractive since having the baby. Sweets suggests Booth buy Brennan some lingerie to make her feel beautiful. He pulls him into Karine's Intimates to look at their selection.
At the Lab, Cam and Arastoo tweeze through a large pile of human hair. Hodgins joins them with wool carders from the Colonial New England Diorama. They were used to sort sheep's hair. They each take one and get to work.
Angela comes into the Bone Room to drag Brennan to the spa. But Brennan is distracted by injuries that the Angelatron missed. There are hairline fractures on the victim's L4 and L5 that occurred at time of death. Cam enters: she needs Brennan to see something.
Cam shows Brennan a strand of hair on the monitor. She points out a dark line of demarcation near the end, which is a result of putrefaction. Arastoo adds that the hair was cut from a corpse but it doesn't belong to the victim. They have hair from 25 different corpses. Is this a ritualistic killing? Brennan chastises Arastoo and sends him to reexamine the bones since all the injuries did not show up on the Angelatron.
Booth sits with Poorab and his Public Defender, Tess Levinson. Why does he have hair from 25 corpses? Poorab explains that he stole it from his uncle's mortuary. It was for extensions. Poorab confesses that Santiago and Kevin bought the extensions from him. Tess freaks, rips out her extensions and leaves the Interrogation Room.
ACT FIVE
Angela tries to pry Hodgins away from his work. She even offers to fool around with him in the car before they go home. Hodgins has an epiphany: the blue chemical is antifreeze!
Booth and Brennan return to Tabitha Miller Salon and ask Theo and Tabitha to see Kevin. But Kevin cleared out his station and hasn't been seen in days...
Brennan and a distracted Arastoo examine the bones. Arastoo confesses that the journal has decided not to publish his article. Brennan admits she read his piece because she is on the review board. She was very impressed with his work, but urges him not to be distracted with technology. He needs to let the bones tell him the answers.
Booth and Sweets question Kevin, who was on his way to the airport. Booth lays out the evidence: they found drugs at his apartment and know he was Santiago's dealer. And records show he bought two gallons of antifreeze recently. Kevin admits he sold drugs to Santiago but claims someone stole the antifreeze from his trunk. He's innocent!
At Four Winds Spa, Brennan and Angela enjoy their facials and massages but are interrupted by a call from Arastoo. He took Brennan's advice and felt the bones. There is a slice to the underside of the hyoid. Brennan sees Angela, fully reclined in her chair and realizes what happened to the victim! She rushes out in her robe and facemask.
ACT SIX
At Tabitha Miller Salon, Brennan explains that Santiago was leaning back in the shampoo chair because Kevin was going to cut his hair. He cut Santiago across the throat, nicking the hyoid and arteries. Brennan finds blood on the ceiling with her ALS light, but Booth tells her that Kevin isn't the murderer. Santiago wouldn't have trusted Kevin to cut his hair.
Booth and Brennan turn to Theo. He was talented and Santiago took credit for his work. He just wanted his own chair but Santiago laughed at him when he asked. Brennan notices a wig stand with Santiago's hair. Theo explains that Santiago's hair was his masterpiece. So he kept it.
Booth and Brennan finish dinner at home. Booth gifts Brennan the lingerie and she is very pleased with his choice. Brennan explains she is happy with the way she looks, but just gets annoyed at the inconvenience it sometimes creates for her. She suggests they go upstairs so she can try on her new lingerie.