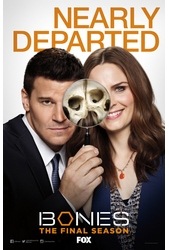 TV Info
---
Episode Premiere
April 21, 2011

Distributor
Fox TV

Genre
Drama, Crime

Show Period
2005 - now

Production Company
Far Field, Josephson Ent., Fox TV


Cast and Crew
---
Director
Daniel Sackheim
Screenwriter
Hart Hanson
Main Cast
Emily Deschanel as Dr. Temperance 'Bones' Brennan
David Boreanaz as Special Agent Seeley Booth
Michaela Conlin
T.J. Thyne
Tamara Taylor
John Francis Daley
Additional Cast
Synopsis
---
ACT 1

After an anonymous call provides GPS coordinates to a set of remains in the Everglades, Booth and Brennan head to Florida. Brennan determines the victim is a male in his late twenties. She deciphers a serial number on the victim's prosthetic eyeball, which will aid in identifying him.
The victim is Sam Nozik, who worked as a security guard at the Big Cypress Maritime Museum. Head Curator Lambert Chaisson shows Booth and Brennan security footage of Nozik from ten days ago. In the video, Nozik steals an 18th century nautical chart fragment. It had not yet been authenticated but may have led to the treasure of the Spanish ship Santa Esperanza, which sank in 1774. Chaisson doesn't believe the document was legitimate so he has no idea why Nozik pilfered it.
Booth decides to seek out former army associate Walter Sherman for help with the case. Walter is a "finder" on retainer with the FBI. If they find the map, they find the murderer. At the Ends of the Earth Bar, Booth and Brennan discover Walter engaged in a philosophical debate with Leo Knox, his legal advisor, and Ike Latulippe, his bartender and pilot. When Booth asks Walter to help with the case, he and Booth get into a fight. Ike gives Brennan a beer while the boys get reacquainted.
ACT 2

Booth and Brennan show the security footage to Walter. He deduces that Nozik was blind in one eye from the way he looks at the map. He can also tell that Nozik was drunk. He then turns his powers of observation on Booth and Brennan: are they sleeping together? When they assure him they are not, Walter asks if Brennan will sleep with him. Booth suggests he find the map first. Walter agrees to help but is offended when Brennan dismisses his "finder power" as imaginary. He wants to prove himself to her. Brennan divulges that she lost her seventh grade science fair medal.
Walter, Leo and Ike's investigation leads them to Nozik's apartment. Ike believes Nozik was hired to steal the map. When he can't find a spare key, Walter breaks in, leaving Leo and Ike outside. Ike worries that Walter will have a breakdown if his "finder power" fails him. Leo feels they are there to ensure that doesn't happen and believes in Walter's "second sight."
Walter pieces together Nozik's life, carefully scrutinizing everything. He strips down to his boxers in the bare apartment and settles into the recliner. As Walter is testing the bathroom, Ike calls. He gives her a rundown: Nozik was clinically depressed. He didn't have a girlfriend or a computer or any pets but he did have health problems. He recently sold all of his belongings, save for a stack of books, including one about the healing powers of the pyramids. There are also posters of pyramids in the bedroom, which leads Walter to believe that Nozik was dying. Dying people invest meaning in pyramids because they've stood the test of time.
Ike thinks that Sam got some "liquid courage" and asked his "employers" for more money to steal the map. They killed him, but since his home wasn't ransacked, they must have tortured him for the location of the map. Walter discovers a pawnshop ticket in one of the books. His phone rings again. Walter answers in his normal suspicious manner: who is this? It's Brennan. Walter wonders if she's determined that the victim was terminally ill. Brennan discovered that Nozik had heart disease and also found signs of torture. Walter tells her that the map is at the pawnshop.
ACT 3

Outside the pawnshop, Ike notices that for each person who goes in, three exit. No one is carrying merchandise. It looks like an operation to receive stolen goods.
Walter enters the pawnshop to redeem his ticket but owner Rosalind Bassa refuses to give him the item because he isn't Sam Nozik. In the "spirit of cooperation," Ike points out that the cops have installed surveillance and are parked across the street. Rosalind agrees to give them the ukulele in that same "spirit of cooperation." She produces the smashed instrument. Rosalind explains a woman retrieved a piece of paper from the ukulele and then destroyed it. Rosalind figured she was Nozik's angry girlfriend. She offers that the woman had a "Do Not Resuscitate" tattoo on her chest.
Walter seeks out Rusty, a former client and tattoo artist. Walter describes the woman's tattoo. Rusty puts it to the room: does anyone know a woman with a "Do Not Resuscitate" tattoo? A hulking biker with a blue spider web tattoo stands. Walter knows what this signifies: spiders mean drugs and the color blue means meth. The hulk slams him against the wall. Leo asks him to let go. When he doesn't, Leo attacks in the most brutal way: going right for the unmentionables.
Working on a tip from the biker, Ike and Walter head to the Key Largo Roadhouse. Walter eyes Brittany Stephenson, a woman with a very distinctive "Do Not Resuscitate" tattoo. Ike warns him that this girl is vicious. She leaves to break into Brittany's car. Walter makes eyes at Brittany but she stares him down.
Walter follows Brittany to her boat: the "Screw You." He feels that someone is watching them. Admittedly, his two tours in Iraq have made him somewhat suspicious but he denies he has mental problems as Brittany suggests. She readies her boat to leave and tells Walter he will never see her again. Walter replies that he can find her. Brittany doesn't know why he would go to all the trouble. She's no prize. Walter tells Brittany she is beautiful. She gives him a tender goodbye kiss.
ACT 4

Ike pilots a small plane. Walter rides shotgun. He surmises that the map has to be on Brittany's boat. He didn't feel it anywhere on her person during their kiss. Ike's search of her truck didn't turn up anything either. If Brittany has the original chart, Walter has an idea about how he can get the next best thing.
At the Lab, Walter presents Brennan with her first place science fair medal. Brennan is more touched by the accompanying article, which pictures her with her mother in front of her project. Walter asks if there is someone at the lab who can recreate the chart from the security footage. Brennan tells him that Angela has already begun work on it.
Angela pulls up images of the chart for Walter. The navigator's name is Absalon Fidalgo. Faint handwritten coordinates indicate the location where he abandoned ship. Hodgins notices that the map says, "Follow Your Leader." This is a reference to Jesus Christ, which means Absalon Fidalgo observed the Prime Meridian in Rome. Therefore, the wreckage should be in Key West.
Ike, Leo and Walter set out in search of the wreckage. Leo and Ike keep a lookout. Walter believes the man Brittany is working for was on her boat when she sailed away and that's why she wouldn't let him come aboard. Either one of them could be a threat. Walter dives into the ocean and finds Brittany's lifeless body under the sea.
ACT 5

At the Lab, Cam and Brennan examine Brittany's body. Cam finds a map in Brittany's mouth along with a human finger. It must belong to her murderer. Walter examines the map fragment and rubs a bloodstain on it, which reveals a rendering of a nail. Declaring he has done his job, he hands Booth a stack of receipts. They are expenses for which he wants to be reimbursed. Brennan protests: they haven't solved the murders yet. Walter insists his job is done.
Walter and Ike visit Bishop Edward Galano, an expert on Vatican treasure ships. Walter helped Bishop Galano find his faith and now he wants help to find Brittany's murderer. He intends to solve the case himself. Bishop Galano examines the map and explains that the symbols are only revealed when exposed to breast milk, semen or blood. The three nails indicate that Absalon Fidalgo was a Jesuit, meaning he would measure the Prime Meridian from the Copernican Observatory. Walter stands but Bishop Galano and Ike try to confront him about the brain damage he suffered in Iraq. Walter storms off.
Leo eats with an angry Walter. He is upset that Ike and Bishop Galano "ganged up" on him. Ike is worried because Walter is so paranoid he can't enjoy life. She wants him to get treatment but Walter believes that if he seeks help, he will lose his ability to find things. Everything is connected and what she calls paranoia, he calls epiphany. He tells Ike he will be okay as long as he has things to find.
At the FBI, Hodgins and Brennan show Booth the map with the invisible ink and the now visible symbols. Hodgins believes he knows how to find the treasure.
ACT 6

Angela explains Absalon Fidalgo didn't base his longitude on St. Peter's Basilica. If he had, Walter would have found the treasure already. Angela believes that since Absalon Fidalgo was a Jesuit, he used the Copernican Observatory. Booth is sure Walter has also figured this out.
Meanwhile, Walter finds the sunken treasure, which includes a solid gold Madonna Della Strada. He and Leo take their findings to Lambert Chaisson. He is excited by the statue that Walter produces. Walter and Leo notice his hand is in a cast. Chaisson is the murderer. Walter wants to kill Chaisson but Leo advises against it.
Booth is angry Walter beat them to the treasure. Brennan wonders if his anger is really rooted elsewhere. Booth explains that he went AWOL to be present for the birth of his son. The military sent Walter to find him. Walter handcuffed Booth while he was holding Parker in his arms. He thinks Walter should have looked the other way.
Ike and Leo pull up in a van next to Booth and Brennan. They push a crate onto the sidewalk. Is that the treasure? Booth wants to arrest Walter but Walter isn't with them. Leo thinks Walter held up his end of the agreement. He exceeded expectations. Muffled noises begin emanating from the box. Did they kidnap someone? Brennan thinks Booth should look the other way. They open the box to discover Chaisson with a note tapped to his jacket: I murdered Brittany Stephenson.
At the Founding Fathers, Booth and Brennan share a drink. Brennan thinks Walter did look the other way the day that Parker was born. He waited until after Booth had a chance to hold his son before he arrested him. Booth doesn't care. He doesn't like Walter and Brennan can't make him. Fair enough.