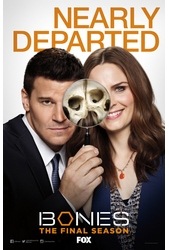 TV Info
---
Episode Premiere
December 09, 2010

Distributor
Fox TV

Genre
Drama, Crime

Show Period
2005 - now

Production Company
Far Field, Josephson Ent., Fox TV


Cast and Crew
---
Director
Ian Toynton
Screenwriter
Carla Kettner
Main Cast
Emily Deschanel as Dr. Temperance 'Bones' Brennan
David Boreanaz as Special Agent Seeley Booth
Michaela Conlin
T.J. Thyne
Tamara Taylor
John Francis Daley
Additional Cast
Synopsis
---
ACT 1

Booth, Brennan, Cam and Hodgins arrive in Woodland, a very bad part of town. They see a skeleton entwined in the roots of a tree. It was discovered when the tree was uprooted in a violent storm. Brennan doesn't believe the victim, a Caucasian female, has been here longer than two years. She has excellent, expensive dental work. What would a rich woman be doing in this neighborhood? Brennan continues to examine the body as Booth calls for a team to transport the tree to the Lab. The victim is the same height and weight as Brennan and is also wearing a silver dolphin ring...a piece of jewelry that Brennan favors in her own collection.
ACT 2

Brennan shows Angela the dolphin ring that belonged to the victim. Angela tries to reassure her friend. Unless you have your jewelry custom made, hundreds of people could have the same accessories as you.
Cam and Brennan work in the Autopsy Room. Brennan discovers a fracture to the temporal bone. It is deep enough to suggest a fatal blow. Brennan notices an occupational marker consistent with using scissors. The victim could have been a seamstress or an artist or even a medical professional.
Hodgins examines the tree on the Forensic Platform. Using the tree rings, he can tell that the victim was buried sometime last winter. Hodgins uses the roots to further pinpoint a time of burial: eleven months ago.
Hannah, Booth and Brennan have lunch together. Hannah uses her laptop to help with the investigation: a surgeon named Dr. Lauren Eames went missing last November. She was a single woman with no children. There was no one to miss her, save for her coworkers. The case was never solved.
At the FBI, Booth and Brennan meet with Lauren's boss, Dr. Adit Gadh. He produces a box of files pertaining to Lauren Eames: her schedule, her case load, her interns. Dr. Gadh explains that Lauren had no enemies. There were disgruntled interns who claimed they were overworked and underappreciated but nothing unusual. Lauren had no time for a personal life but Dr. Gadh suggests they talk to the Transplant Services Helicopter Team. Chris Markham, the pilot, may have had a thing for Lauren. Dr. Gadh says that Lauren was the best. This disconcerts Brennan. If she was so great at her job, why was her death was so quiet? Brennan finds Dr. Eames' photo ID and sees her own face! She shows Booth but he doesn't recognize the woman in the picture.
Brennan is unable to sleep, tossing and turning. She heads to the Lab, where security guard Micah Leggat greets her. She explains to him that she is having trouble being objective regarding her current case. Micah suggests that she try solving the case without being objective. In her office, Brennan listens to CDs that Lauren dictated for transcription. However, she only hears her own voice.
ACT 3

Brennan separates the bones while listening to the CDs. She cleans them and continues her examination. As Lauren talks, Brennan begins to get to know her and she laughs at her comments. Micah arrives with cookies for the hard-working Brennan. She asks him to listen to the CD. Doesn't it sound just like her? Micah admits it sounds similar but this woman is not Brennan. This woman is dead and Brennan is alive.
Booth and Brennan talk to Chris Markham at D.C. Memorial Hospital. He thought Lauren had gone on a trip to some foreign country. She always followed her own logic. Lauren didn't have friends. Brennan tells him that Lauren was stabbed on her right side about a year ago. Chris only knows that Lauren had an altercation with the father of one of her transplant patients. Chris wanted to have a relationship with Lauren but she turned him down every time. Now she's gone.
Brennan listens to Lauren's dictation about an eight-year-old boy with hypoplastic left heart syndrome, Sam Dworsky. His father was being overprotective and irrational. Brennan begins to talk back to the recording when Sweets interrupts her. She is startled. Sweets mentions that her coworkers have told him how distressed she is by this case. Brennan shows him the photograph of Dr. Lauren Eames. Sweets believes Brennan is over-identifying with the victim.
Hodgins goes over the particulates from the head wound: soil, hair and a manufactured reflective coating. The victim was bludgeoned with a reflective surface.
Booth and Brennan confront their prime suspect: Mike Dworsky. He says that Lauren is cold-hearted. His son needed a new heart and when a match came up, Lauren refused to do the transplant because his son had a cold. Luckily, Sam was able to get a heart and he is doing fine now...no thanks to Lauren. Brennan notices a heavy flashlight with a reflector lens. She picks it up. This could be the murder weapon. Booth chastises Brennan for handling evidence. It's not like her. Mike asks for a lawyer.
ACT 4

At the Lab, Brennan makes a mold of the wound on the victim's skull while she listens Lauren's recordings. She begins to talk to Lauren and Lauren talks back. Lauren tells Brennan that she regrets never pursuing a relationship with Chris Markham. Lauren recalls a patient: Charlie Whaling. He was a nine-year-old boy that became brain dead after a car accident. Yet, his parents wouldn't give up his organs for donation. Brennan turns to see Micah with cookies and tea for her. She confesses that she has been talking to the victim. Micah doesn't think she is nuts. Maybe its just intuition.
At the Diner, Booth reports that Dworsky has an alibi but Booth has a better suspect. City cops heard about a woman matching Lauren's description being stabbed by a drug dealer. He works a block away from where the remains were found. Hodgins enters excitedly. He found opiates in the root system of the tree. Maybe Lauren was a drug user. Brennan defends Lauren. She did not use drugs.
Booth interrogates Rhino, the drug dealer. He doesn't recall stabbing Lauren. He is tight lipped until Booth threatens to send Rhino to prison with what they have already. Rhino confesses that he talked to Lauren. She wanted to negotiate a price for drugs but Rhino doesn't negotiate. He stabbed her but he didn't kill her.
Brennan angrily tells Booth and Hannah that Lauren did not use drugs. Booth wonders why she is taking this so personally. She is acting as though she is the one being accused of drug use. Is Brennan all right?
ACT 5

On the Forensic Platform, Brennan wants an explanation for how the opiates got into the tree. Hodgins, Cam and Angela agree to help her find her answer. What if Lauren was carrying drugs? If the drug dealer killed her, he would have taken any drugs she had. But since the killer didn't take them, he must not have been a drug dealer. They should test her clothing. Hodgins does a quick test and confirms that there is heroin on the clothing. She was carrying drugs. Brennan does not want to hear this. She storms off.
Brennan sits in the Bone Room, talking to the bones. Lauren finally responds. She wasn't hit over the head. She was thrown onto something. Brennan confirms this on the X-ray. Micah arrives and declares Brennan sleep deprived. He has a cab waiting to take her home.
Sweets presents Brennan with psychological insights about the victim. Brennan doesn't protest but listens with interest. Sweets is surprised. Lauren Eames was a very controlling person. As a result, she became logical and detached so she could deal with the death she faced at work. Then, in order for her to stop feeling nothing, she began behaving erratically. Is this why she fought with a drug dealer? Sweets turns talk to Brennan. She is not alone in this world. She is different from the victim. Brennan excuses herself.
Brennan talks to Chris Markham. Is it possible that Lauren put herself into dangerous situations out of despair? Chris recalls a time after Lauren lost a patient. They were in the helicopter and she opened the door and undid her seatbelt. Chris tilted the helicopter the other way so she fell inside the aircraft. He laments that he would have been good for her. If only Lauren had given him a chance.
ACT 6

Brennan stares at her computer as Micah passes by. She is troubled. There is nothing left for her to discover from the hard evidence. Nothing left to measure or count or calculate. Micah suggests that she look for signals from the universe. Brennan grabs the CD about Charlie Whaling and begins to listen. She finds his file. Charlie Whaling was brain dead. Lauren wanted his heart for Sam Dworsky and was trying to convince his parents to donate his organs. Lauren tells her that the Whalings live in Woodland.
Brennan gets out of a cab in Woodland. It is pouring rain. Brennan gets soaked as she looks for the Whaling residence. It is a run down apartment building. She starts toward it but sees a road reflector in the street. She bends down to inspect it. It is cracked. She doesn't see the car coming straight for her. Booth appears and pulls Brennan out of the way. Brennan tells him that Lauren came here to beg the Whalings for their son's heart. She was hit by a car and killed. She only bought the heroin for the danger of it all, to feel something. The driver must've buried her.
Booth drives Brennan home. He suggests she take time off. Brennan insists she's fine except for one thing...she made a mistake. Brennan doesn't want to have any regrets the way Lauren did. Booth tells Brennan that he is with Hannah. He loves Hannah. Brennan cries. She missed her chance.
At the Lab, Micah wonders what happened. Brennan tells him that she listened to the universe, she felt something but she is sad. Micah sees it as a victory. She is not dead and she is not dead inside. In her office, Brennan finally sees Dr. Lauren Eames in the photograph...not her own face.