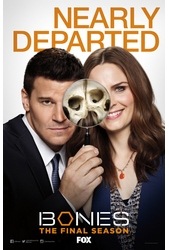 TV Info
---
Episode Premiere
September 17, 2009

Distributor
Fox TV

Genre
Drama, Crime

Show Period
2005 - now

Production Company
Far Field, Josephson Ent., Fox TV


Cast and Crew
---
Director
Ian Toynton
Screenwriter
Hart Hanson
Main Cast
Emily Deschanel as Dr. Temperance 'Bones' Brennan
David Boreanaz as Special Agent Seeley Booth
Michaela Conlin
T.J. Thyne
Tamara Taylor
John Francis Daley
Additional Cast
Patricia Belcher
Michael Bryan French
Synopsis
---
In the Jeffersonian Garden, ANGELA watches as her psychic, AVALON HARMONIA, gives BRENNAN a tarot reading. Avalon reveals that Booth and Brennan are joined because of their "shared experience." Brennan is annoyed. She just stepped off a flight from Guatemala and wants to relax. However, Avalon is not done. Was Brennan pregnant in the book she wrote? An uninterested Brennan excuses herself.
At the FBI, Booth sits with Sweets. "I don't own a nightclub. I'm not married to Bones. You are not a singing bartender," Booth affirms. Sweets is satisfied. He certifies Booth for duty. In the Lab, Brennan reunites with CAM and HODGINS. Cam informs Brennan that Booth hasn't been reinstated yet. Brennan didn't know that her partner would take so long to recover. She drops her bags in her office where she finds Booth. The partners embrace, happy to see each other. Booth shares that he is fit for duty. Angela interrupts. Avalon is sure there are bodies buried beneath the Teversham Fountain. Booth and Brennan do not believe in psychics but after Booth hears about Brennan's reading, he wants to check it out. At the Teversham Fountain, Brennan wheels a GPR Unit. She sees something on her screen: human remains.
At the Teversham Fountain, Brennan explains to CAROLINE JULIAN that they've found at least eight bodies. She can also tell there is a plastic disc amongst the bones. These victims were killed recently. Caroline will get them a warrant to dig in ten minutes. At the FBI, Booth questions Avalon Harmonia. How did she know about the bodies? Avalon's only explanation is that she is psychic.
At the Teversham Fountain, Brennan and Hodgins work to remove the remains. Hodgins explains that the bodies were most likely dumped during a renovation ten years ago. He takes samples and finds a piece of blue fabric. Angela waits as Brennan readies a skull for a facial reconstruction. Angela believes Avalon has proven that she is truly psychic but Brennan is still not convinced.
At the Founding Fathers Bar, Cam and Booth have a drink. He starts to explain how real his dream was. Cam thinks she understands. "You're in love with Dr. Brennan." She advises Booth to follow his heart but to be sure of his feelings. Brennan is fragile and couldn't stand it if he changed his mind.
Booth joins Brennan as she works at the Teversham Fountain. Brennan gives him the plastic disc she recovered. Booth takes the disc and rushes off to work, leaving Brennan alone in the wee morning hours.
At the FBI, Booth, Sweets and Caroline Julian discuss Avalon Harmonia. Her real name is STEPHANIE SUSAN JANES. She has no criminal history. Caroline believes Avalon is somehow involved in this crime. Sweets isn't so sure. Avalon told him where he could find his father's watch. It had been missing for three months. Hodgins calls Booth and Caroline to report that the fabric found at the crime scene is from a US Navy poopie suit. Submarine crews wear uniforms made of this material.
At the Lab, Brennan tells Booth that none of the skeletons showed any signs of violence, save for one skull. It appears that a bullet killed the victim but Brennan explains that the weapon moved more slowly. Angela appears with important news. An image she recovered from the plastic disc shows a large van and a group of people in blue suits. Angela was able to recover the name of a car rental company: Glen Echo. Booth and Brennan are impressed until Angela shows them her facial reconstruction of one of the victims. It looks just like Avalon Harmonia.
At the FBI, Booth and Brennan confront Avalon. They show her Angela's facial reconstruction. It upsets her terribly. Avalon realizes that the woman they found under the fountain is her sister, JENNY JANES.
Booth joins Angela and Brennan at the Diner. Glen Echo Car Rentals went out of business but a former employee remembers renting the van to the Harbingers of a New Day. The group never returned the vehicle. Is this a cult? Angela will find out more.
At the Lab, Angela cleans up a video snippet from the plastic disc. Cam and Hodgins watch as she indicates a man giving a speech: TOM FARGOOD. Fargood sold spots in a secret undersea facility called Harbinger. Angela indicates two people in the video: Avalon and her sister. It seems Avalon is not as psychic as she claims.
At the FBI, Avalon explains that it cost almost a million dollars to join Harbinger. Jenny suffered from MCS or Multiple Chemical Sensitivity. She was "allergic" to the world. Avalon recalls that every time they passed parts of his training, Fargood would personally add a seal to their diplomas. Avalon insists she didn't know her sister was dead. She thought she was living in Harbinger. Avalon believed the group left her behind because she broke a rule by seeing an outside doctor. Booth and Brennan ask for a list of all the Harbingers and the Harbinger doctor.
At the Apex Free Family Clinic, Booth and Brennan meet with DR. CHAS LEACOCK. Leacock explains that Fargood wanted him to be the doctor in his underwater facility. Leacock declined. Though he believed the facility existed, he couldn't resign himself to an isolated life undersea. According to Leacock, each member of the group suffered from MCS. Everything from perfume to fresh paint would make them sick. He is shocked to learn that the whole group is dead. He agrees to hand over the medical files if Booth brings a warrant.
At the FBI, Booth enters his office to find Sweets. Does Booth's brain still think it's in love with Dr. Brennan? Avalon told Sweets it was. Sweets shows Booth three of his brain scans: one before his operation, one during his coma and one from three days ago. The areas of the brain that show romantic love were normal before the operation. However, afterwards, these areas are "lit up like the Fourth of July." Sweets concludes that Booth's feelings are only a product of his operation. Over time, they will fade.
At the Lab, Cam and Angela have determined the name of the only victim to die violently: LOUIS LAMPCOV. Angela believes that a spear gun caused his death. Hodgins rushes onto the platform. He found crystalline calcium oxalate in the soil near each body. This would only be present if someone had dosed the victims with antifreeze. Not only could this have killed the victims, it could also have caused their MCS symptoms. Someone slowly poisoned them over time and finished it with one fatal dose.
While chatting with Avalon, Booth shows her his brain scans. Avalon is amused. The doctors can tell Booth all he wants to know about his brain, but not about his heart. She gives him a reading. The cards tell her that Brennan is in terrible danger. She shouts for Booth to save her. As soon as he leaves, Avalon hops into a cab.
At the Apex Free Family Clinic, Brennan looks for Leacock. Instead, she finds Louis Lampcov's medical file in the shredder. Leacok attacks her. Brennan fends him off but she can't get away. Leacock stabs Brennan in the arm as Booth breaks through the door, shooting Leacock. Booth holds Brennan as they wait for the ambulance to arrive.
At the FBI, Caroline finds Booth in his office, Brennan's blood all over his shirt. She tells him he did a good job, rescuing Brennan and killing the bad guy. She likes that, even if he doesn't. She guesses that the case is now closed but Booth isn't so sure. None of the remains have been identified as Fargood. Leacock was working for him. He still needs catching.
At Avalon's Apartment, Brennan finds Avalon with her cards. Brennan came to make sure she hadn't run away. Avalon picks up her cards one by one. She learns that Brennan was an abandoned child. The world scares her so she turns to logic. Brennan is not impressed until Avalon says that Brennan doesn't know how anyone can love her. Yet, "he" knows the truth of her and is dazzled by it.
At the Lab, Angela searches the Internet for Tom Fargood. Sweets is on hand to assist. Sweets reasons that because Fargood targets those sick of the world, they need to search Retirement Communities.
At the FBI, Booth and Brennan face Tom Fargood or ALEXANDER GALLO as he is now known. Alexander has been selling spaces in an exclusive retirement community. However, those who put down non-refundable deposits keep turning up dead. Alexander wants a lawyer.In the Observation Room, Brennan assures Caroline Julian that Alexander Gallo is Tom Fargood. Booth and Caroline can hold Gallo for a short time but even if they prove that he is Fargood, how can they prove that he killed twelve people?
Brennan arrives at the FBI with Avalon's Harbinger certificate. Fargood applied the seals himself. They now have his DNA, but how do they get Gallo's? Booth has a plan.
Booth and Brennan bring Avalon to identify Fargood all the while reminding her of the horrible things he's done. When she sees him, Avalon can't control herself. She attacks Fargood, scratching his face. Brennan instantly bags her hands. There is DNA all over them.
At the Lab, Caroline applauds Booth and Brennan's sneaky tactics. Cam confirms that Alexander Gallo is Tom Fargood. Now how do they prove that Fargood committed all those murders?
As Booth and Brennan walk along the streets, a street performer dressed as a clown squirts Booth in the face with water. Brennan readies herself to defend the clown's life but Booth laughs. He slips the clown some money and honks his nose. Brennan reminds Booth that he does not like clowns. She guesses that in a few weeks he will be back to normal. Booth realizes that he can't trust his feelings right now. He tells Brennan that he loves her but only in a professional way. Caroline drives by, instructing the partners to get in.
In her car, Caroline reports that she has what they need to arrest Fargood. They can't get him for murder but how about grand theft auto? He stole the rental van. Then there's fraud. He sold spots in an undersea facility but if he can't produce the facility then he defrauded his buyers. The list goes on and on.
At the FBI, Booth arrests Fargood while Brennan and Avalon watch. Brennan apologizes to Avalon for not being able to convict Fargood of murder and for manipulating her into attacking him. All is forgiven as far as Avalon is concerned. Booth joins them, ready for a drink. Avalon tells Booth that everything works out eventually. She leaves the partners to continue business as usual.