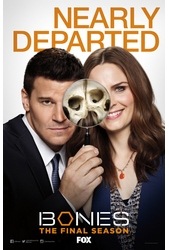 TV Info
---
Episode Premiere
May 02, 2007

Distributor
Fox TV

Genre
Drama, Crime

Show Period
2005 - now

Production Company
Far Field, Josephson Ent., Fox TV


Cast and Crew
---
Director
Jeannot Szwarc
Screenwriter
Elizabeth Benjamin
Main Cast
Emily Deschanel as Dr. Temperance 'Bones' Brennan
David Boreanaz as Special Agent Seeley Booth
Michaela Conlin
T.J. Thyne
Tamara Taylor
John Francis Daley
Additional Cast
David Greenman
Judith Moreland
Lisa Waltz
Rob Brownstein
Michael Rodrick
Glenn Morshower
Synopsis
---
Agent Booth and Dr. Brennan are called out to the desert to investigate a strange crater. They find the remains of a human that must have fallen from a considerable height. The only thing they found in tact is a pair of brown men's loafers.
Back at the Jeffersonian lab the Bones and squints take some careful looks at the pile of clothed flesh and venture a few ideas as to the cause of death all the while skewering Hodgins about all his conspiracy theories. Dr. Brennan makes a final observation noting a significant amount of bone density loss congruent with someone 130 years old. Zach and Hodgins take a closer look at the evidence and conclude that lack of bone density is characteristic of an astronaut who spent a significant time in space. This is just enough info for Booth to get moving. He does a cursory investigation that lands on Colonel Cal Howard, who happens to match Angela's initial skull reconstruction. Since astronauts are evidently difficult to get a hold of, as they are potential terror targets, Booth tracks down Howard's wife for an interview.
Booth and Bones go to talk to Mrs. Howard. They learn Colonel Howard just left the previous day on a self-piloted flight and has yet return as scheduled. The Colonel was evidently training another astronaut to do his job since he was being decommissioned for medical reasons.
Booth checks out the whereabouts of Colonel Howard's plane and learns it is safe in the hanger. The pair head to the hanger to investigate the plane, see if there is any evidence that Howard was thrown from his own plane. They are interrupted by Howard's boss and told they need a warrant to search any further. Just seconds after the investigation seems to hit a dead end Booth magically produces a warrant.
Back at the office Booth has a chat with Hodgins to see if he can pull anything from the official documents subpoenaed from the agency. Hodgins can't do anything since all the relevant information has been blacked out. Changing the subject Hodgins asks Booth if how to propose to a woman the right way, then goes on to tell Booth that he proposed to Angela, but not successfully. Moving back to the NASA conspiracy Hodgins figures out they need to investigate the person Howard was training in to replace him.
Bones and Booth go to interview commander Adams about Howard's whereabouts. Inside the fuselage of the A300 zero, aka the "vomit comet", Booth and Bones question Adams and find out he was unfaithful to his wife and only Howard knew. The plane proceeds to go into a free fall creating a weightless environment for 20 seconds. They find out Howards was talking to the STC, Space Transit Coalition.
Back at the lab Angela is tasked to create a recreation of the accident using the clothes. Bones and Booth do some investigation of the STC and find out they were running UFO patrol missions in the same area where Howard's body was found.
Booth and Bones go to interview the head of the STC who claims he's been abducted by aliens several times. He reveals Howard was offered a job at STC, and that Howard sought out the STC, not the other way around. He also claims that Howard did not take the job at the STC because of pressure from the agency and his wife. Booth and Bones go to talk to Howard's wife again and she reveals that at one point Howard did indeed file a report with the agency claiming to see an extraterrestrial craft, even though the agency frowns on it heavily. Booth and Bones now believe that the agency might have killed Howard because he saw something classified and were scared that he might leak the info to the STC.
Back at the lab Zach discovers a strange formation on Howards femur. Dr. Brennan takes a closer look and find a tiny implant in Howards knee that somehow did not show up on and X-ray. After closer inspection the implant turns out to be a special graft to stop bone decay, an experimental procedure.
After some intense investigation at the Jeffersonian the team concludes Colonel Howard had a special bone-loss procedure in Haiti from a Swiss doctor being funded by the STC. The Jeffersonian team continues to investigate the evidence in the lab, specifically the wounds sustained by Colonel Howard and conclude he was struck and killed by a propeller blade before being though out of an airplane.
Bones and Booth go back to the hanger to find the prop blade that killed Howard. They find Commander Adams plane with a damaged propeller indicating it was used to kill Howard. Bones believes there was another person involved besides Adams. Booth goes to arrest Adams' wife who he implicates in the conspiracy.
Later we see Hodgins and Angela out having a romantic dinner. After much deliberation and Hodgins produces a diamond ring and asks Angela to marry him. She answers a resounding no, but says she loves Hodgins more than he knows, that's it's just not the right time for her.