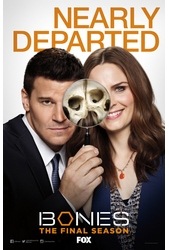 TV Info
---
Episode Premiere
January 25, 2006

Distributor
Fox TV

Genre
Drama, Crime

Show Period
2005 - now

Production Company
Far Field, Josephson Ent., Fox TV


Cast and Crew
---
Director
Greg Yaitanes
Screenwriter
Teresa Lin
Main Cast
Emily Deschanel as Dr. Temperance 'Bones' Brennan
David Boreanaz as Special Agent Seeley Booth
Michaela Conlin
T.J. Thyne
Tamara Taylor
John Francis Daley
Additional Cast
McNally Sagal
Harry Groener
Adam Grimes
D.J. Lockhart-Johnson
Natalija Nogulich
Marika Dominczyk
Synopsis
---
We open up with Brennan and the squints examining the remains of what could possibly be the finest specimen ever discovered from the Iron Age Booth, in his usual style, shows up with a "sexy" Hollywood case: remains of a female were found scattered at Los Angeles International Airport. Brennan is less than eager to part with her Iron Age Warrior but Booth convinces Goodman that a high profile case would be good PR for the Institute. Once again, Booth prevails and Brennan is made to take the case.
In L.A., Booth and Brennan investigate the site where the body was found scattered by scavenging coyotes. They are briefed by Special Agent Tricia Finn who escorts them to the L.A. Morgue. There, Brennan examines the victim's bones while Agent Finn (to Booth's annoyance) solicits her interest in acting as a consultant to Brennan's newly optioned book. Brennan wasn't even aware that her book was being made into a movie. Disturbed by what she sees, Brennan points out that the victim's skull has been radically altered by surgery-- to the point where she might not be able to ID the person.
In a video feed back to the Lab, Zack reports to Brennan his findings: this young woman in her early 20's, wears evidence of stabbing -- one hit to the sternum, two to the costal cartilages. Degradation in her bones suggests she was left out in the open between a week to ten days, while other markings suggest coyote feeding. The jaw and right leg were broken and reset. Upon further examination, Brennan finds a breast implant with serial numbers that could be traced to an ID.
Following that lead soon leads to a dead end -- the breast implants were reported stolen by a plastic surgeon, Dr. Anton Kostov. Booth tracks Dr. Kostov to his office in Beverly Hills. The doctor explains that three weeks ago, another stolen implant was recovered when it was removed from a call girl by a surgeon out in the valley. Perhaps this surgeon knows the victim.
Flustered, Brennan checks in on Angela to see how she's coming along with the reconstruction of victim's face. Angela remarks that this woman didn't just have plastic surgery, she changed her skull - her cheekbones were shaved, her chin reformed, her jaw restructured. There are too many variables to give an accurate rendering of what she may have looked like.
Booth, Brennan and Agent Finn follow their call girl lead to a high class Madame - Ivana Bardu of Aphrodite Escorts. Ivana looks at the portraits rendered by Angela and narrows the possibility down to "Rachel" - one of her girls who booked out for a one week job in Vegas with a long time customer: Dr. Anton Kostov. She's been missing for two weeks.
Booth recognizes this as a red flag for Kostov; he knew Rachel as a patient and as a client. Brennan points out that Rachel could have had more than one plastic surgeon. The surgery on her chin bone is highly unusual and specialized. Hodgins reports that the remains also had marine fiberglass, indicating Rachel could have been around the marina or on a boat shortly before she died. In addition to the surgeries, the victim also had her leg crushed in a car accident when she was early teens. Zack reports that oxygen and strontium isotopes in the molar enamel suggest early childhood in New England, while the dentin suggests 6-10 years in Southern California. They are closing in on where victim was born and where she grew up and lived.
To Brennan's dismay, Booth orders a call girl from the Madam -Rachel's "best friend"- Leslie Snow. Leslie shows up at the hotel roof deck, looking hot and thinking Booth is a job. Booth tells her that her friend Rachel was murdered. Upset, Leslie confides to Booth that Rachel's "real" name was Candice Haden. She also says Rachel dated a guy named Nick, who was a bit actor on the show "24." When Nick found out Rachel was a call girl, he got pissed off and smashed in her windows.
Back at FBI Headquarters, Agent Finn confronts Booth on why he keeps freezing her out of the investigation. Booth says he doesn't like the fact that she is using the FBI as a stepping stone to selling a screenplay or becoming a consultant. He has too much respect for the Bureau to tolerate that kind of behavior.
We move to where Brennan is on the set of Extra studio with Penny Marshall, being interviewed by Jann Carl for the movie option of Brennan's book, Bred in the Bone. Brennan is more disconnected than ever when expected to play up Hollywood and actually leaves the set in the middle of the interview to follow a lead.
On the beach, Brennan joins Booth to interrogate Nick Harbison, Rachel's boyfriend, in the midst of a volleyball game. He says her name was "Sandra Kane." He never knew her well and lost contact after their breakup. He had nothing to do with her murder.
Brennan and Booth return to investigate Dr. Kostov. He insists he had nothing to do with her murder and that he didn't even know she was dead the first time they came to him. They have nothing on him and he's not going to give any more information. Frustrated, Booth tells Brennan that Cullen wants to pull their involvement in the case. All their leads are dead ends. They don't know what she looked like, or even what her real name was. He doesn't even have a sense of the victim's personality.
Back in the Lab, Zack realizes the murder weapon must be a larger version of the surgical implement used on the victim's jaw. They trace the procedure to Dr. Henry Atlas, the only surgeon in North America who does this type of procedure. Booth and Brennan visit Dr. Atlas in his high end practice with a search warrant. Atlas is forced to admit Rachel was a patient of his and that her name was really "Susan Shephard." They confiscate his surgical instruments suspecting one of them could be the murder weapon.
In the Morgue, Brennan tests Atlas' instruments on clay and finds the one she thinks is the murder weapon. In the FBI interrogation room, Booth and Brennan tell Atlas and his lawyer that they have a match on the murder weapon, trace evidence from Atlas' boat, and testimony from his staff that he argued with Rachel/Susan shortly before she died. Atlas finally admits he traded surgery for sexual favors and that Rachel/Susan became addicted to surgery. He didn't kill her; he only refused her any more procedures. Further testimony reveals that Rachel wasn't the only call girl Atlas used from Aphrodite Agency. He called on a girl before Rachel who was too "flashy" -- wearing diamonds in her incisors and on her fingernails... Booth reminds Brennan, "Didn't Hodgins find a trace fingernail in the victim?" The call girl before Rachel was... Leslie Snow.
Night, the hotel rooftop swarms with L.A. party scene. Leslie Snow arrives to meet Booth all smiles and legs, now that she's warmed up to him. Booth plays along, takes her hand, and peels off a fake fingernail with a diamond on it. Leslie murdered Rachel out of jealousy. She thought Rachel was stealing her man, "Dr. Atlas" who was suppose to be her ticket out of the "life." Agent Finn and others arrest Leslie on the spot and take her away. Booth joins Brennan who is watching all of this from a distance. She's glad he arrested the murderer but is still sad that the victim's true identity is unrealized. Booth hands Brennan a newspaper article he tracked... Her real name is "Alison Holmes" from Bangor, Maine. He tracked Alison's car accident in which her mother was also killed - his gift to Bones. She's touched, grateful. With this final piece of information, Alison's remains will be returned to her family. Off Booth and Brennan, looking around them at strangers in a strange land...looking forward to getting home.