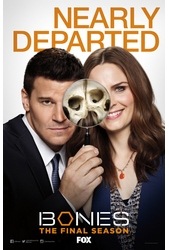 TV Info
---
Episode Premiere
December 13, 2005

Distributor
Fox TV

Genre
Drama, Crime

Show Period
2005 - now

Production Company
Far Field, Josephson Ent., Fox TV


Cast and Crew
---
Director
Greg Yaitanes
Screenwriter
Hart Hanson
Main Cast
Emily Deschanel as Dr. Temperance 'Bones' Brennan
David Boreanaz as Special Agent Seeley Booth
Michaela Conlin
T.J. Thyne
Tamara Taylor
John Francis Daley
Additional Cast
Heavy D
Billy Gibbons
Bob Bouchard
Jim Ortlieb
Margaret Avery
Christina Copeland
Ty Panitz
Synopsis
---
It's Christmas party time at the Jeffersonian and Angela is trying to get a very reluctant Brennan to go. Just in time to save her from going, Booth shows up with a skeleton found in a 1950s fallout shelter. The skeleton has a gun in his hand and a hole in his head. Brennan takes the case while Angela drags Booth to the party with the other squints. Left alone, Brennan finds 2 tickets to Paris on the skeleton.
Over eggnog and company Christmas banter, Hodgins accidentally drops his mask as Zack cuts into the skeleton for a core sample. An ALARM sounds. Hodgins and Zack race to the decontamination shower; they may have released a biological decontaminant. The doors to the lab seal automatically; they are all locked in.
The lab's security officer, HAL, tells them via video monitor that the pathogen is coccidioidomycosis - Valley Fever -- a dangerous fungus that can at worst, lead to death. Hal and a doctor prepare a cocktail of 4 anti-fungal drugs to administer to the team - its side effects similar to that of Valley Fever. Not only will they miss Christmas with their families but they'll all have to suffer flu-like symptoms while quarantined in the Med-Lab.
With great resentment and frustration at the situation, the team tries to make the best of being stuck together. Zack and Hodgins bond on morgue tables, while Booth and Goodman share insight into their private lives they've never shown before. In Angela's office, Angela tries to motivate an almost Scrooge-like Brennan to make Christmas for the rest of their crew. She reveals that the tragedy of the skeleton victim lies in the fact his woman never received her wedding ring, and thought he broke his promise to her. Brennan is moved by this... she makes it her personal mission to solve the murder of the Man in the Fallout Shelter.
Brennan is working when Booth wakes up on Christmas Eve. Angela rallies the team to a Secret Santa Christmas with handmade gifts while Brennan opposes to be a part, asserting that gift giving is really all about asserting dominance in a group. The team discusses the real reason Brennan hates Christmas: her parents disappeared just before Christmas when she was fifteen.
Focusing on the case, Booth and the squint team use old and new information to piece together what happened to this man fifty years ago. Feds seized the house with the fallout shelter from a man named Gil Atkins in the sixties; they found stolen art and jewels. Brennan says the skeleton had a hunch, maybe from doing a lot of paperwork.Goodman and Booth examine the contents of the skeleton's suitcase. They find the vellum square, a tiny pouch. They also find letters that start "Dear Lionel..."
Later, as Angela, Zack, Goodman and Hodgins decorate the lab with homemade lab decorations, Goodman lets slip that Booth is a father, surprising them all. Hodgins passes this information on to Brennan. This has obvious effect on her. She had no idea. Brennan finds Booth making a call: Lionel had a suit made in DC; the shop still exists. The guy's grandson is checking the records. Lionel was supposed to come back the next day for a wedding shirt, but he never showed. Brennan sneezes: does she have Valley Fever?
The team has set up Christmas Eve dinner in the Bone Room. They theorize that if Lionel was a coin collector, it could explain the levels of nickel and lead in his bones. Goodman read the passionate love letters and deciphered that Lionel had a pregnant girlfriend in fifties Oklahoma. Brennan mentions off-hand that Booth too, has a child out of wedlock; this both surprises and hurts Booth. From the handwriting, Goodman thinks the girl was African-American while Lionel was white. They were running away to Paris so they could live together.
Hal announces that their Christmas visitors are there. Goodman sees his wife and 2 kids. Hodgins sees his Swedish masseuse. We discover that Angela's father is Billy Gibbons from ZZ Top. Zack has a loud, boisterous family. Sid brings Parker - Booth's son - to see Booth. Brennan watches the others, but has no visitors of her own. Sensitive to Brennan's sadness for this holiday, Angela finally discovers through Brennan's telling, what Christmas has meant to her all these years since her parents disappearance: she found presents under the tree from them after they were gone and thought they had come back. Her big brother had tried to make Christmas for her. She was hurt deeply by his gesture. Before New Year's, he went out West for work and she got put in the foster system. They were lost to each other.
Booth got Lionel Little's missing person's file. He was 24 years old and a coin collector. The day he disappeared, so did his coin collection. The sales traced to Gil Atkins. That could be why Atkins killed Lionel. Lionel must have been trying to sell his coin collection so he could finance the move to Paris with his girlfriend. They figure out that the last person to see Lionel alive was - Ivy Gillespie - his maid. The love letters to Lionel are all signed with an ivy leaf. She was his girlfriend! Angela says that Brennan should find Ivy and tell her what happened to Lionel; she can give Ivy the answer that she never got when her loved ones disappeared. Brennan agrees: she wishes somebody had told her what happened.
On Christmas Eve, Brennan tries to locate Ivy Gillespie via phone and internet as others work on their Secret Santa gifts. By Christmas morning, Brennan still on the phone finally locates Ivy's granddaughter. She tells her she has information for her grandmother about Lionel Little. Brennan goes through Lionel's belongings: one of the pennies fits into the vellum envelope - another clue to a mystery. Brennan discovers that the penny she found is a 1943 Bronze One Cent Piece, one of 12 which exist today, worth over 100,000 dollars. Atkins murdered Lionel without realizing that was the most valuable coin.
The team gathers around for their gift exchange, each reveling in the gift they made and in the one they receive. It is not lost on them that Brennan isn't a part of the exchange. Hal comes to clear them from quarantine. Liberated, everyone but Brennan runs off. Moments later, Ivy Gillespie and her granddaughter appear. Brennan tells Ivy that Lionel was murdered. Ivy tells how she raised Lionel's daughter and granddaughter. Knowing that Ivy can't afford a college education for her granddaughter, Brennan gives them the valuable penny to complete Lionel's dream. Brennan shows up at Wong Foo's, tells Booth about Ivy. Booth reveals to Brennan that what she did for Lionel and Ivy was indeed a great Christmas gift. Brennan goes back to the lab and finally, allows herself to open the gifts from her parents she's left locked away all these years.