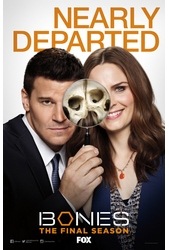 TV Info
---
Episode Premiere
November 29, 2005

Distributor
Fox TV

Genre
Drama, Crime

Show Period
2005 - now

Production Company
Far Field, Josephson Ent., Fox TV


Cast and Crew
---
Director
Sanford Bookstaver
Screenwriter
Dana Coen
Main Cast
Emily Deschanel as Dr. Temperance 'Bones' Brennan
David Boreanaz as Special Agent Seeley Booth
Michaela Conlin
T.J. Thyne
Tamara Taylor
John Francis Daley
Additional Cast
Lou Richards
Matt Ross
Alicia Coppola
Leonard Roberts
Patti Yasutake
Keith Sellon-Wright
Kate McNeil
Synopsis
---
While Brennan and Angela examine skeletal remains, a gift arrives for Brennan from former professor and beau, Michael Stires. He's newly arrived in town with an offer to head up a university's anthropology department. The squints observe Brennan flirt awkwardly through a conversation when Booth arrives, interrupting the sexual tension with a gift of his own -- a refrigerator containing the partially liquefied remains of a decomposed skeleton.Brennan determines the victim is female, (19) identified as Maggie Schilling, was a dancer due to the bone markers in her metatarsals. Booth says Maggie went missing eleven months ago. There was a ransom and the negotiations went on for a couple of weeks until all contact stopped. Brennan notes that there is no confirmed cause of death yet, but there are stress fractures on both wrists. They will run chemical and toxicity analysis on the effluent in the refrigerator.
Angela returns to the subject of Brennan's hot ex, Michael Stires. Brennan denies that their relationship is anything but platonic even though they're having dinner that night. She asserts that neither of them has the time or inclination for emotional complications. Later that night however, Brennan and Michael skip dinner and head straight to the bedroom. They discuss the case and rekindle old feelings. Brennan confides in Stires, revealing a rare emotional connection to the victim. Stires recognizes her vulnerability beneath the scientist -- in silence, he holds her.
Hodgins and Zack examine Maggie's skeleton on the forensic platform. Brennan arrives with Stires. Zack indicates that thee X-rays reveal low bone density and low parathyroid hormone levels, which suggests a condition called hyperparathyroidism.
Stires wonders if Brennan is premature on her struggle theory. Brennan retorts that the X-rays clearly suggest traumatic fissures and analysis of the liver and kidney tissues give evidence of a narcotic, hydromorphone and Stires leaves. Meanwhile the squints are all shocked to see Brennan involved with a man. Refocusing the team, Brennan orders Hodgins to determine if the hydromorphone was administered intravenously or orally and wants Zack to examine the left illium. There seems to be some degeneration. With a former professor reviewing her work, she wants to make sure nothing is overlooked.
Booth and Brennan meet with Maggie's parents. Brennan's blunt statement of the facts is a little difficult for the parents, but she assures them that they'll find the killer. Booth and Brennan question Maggie's endocrinologist. He never prescribed any hydromorphone, but his former office manager, Mary Costello, accepted bribes from Maggie for drugs. Mary and her husband deny any wrongdoing. In fact, Mary felt sorry for Maggie and actively tried to get her to attend AA. Costellos' story seems to hold up until Booth discovers the markings of an old refrigerator imbedded deep in the linoleum floor of the kitchen. They're hiding something.
Feds comb through the Costellos' house finding various S&M paraphernalia: bondage gear, bed restraints, hog tie chains, pony point trainers, bondage tape. Brennan deduces that the handcuffs are the source of Maggi's stress fractures but Mary insists that Maggie wanted to be tied up and was a willing participant in the sexual relationship.
Back in the lab, Stires debates with Brennan over her case against the Costellos. He thinks there isn't enough evidence. She thinks there is. Brennan and Stires bet dinner and re-examine the clues. The squints find matching strands of fur imbedded in her wrist in the scaphoid and lunate and marks on both the left and right medial malleoli, suggesting that her legs were bound together. Clearly Maggie wasn't tied up for fun. They even run Maggie's struggle through the Angelator. Match point: Brennan. Upset, Stires leaves in a huff.
Brennan can't fathom Stires' behavior; she thought it was just a healthy debate between scientists. Angela thinks it's because he can't handle Brennan's success. Booth enters and warns Brennan not to give Stires any more information. Turns out, Stires has been hired by the Costellos' lawyer as their expert witness. Brennan is stunned and hurt by this news.
At the Italian restaurant that night, Brennan accuses Stires of spying on her. He apologizes and offers to back out of the case. She relents, but to keep things from being personal, he'll have to move back to the hotel.
The next morning, tension mounts in the lab as Stires sifts through the evidence for the defense. As Zack videotapes his every move, Stires attempts to question Brennan's findings. He finds that the open door he had from Brennan is now closed. It's official, Brennan and Stires are on opposing teams.
At Booth's FBI office, he introduces Brennan to outspoken jury consultant, Joy Deavers. Although the evidence is there to support their case, Joy thinks their position is threatened by Brennan's unsympathetic nature. The jury won't take to Brennan and won't care even if she's testified in over thirty trials as a technical witness. The other witnesses for their case are just as unsympathetic as Brennan while the female jurors in this case will be mentally undressing Professor Stires and be taken with his charm and easy accessibility. Brennan contends that strong evidence should be enough to convince the jury of the Costellos' guilt.
On the witness stand, the team comes together to make a strong case to incriminate and convict the Costellos. Booth connects with the jury, describing tell-tale marks from the old refrigerator. Hodgins establishes that Maggie Schilling was in the refrigerator for ten to twelve months. Angela shares her heart-felt sketches of the victim with the jurors. The case looks strong, that is, until Brennan takes the stand. Her seeming detachment and overly-technical jargon alienates the jury. Joy observes, that if "she can't connect...those killers are going to walk."
Their case goes from bad to worse when a warm and charismatic Stires gets on the stand. His affability inspires trust from the jurors and he uses this opportunity to take jabs at her testimony. This infuriates Brennan. She can't believe that his distorted testimony by virtue of how he appears to jurors could tip the scales to the side of the Costellos.
The next day, Stires tries to be his charming self to Brennan, explaining that it was his job to create reasonable doubt. Brennan argues that the case "isn't about winning a pasta dinner...It's about putting away two people who murdered a nineteen-year-old girl."
Brennan returns to the stand determined to sway the jurors back to the prosecution. She starts off too cold, still alienating with her techno-speak. Out of desperation, the prosecuting attorney, prompted by Booth, throws a curve ball and asks Brennan about the unresolved death of her own parents. Her immediate reaction and defense to the subject reveals to the jury her own pain and how she relates to the suffering of Maggie Schilling. Moved, the jury finds the Costellos guilty, winning the case for the prosecution.
Sensitive to the fact he prompted the prosecuting attorney to expose Brennan's personal tragedy on the stand, Booth apologizes. Brennan forgives his trespass as she now understands the importance of opening up to a jury. As they work through the charred remains of their next victim, we are left with the understanding that both are grateful for each other, for reasons of work and for the lessons of life.