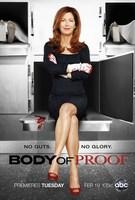 TV Info
---
Episode Premiere
April 03, 2011

Distributor
ABC

Genre
Drama

Show Period
2011 - 2013

Production Company
ABC Studios


Cast and Crew
---
Director
Nelson McCormick
Screenwriter
Matthew Gross, Christopher Murphey
Main Cast
Additional Cast
Mary Mouser
Barry Shabaka Hinley
Brian White
Brenda Pressley
Synopsis
---
Dave Piaseki and Linda Chapman are found shot to death in a car. Detective Bud Morris believes this is a murder-suicide. Dave and Linda had been an item until she went to college and he joined the Navy. If he still had feelings for Linda, a spurned ex-boyfriend theory could be valid. Megan Hunt isn't so sure. She pulls two bullets from Dave's skull. Megan says, "Unless he shot himself in the head twice, it wasn't a murder-suicide."
Linda was in a car accident when she was young. Her distraught dad, Al, taught her how to walk again. Linda's mom, Laura, says her daughter dated ex-boss Brian Hall when she worked at his restaurant. Hall is a hothead who insists his lady employees be super skinny. He busts Megan's chops when she smudges the lemon cleanser he's using to spiff up his bar. Traces of the cleanser are found on Dave's arm. That means he was in Brian Hall's place the day he was murdered.
Hall has an alibi. He was with his latest skinny employee, Nina. Megan and Peter conspire to get Nina out from under Hall's clutches. This woman is experiencing the same psychological abuse Linda had gone through before Dave returned to put a stop to it. The murder victim suffered from bulimia because of Brian Hall's bullying ways. Megan and Kate want Nina to get as far away from Hall as she can. She'll do so, but it doesn't change the fact that she truly was with him the night of the murder. Hall isn't the killer.
Ethan and Curtis investigate the traces of asbestos that were found in Dave's blood. In true Hardy Boys fashion, they swipe a sample from the construction site where Dave worked. The foreman was cutting corners. If Dave was going to blow the whistle, the guy would have motive for murder. The foreman gave Dave a huge advance on his pay, but it wasn't hush money. It was to buy an engagement ring for Linda.
Dave and Linda were an interracial couple. Morris and Baker discover that Dave had a run-in with a skinhead named Eric Singleton. One of Eric's buddies says he ditched a jacket that had blood on it. The cops find the jacket and a diamond engagement ring in Eric's apartment. He swiped it from Linda, but after she was already dead. He's not the killer either.
Megan finds gunshot residue on Linda's eyelids. That means the killer closed her eyes before leaving the scene. Dave Piaseki was a good guy, but Linda's parents never believed that to be the case. That's why they denied his request for permission to marry their daughter.
Linda's dad, Al, knew where Dave was planning to propose. He went there with a gun to scare him off. The gun accidently discharged. Linda was killed instantly. Al blamed Dave for what happened. He shot him and then staged it to look like a murder-suicide. Megan can prove this because he left his tear residue on his daughter when he closed her eyes. Case closed.
Megan has been desperately trying to reconnect with Lacey. Peter thinks she's pushing too hard. He's right. Megan embarrasses Lacey in front of a boy when she shows up at her horse riding lesson. A lunch date doesn't go much better. Megan realizes she needs to back off. She leaves a message for Lacey promising to do just that. It was a hard, but it's another indication that Megan is willing to do whatever it takes to get her daughter back.