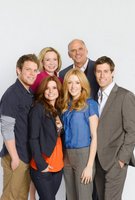 TV Info
---
Episode Premiere
February 23, 2011

Distributor
ABC

Genre
Comedy

Show Period
2010 - 2011

Production Company
Warner Bros. Television


Cast and Crew
---
Director
Gary Halvorson
Screenwriter
Lon Zimmet, Dan Rubin
Main Cast
Synopsis
---
Ted invites Casey and Joel to his favorite bar, The Shamrock. Who is Ted, you ask? Well, Ted is Ben. Everyone at The Shamrock thinks his name is Ted. He's been going there for years. Correcting them at this point would just be awkward. Special patrons get a shamrock with their name on it placed on the bar's wall. Ben desperately desires this honor.
Ben's Shamrock wall of fame hopes are in jeopardy when he learns that the bar's new owner is New York Yankees star Nick Swisher. These two have a history. Ben accidentally dropped a blanket on Swisher's head during a game. The goof cost the Yankees the game and gave the star leftfielder a concussion when a fly ball bonked him in the noggin. For the next two years, Joel referred to Ben as the Yankee killer.
Ben has no choice but to steer clear of Nick Swisher's new business venture. As for Casey and Joel, The Shamrock has become their new favorite place. Ben decides it's time to confront the owner of his favorite drinking establishment. As it turns out, Nick Swisher does remember Ben. Well, not really. He thinks Ben is the gay guy who sold him his Escalade.
Nick Swisher truly loves his car. Ben uses this to his advantage to get a shamrock on the wall. Nick thinks his name is Bruce, so Ben tells the bartender to simply list him as B. Coles. That'll work. Nick announces, "Hey, everyone, this gay Escalade salesman is getting his shamrock!" But when Ben causes an accident that gets the baseball star another bonk on the head, all those ballpark memories come rushing back. Looks like Ben needs to find a new bar where everybody almost knows his name.
Vicky's involved with a charity called Skid Roses. It teaches homeless people the lost art of flower arranging. Mia reluctantly agrees to accompany her mom to the event. But when Maddie realizes they'll be giving out an animation cel from The Little Mermaid at the event, she wants to be Vicky's guest. Unfortunately, Mia wants a shot at the cel as well. It's up to mom to decide which daughter goes to the shindig.
The Putney sisters are shocked to learn that Vicky could always bring more than one guest. She only wanted to bring one of her daughters so she wouldn't feel like a third wheel. Now that her secret is out, Vicky decides to do the charity thing solo.
Maddie and Mia both show up at the Skid Roses event, though it's not because of that animated cel. Well, maybe it is a little. But the bigger reason is to apologize to Vicky for making her feel excluded whenever the three of them are together. Mia and Maddie even offer to teach their mom their secret language. They use it at The Shamrock while gushing over Nick Swisher. Well, Vicky and Maddie are gushing. Mia thinks the guy's kinda small for a football player.